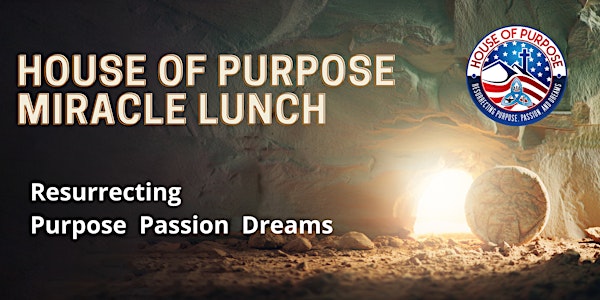 Miracle Lunch 2022
Join us for a special lunch to celebrate the miracles God is doing at House of Purpose.
When and where
Location
South Suburban Christian Church 7275 South Broadway Littleton, CO 80122
About this event
God is resurrecting Purpose, Passion, and Dreams in the lives of people along the Colfax corridor.
MC Roy Hanschke, radio personality of 910AM Point of Faith will be our host. Roy is an inspirational speaker and writer. He finds a good measure of success in building up others to become what they can be in Christ by combining a strong Biblical foundation, a good listening ear and a gift of encouragement.
Our keynote speaker is Pastor David Buckner speaking on Purpose. David was born again in 1982 in Rochester, New York, as a result of Nicky Cruz sharing the gospel at the Rochester War Memorial. David was chasing adrenaline and leading others into a very dangerous, destructive, and often violent street lifestyle. He was seeing many of his young friends die. Prior to becoming born again someone gave him the book The Cross and the Switch Blade (by David Wilkerson and John and Elizabeth Sherrill) to read. He knew the Lord was speaking to him about his life and trying to reach him. At the Nicky Cruz event he felt compelled to go down to the altar. Nicky Cruz put his hands on David's shoulders and started praying over him. He was delivered of much that night. David firmly believes that God has planted House of Purpose because He cares for each individual. He is the Good Shepherd who wants to leave the ninety-nine sheep in the fold and go in search of the one lost sheep. Through prayer and the power of the Holy Spirit people are transformed and receive new hope and passion for life. As they spend time in God's presence, they find out the purpose for which God created them.
The lunch is free and is our thank you to you for your support. We'll have testimonies of lives transformed by the miraculous power of God.