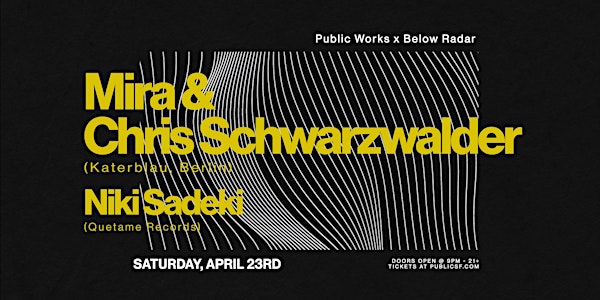 Mira & Chris Schwarzwalder + Niki Sadeki >< LIMITED TIX AT THE DOOR @ 9pm
Performers
Mira & Chris Schwarzwalder
Niki Sadeki
Location
Public Works
161 Erie Street
San Francisco, CA 94103
Mira & Chris Schwarzwalder + Niki Sadeki >< LIMITED AMOUNT OF TICKETS AVAILABLE AT THE DOOR AT 9pm
About this event
LIMITED AMOUNT OF TICKETS AVAILABLE AT THE DOOR AT 9pm
Saturday April 23rd, 9pm - 3am
Main Room / 21+ / Limited Capacity
LINEUP:
➩ Mira & Chris Schwarzwalder (Kater Blau, Berlin)
➩ Niki Sadeki (Quetame Records)
━━━━━━━━━▲━━━━━━━━━
MIRA BIO:
Mira is that rare kind of DJ whose music can immediately transport you into her world - a midnight circus in Berlin, where time loses all definition and anything becomes possible. As a resident at Bar25, Kater Holzig and her current home of Kater Blau, Mira has been a defining proponent of a deeper, more soulful and organic kind of dance music. Her yearly birthday events at Kater Blau 'Katzen Tanzen auf'm Tisch' attract thousands of international visitors every year, and have hosted a multitude of previously unknown artists who have now gone on to tour the globe.
In the studio and behind the decks, Mira often collaborates with her partner-in-crime Christopher Schwarzwälder, and the two of them have released a host of chart-topping singles.
Mira has been at the top of her game for the past twenty years, continuously shaping the sounds around her, and never ceasing to push inspiring new artists. As happy playing at a small underground club in East Germany in the 90s as she is playing to thousands of festival-goers at Burning Man - Mira is one of those artists of whom you can truly say that she's doing it for the love of the music.
CHRIS SCHWARZWALDER BIO:
As a producer, musician, DJ and serial collaborator, Chris Schwarzwälders distinctive style of deep, restrained house is hard to pin down, but you'll always know it's him when you hear it.
Born in Frankfurt am Main in the 80s, he started playing hiphop in the 90s. While making beats on his MPC2000, he dropped into Offenbach's Robert Johnson club and fell in love with techno.
In 2009, Chris moved to Berlin and started DJing at KaterHolzig, where he found a group of people who thought about music in the same way he did. In contrast to the trends of the late 00s, the sounds being made from this little paradise on Berlin's river Spree were slower, softer, and more soulful than a lot of what was being played in clubs at the time.
It was here that Chris began to cement his reputation as both a solo producer and collaborator, who was capable of bringing his trademark sounds to a whole number of side-projects - many of which have gone on to play to crowds around the globe. He joined the Feathered Sun collective in 2013, together with a group of friends including Acid Pauli, Nu, Jo.Ke and Raz O'Hara. Dreamy, groovy and often improvised, the collective represented a special kind of musical freedom in which a group of producers came together to create something new in a singular, live moment.
At the same time, Chris' friend Mira was making moves of her own, and they started to play back-to-back sets, soundtracking the legendary Monday mornings of KaterHolzig, and now, Kater Blau. The two, who are both residents at Kater Blau, have now been playing together internationally for almost a decade, and have formed a common musical understanding that translates throughout every one of their sets - deep, clubby and melancholic. This partnership has also carried on into the studio, where they have collaborated on numerous hits.
If you were to ask him, Chris would describe himself as reserved, logical, rational, melancholic and humorous. Which is why you'd never hear him telling you about the hundreds of nightclubs and festivals he's played around the globe, or the number of hits he's had with his productions. If you're lucky though, Chris might tell you about his favourite synthesizers, and get lost in a conversation all about electronics and sound. Which is exactly where Chris wants to be - lost in electronics and sound.
━━━━━━━━━▲━━━━━━━━━
When you purchase tickets to this event you'll automatically be signed up for LOCAL 161, our SMS community where you'll get special invites + guestlist + other perks as a thank you for your support. You'll receive about 4 messages per month, message and data rates may apply, and you can text STOP to cancel at any time.