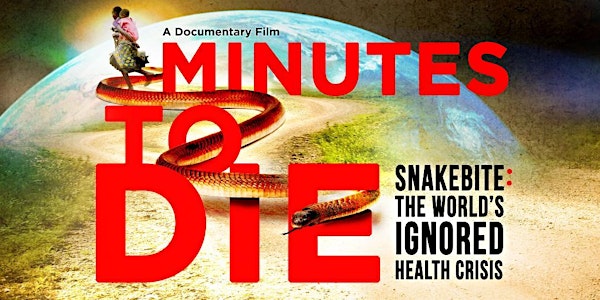 Minutes to Die Documentary Screening, Panel Discussion and Reception
By The University of Melbourne's Australian Venom Research Unit
Date and time
Monday, February 25, 2019 · 7 - 10:30pm +10
Location
Lamana Hotel Conference Centre Waigani Drive Port Moresby, National Capital District Papua New Guinea
Description
Minutes to Die
Snakebite: The World's Ignored Health Crisis
Film Screening, Panel Discussion and Reception
Monday, February 25, 2019
7:00pm
Lamana Hotel Conference Centre
1 Famagusta Road
Waigani, Port Moresby, Papua New Guinea
Minutes to Die is the first ever documentary which shares with the world the snakebite crisis in Papua New Guinea, India, Southeast Asia and Sub Saharan Africa.
Nearly 138,000 lives are lost around the world each year from snakebites, with an estimated three times that number suffering from lifelong disfigurement, amputations and mental health issues. In Papua New Guinea, up to 1,000 die each year. In Port Moresby, the Charles Campbell Toxinology Centre treats roughly 450 cases a year and since it's inception, the death rate has dropped from 15 to 2 percent.
Snakebite has long been considered one of the world's most ignored global health issues. The World Health Organization now officially recognizes snakebite as a Neglected Tropical Disease, and has developed an ambitious global road map to tackle the issue.
The event will feature Dr. David Williams, head of the World Health Organization's Snakebite Envenoming Working Group, Dr. Simon Jensen, Global Snakebite Initiative Board of Directors, Dr. Tim Jackson, University of Melbourne's Australian Venom Research Unit and snakebite community educator Ms. Diana Barr.

Check-in will begin at 6:30pm and a reception will follow the discussion.
This event is sponsored by The University of Melbourne's Australian Venom Research Unit, The Charles Campbell Toxinology Centre and The Lillian Lincoln Foundation. Our host committee is proudly comprised of Stephanie Cambell (Oil Search Health Foundation), Dr. David Williams (Charles Campbell Toxinology Centre) and Sylvia Pascoe (Pascoe Productions).
---
About the Film: From Sub-Saharan Africa to Southeast Asia, more than 500,000 snakebite victims die or suffer from lifelong disfigurement and amputations each year. Death from snakebites claim roughly the same number of lives every month, as the total number of lives lost to Ebola since it's outbreak in 2014. Studies claim the rural poor fear snakebite, more than malaria, tuberculosis or HIV.
This voiceless population of the rural poor already struggling to earn a dollar a day, find themselves racing to unequipped hospitals devoid of antivenom, or supplies that are unsafe and unaffordable. It is a global health crisis the world knows little about.
'Minutes to Die' travels to five continents to capture the cries for help, the financial ruin families face to save loved ones and the heroic scientists rushing to create break-through solutions. Will world health powers and governments in endemic countries finally act after years of ignoring what they've know all along? Who in the world will become the champions of a voiceless population? Find out more at www.minutestodie.com.
Facebook: www.facebook.com/minutestodie
Twitter: www.twitter.com/Minutes2DieDoc
About the organizer
The Australian Venom Research Unit (AVRU) works to prevent deaths caused by venomous snakes, and improve the medical treatment of snake bite nationally and internationally.
The Unit's current focus is Papua New Guinea (PNG), where up to 1,000 people each year die from snake bites.
The work in PNG has been a good test case, where an affordable and sustainable antivenom treatment has been developed for one of the most lethal snakes in the world in a challenging setting. The antivenom is currently in clinical trials in Port Moresby, and significant potential exists to translate this research into Africa, Asia and even at home here in Australia.
AVRU is a recognised centre of excellence in the Asia-Pacific Region. Founded in 1994 by venom research pioneer, the late Associate Professor Struan Sutherland AO, AVRU strives to create knowledge and innovative pathways that will reduce the burden of venom-related injury and mortality and lead to new discoveries that benefit individuals and communities.