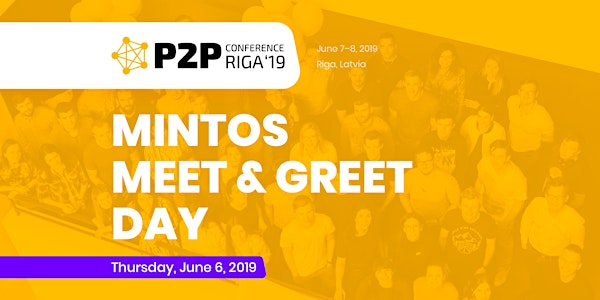 Mintos Meet & Greet Day
When and where
Location
Mintos Skanstes 50 1/II LV-1013 Riga Latvia
Description
The Mintos Team welcomes you to Riga!
Do you plan to visit Riga this June for the P2P Conference Riga'19? Great!
We will give our support to this important industry event as a Platinum sponsor of the conference, but before the official launch, we have booked a day in our calendar to Meet & Greet Mintos investors.
During the day on Thursday, June 6, 2019, our office doors will be open for all of you who want to visit us.
Meet our CEO, and get to know our teams and our management. Receive first-hand insight into how we operate in order to create Europe's leading marketplace for investments!


Have you ever wondered who are the kind Mintos people replying to your inquiries?
Who are the Sherlock Holmes talents analysing loan originators' performances?
How do we make sure that the product/engineering flow is always "in the flow" and what are the projects the teams are working on?
Does our marketing team look anything like MadMen?
Let's Meet & Greet at Mintos!
(And that's not all.)
On the evening of June 6, 2019, we will host the Mintos & Investors Party in one of the most beautiful rooftop bars in Riga. Are you always in the mood for food, drinks and fireside chats in the community of international top class investors and Mintos Fellows? Then this is the place to be on a Thursday night! (Please note that the invitation for this event will be sent separately.)
Please RSVP to the Mintos Meet & Greet Open Doors event. We will share more information with you closer to the date when we announce the 30-minute slots that will help us give more of you more of our attention.
Welcome to Mintos!

P. S. Choose the preferred time for your visit to Mintos here.