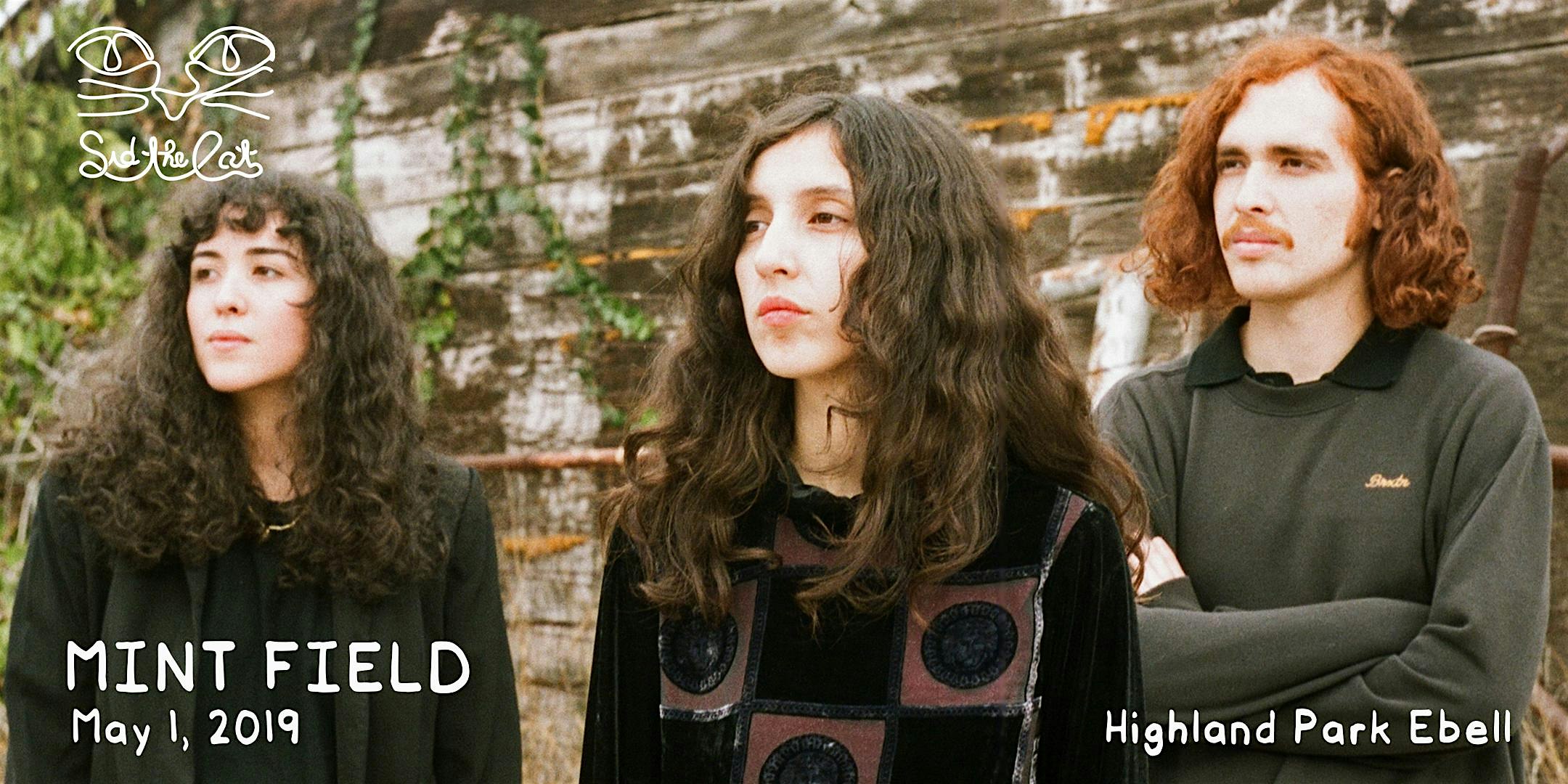 About this Event
Sid The Cat Presents
Mint Field
Draag
Gold Cage
5/1/19 at Highland Park Ebell
Tijuana is a place where good music happens, It is a border
town with a very storied history - sometimes a history of
union, sometimes of violence. Such history has given it its
own flavor: a hybrid culture with many vibrant scenes and
artists that have defied their borders, playing for their own
crowds, outsiders who always carve their own road, going
from place to place around the globe until they find their
corner of the world.
Mint Field's story is similar, but with its own set of
peculiarities. As it is with Tijuana, Estrella Sanchez and
Amor Amezcua believe their roots are in the city but are not
defined by it; it's where they jump to find their own way and
make the world at large their home. Their sound backs up
this attitude. It's an organic sound inhabited by specters that
lurk behind repetitive rhythms, where Estrella's angelic voice
evokes a supernatural world of beauty and melancholy built
by rock instruments and synthesizers. Like spirits that
wander through our reality, they don't anchor themselves to
one place, yet it's probable that something
like Mint Field might not have come out of anywhere else but
Tijuana.
Mint Field are not spirits from beyond that have come to
communicate with us through their own unique sound. In
fact, they are two women that make incredibly evocative
music; they channel their inspirations and influences to
transmit sentiments of profound sorrow, nostalgia and
immaculate beauty, revisiting sounds from the past to make
them contemporary.
This emotion is imprinted on the band's first album, Pasar De
Las Luces, a records that has been described by the band
as "basically a compilation of our lives from two years ago to
now." A mixtape, if you will, of completely original songs that
resound with their recent history. Most of the songs achieve
much with just a few basic melodic ideas and other circular
riffs that never become self-indulgent, rather they form fully
realized and memorable songs. Sanchez's voices seem to
wander in and out of the picture like rays of pure sunlight on
a cloudy day, giving a little color to something that is
otherwise blue and dark. There are winks to many musical
styles like dream pop, jangle pop, indie, twee pop, fuzz-
saturated shoegaze, and the cycling repetitions of krautrock,
as well as its basis of post punk with dark edges.
Pasar De Las Luces was recorded and mixed by Christopher
Koltay at High Bias recordings in Detroit, MI. Mastering was
done by Heba Kadry at Timeless Mastering in Brooklyn, NY.
Artwork was done by Emilio Villalba.
Performers
Date and Time
Location
Refund Policy