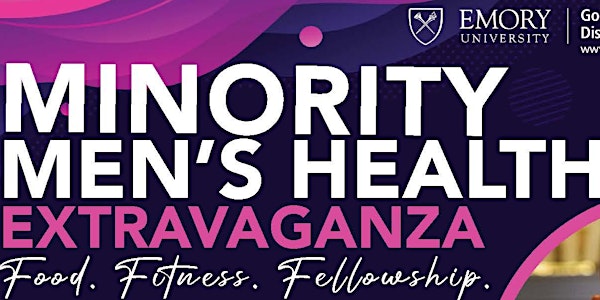 Minority Men's Health Extravaganza - Fitness, Food, & Fellowship!
Join us at the Emory Brain Health Center! REGISTER TODAY!
About this event
**PLEASE NOTE: There has been an update to the format for this program. It will now be held IN-PERSON only. We appreciate your understanding and extend apologies for any inconvenience**
Join us at the Emory Brain Health Center (12 Executive Park Drive, Atlanta, GA 30329 - First Floor Training Rooms)
For men only. Invite your dads, husbands, brothers, family and friends. Dialogue about brain health, memory loss, diet & nutrition, and exercise in minority men.
• Catered Lunch!
• Live Cooking Demonstration
• Fitness & Chair Exercises
• Research Overview AND MORE!
With Special Appearances from Fitness Guru - John Lewis and Chef Jarvis Belton!
This program will also feature medical experts: Dr. James Lah and Dr. Cornelius Flowers
Get answers to your frequently asked questions.
Questions? Contact Crystal Davis at cpdavis@emory.edu or call 404-727-6696