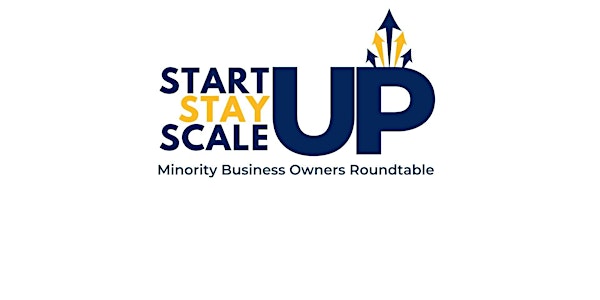 Minority Business Owners Roundtable: MLK Juneteenth Business Celebration
Location
Kingdom Center
730 East Martin Luther King Boulevard
Chattanooga, TN 37403
Come join these free in person Roundtables. Each month we will discuss topics that uniquely impact the minority business owner.
About this event
Come join us for this free Special Edition of the Minority Business Owners Roundtable: MLK Juneteenth Business Celebration!!!
This celebration will uplift the history of Juneteenth and Black Economic Empowerment while featuring three of our black owned businesses within the MLK Blvd footprint: Chatt Smokehouse, Uncle Larry's and The Peach Cobbler Factory!!!
The celebration will be held at the Kingdom Center, located at 730 E. M L King Blvd. Chattanooga, TN 37403 from 6pm-7:45 pm and will include a chance for you to soak in the sounds of DJ KStylz while sampling some of our featured vendors signature dishes and beverages while supplies last.
You will also have an opportunity to participate in a Consultant led Guided Networking Activity and there will be representatives from Launch, TN Small Business Development Center and the Urban League to assist you with business resources to fit your particular needs.
This celebration is free and open to the public. Please invite your friends and other aspiring business owners to attend with you. Doors open at 5:45pm!
Masks will be requested to be worn per the host facility rules and distributed while supplies last.
General Monthly Description:
The purpose for the Start Up, Stay Up, Scale Up, Monthly Minority Business Owners Roundtables will be to address topics each month that focus on the different stages of business- Start Up, Stay Up, and Scale Up and how these topics uniquely impact the minority business owner . The topics identified will be based on the needs of the attendees and the goal will be for business owners to leave with tangible tools that will make them feel inspired, supported and empowered to move their businesses forward!
Each Roundtable will feature:
A consultant led topic around the Start Up, Stay Up and Scale Up phases of business that uniquely affects the minority business owner.
A time for participants to register their businesses with the City of Chattanooga's Supplier Registry on site and sign up for Doing Business with the City Sessions. Also, other entities will be invited to be on site periodically to talk to attendees and to enroll in their supplier diversity programs as well.
An Entrepreneur Business Owner highlight, discussing their journey and their products. Products will be given for registered attendees to sample as are applicable and available.
A question and answer period so that we can tailor what is presented to the needs of the attendees.
A socially distanced, Covid conscious, in person environment that will feature a free evening snack or lite meal as available.
Masks will be requested per the host facility rules and if needed will be supplied for all attendees while supplies last.