Description
INTRODUCING MINNESOTA'S 2019 "50 OVER 50" — 50 EXCEPTIONAL LEADERS WHO ARE SHATTERING MYTHS ABOUT AGING AND WRITING THEIR OWN RULES.

It's time to recognize that possibilities shouldn't be limited by age. It's time to change the stories we tell ourselves about aging. It's time for a new list.
Join AARP Minnesota and Pollen at the McNamara Alumni Center on Thursday, October 17, as we recognize and celebrate 50 incredible individuals over the age of 50 who are challenging outdated beliefs about aging, living life on their own terms, and improving the lives of others.
MEET MINNESOTA'S 2019
50 OVER 50 HONOREES


---
FEATURED SPEAKERS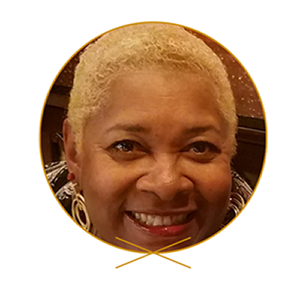 ROSE MCGEE | Co-Emcee
Rose McGee is a sweet potato pie philanthropist and creator of the Sweet Potato Comfort Pie™ approach – a catalyst for building and strengthening community. She is a 2018 50 Over 50 Honoree, a two-time Charlie Awards Nominee, a 2019 Bush Fellow, is featured in the national PBS documentary A Few Good Pie Places, and TEDx talk on The Power of Pie. Sweet Potato Comfort Pie™ has become a cornerstone service approach during the Martin Luther King, Jr. Holiday weekend when Rose, along with dozens of volunteers, bake pies; hundreds of community members convene in tough conversations around race and equity; then among themselves, the participants distribute the pies throughout the community as a symbol of concern and celebration. Rose resides in Golden Valley where in 2017 she was named "Citizen of The Year" and in 2018 was presented the "Bill Hobbs Human Rights Award." She is author of the play, Kumbayah the Juneteenth Story, the book, Story Circle Stories, and soon to be released children's book, Can't Nobody Make a Sweet Potato Pie like Our Mama.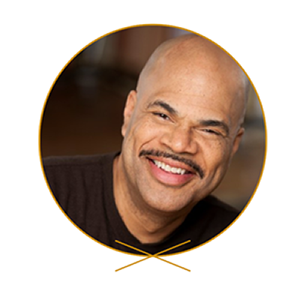 T Mychael Rambo | Co-Emcee
Regional Emmy Award winning actor, vocalist, arts educator and community organizer, T. Mychael Rambo, has made an indelible mark here in the Twin Cities. He has performed principal roles at such theaters as Penumbra, the Guthrie, New Dawn Theatre, Ordway Theatre, Illusion Theatre, Mixed Blood, Park Square Theatre, 10,000 Things, Theater Latte Da, Children's Theatre and Minnesota Opera to name but a few. Nationally and internationally his stage credits include Carnegie Hall and performances abroad in Africa, Europe and South America. He has appeared in local and national television commercials, feature films, HBO mini-series, and other television programming. T. Mychael is an accomplished residency artist and an affiliate professor in the College of Liberal Arts, Theatre Arts and Dance at the University of Minnesota. As a recording artist, T. Mychael has released two popular CD's: "Simply" – a collection of jazz standards, and "The Gift; A Christmas With Love" – a selection of original and holiday classics. T. Mychael had the great honor of singing the National Anthem for both President Barack Obama and former President Jimmy Carter. T. Mychael is also the proud recipient of the 2010 Sally Award in Arts Educator, presented by the Ordway Theatre, and the 2010 Minnesota Black Music Award. His other honors and awards include Young Audience Artist of the Year, McKnight Theatre Artist Fellowship, Minnesota State Arts Board Artist Fellowship, Bush Finalist and both the University of Minnesota Century Council Community Award and Outstanding Community Service Award among others. As a public speaker T. Mychael shares his motivational skill set by lacing together his many other talents with spirited anecdotal storytelling, insightful observations, levity and song that makes for a thought-provoking, transformative and truly enriching interactive presentation.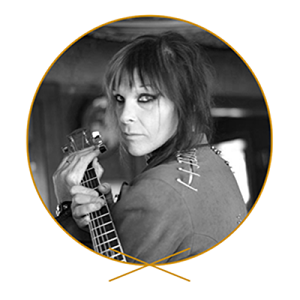 Venus de Mars | Performer
Venus de Mars is best known as the iconic leader of the long standing Minneapolis dark-glam/trans band: "Venus de Mars & All The Pretty Horses."
Venus formed the band in the early 90s, and fronted it through turbulent dark days when identifying as trans meant being classified as mentally ill and living as an outcast. She recently toured with Laura Jane Grace and Against Me.
She is now touring her first solo-acoustic release, "Flesh and Wire."
But she is also known in the arts community as a performance artist. She is both a former McKnight Multidisciplinary Artist Support, and Bush Artist Support fellowship recipient, as well as one of the core artists from the now defunct 1980s era "Rifle Sport Alternative Art Gallery," which was formerly located on Minneapolis's infamous "E-Block."
Venus, her band, and her wife are the subject of the award winning 2004 rock-documentary "Venus of Mars."
In addition to continuing her musical career, Venus is now in the process of writing a memoir which follows her early 90s to mid-2000s underground trans-rock world-path full of music, ambition, destruction, obsession, dream, fetish, and shadow.
---
McNamara Alumni Center
200 SE Oak Street
Minneapolis, MN 55455
Thursday, October 17, 2019
11:00 a.m. - 1:00 p.m.
Honoree ceremony will begin at 11:30 a.m.
Honoree photographs will start 30 minutes prior to event and conclude 30 minutes after event.

Lunch will be served.
---
FAQs
What is the refund policy?
We understand life happens. However, in order to receive a full refund, we do require a minimum of 24 hours notice prior to the event. Please contact the event organization to make this request if needed.

What's the best way to get to McNamara Alumni Center? Where should I park?
McNamara Alumni Center is located on the University of Minnesota campus with convenient access from 94, 280 and 35W. Detailed directions can be found on McNamara's website.

The venue is also easily accessible via bus and the Green Line. You can use the Metro Transit Trip Planner to find the best route to the McNamara Alumni Center.

For those with accessibility needs, you may drop off guests at the front entrance using the private drive located on Oak Street between University and Washington Avenues.
---
Made possible in partnership with AARP Minnesota.

Organizer of Minnesota's 2019 50 Over 50 Celebration
Pollen is a media arts organization that fosters empathy, encourages connection across difference, and inspires meaningful action by sharing stories of individuals who want to change our collective story for the better. Through our narrative experiences, Pollen grows a network of Pollenites who have an unwavering belief in equity, empathy, and our shared humanity.