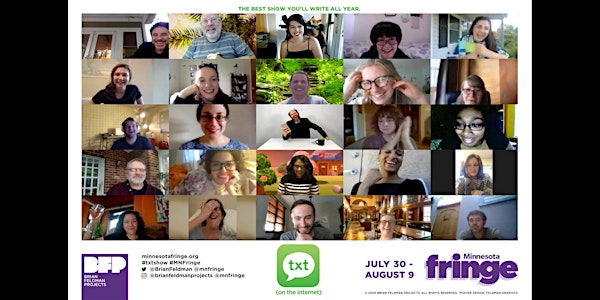 Minnesota Fringe Virtual Festival presents #txtshow (on the internet)
The best show you'll write all year, this completely immersive multiscreen performance features a script written anonymously by YOU!
About this event
This event has been created due to COVID-19.
------------------------------
Midwest Premiere!
Brian Feldman brings the online version of one of his signature projects to the first-ever Minnesota Fringe Virtual Festival, as one of 74 shows available to audiences virtually as part of this year's online-only festival.
The best show you'll write all year, #txtshow (on the internet) is a completely immersive multiscreen performance featuring a mysterious character named txt (pronounced "text") who recites a script written anonymously in real-time by a live audience (on the internet).
Created and performed by Brian Feldman, this live, interactive performance takes place on Zoom. (This is Brian's first-ever performance in Minneapolis, The North Star State, the Midwest, and Central Time.)
Based entirely upon what audience members write in anonymity, this event may contain mature themes, profane language, and explicit sexual content.
#txtshow (irl) had its world premiere at The Kerouac House in Orlando, Florida on Feb 26, 2009.
To see the full 2020 Minnesota Fringe Virtual Festival lineup, visit:
https://www.minnesotafringe.org/2020/shows
------------------------------
Run Time: 45 minutes
Performances:
Thu Jul 30 @ 9:00pm CDT
Mon Aug 3 @ 9:00pm CDT
Thu Aug 6 @ 9:00pm CDT
Sun Aug 9 @ 5:00pm CDT (Brian Feldman Projects 17th Anniversary)
All times are in Central Daylight (CDT) (UTC -5).
Participating from another time zone? Check the time difference here: https://www.timeanddate.com/worldclock/converter.html?iso=20200731T020000&p1=159
------------------------------
Location:
Zoom (on your computer, phone, or tablet)
On the day of the performance, you will receive an email from projects@brianfeldman.com with a link to the Zoom meeting and a PDF program (includes Instructions to the Audience, please read before the performance starts).
------------------------------
Tickets: Free
Limited Capacity / Registration Required
Register at brianfeldman.com
2020 Fringe Button ($5 at mnfringe.org/fringebuttons) required to access shows on the Digital Hub and help save Minnesota Fringe.
Enjoy #txtshow? Donations Accepted.
- Cash App: $brianfeldmanprojects
- PayPal: paypal.me/BrianFeldmanProjects
- Venmo: @BrianFeldmanProjects
- Zelle: projects@brianfeldman.com
------------------------------
Twitter: @txtshow @BrianFeldman @mnfringe
Instagram: @brianfeldmanprojects @mnfringe
Minnesota Fringe Virtual Festival Digital Hub:
https://www.minnesotafringe.org/2020/digital-hub
------------------------------
Reviews:
"This is a work of experimental theater, and I daresay it's the best."
"I had no idea what to expect for my first live show on the internet, but this was a pretty amazing introduction... all eclectically performed as almost a stream of consciousness by Feldman's character."
"This online pandemic world we live in is NOT favorable to theater events. While parking is cheaper and you can bring your own beer, there's no sense of audience or shared discovery. But if you MUST do a show online, #txtshow might be the archetype."
"Suffice it to say that, in this horrible period during which live performance has been suspended and the lively arts are experimenting with alternative ways in which to engage the audience and remain relevant, #txtshow (on the internet) is an offering that embraces the imposed limitations of the moment."
– Christopher Henley, DC Theatre Scene
"#txtshow delivers all the breathless, anything-can-happen anticipation and nervous laughter of an improv show, but without any of the pressure to make a funny that makes a crappy improv troupe so agonizing to watch. Like a sex party, it was both exhilarating and exhausting, and it seemed to work best when we all synced our wavelengths. But at times, it was even more fun to just sit back and watch."
– Christina Cauterucci, Washington City Paper
"It's like a livestream at a conference, with everyone responding in real time to whatever is happening. With all of the thematic links between the tweets, it's sometimes tough to believe that Feldman isn't reading them out of order to emphasize the relatedness of some of the topics. He swears that he reads them as he receives them."
"The best part is when audience members begin "intervening" in the relationships of other audience members... Which, of course, sends the first-row couple in question bursting into laughter."
– Ron Cassie, Baltimore Magazine
"Yes, you heard right! YOU make the "script!" Brian doesn't utter a word unless it comes to him via his phone, from the audience. As I'm sure you can guess, a concept like this can lead to a very entertaining show!"
– Erica Finlay, AMPlified Culture
"I found myself laughing louder than ever at this performance. The uninhibited mind is a strange and quirky beast... #txtshow [is] a Mad Lib with an emphasis on Mad."
– Thomas Thorspecken, Analog Artist Digital World
"For my #theater people — this was a smiling hour of fun — the audience writes the lines in real time."
------------------------------
About Minnesota Fringe:
Minnesota Fringe connects adventurous artists with adventurous audiences by creating open, supportive forums for free and diverse artistic expression. Through our summer festivals and dynamic year-round programming, Minnesota Fringe is an artistic disruptor for local and national artists — to take bold risks, develop new ideas, and hoist themselves to the next rung of their artistic ladder. As the producer of the largest performing arts festival in the Midwest, our annual Minnesota Fringe Festival event fills tens-of-thousands of seats with audiences viewing dozens of works at hundreds of performances by more than 1,000 artists on a variety of stages in late summer.
About Brian Feldman Projects:
Brian Feldman is an award-winning performance artist and actor. He lives in Washington, Douglass Commonwealth where, as DCist noted, "In a city that has an advocacy group exploring how to "make D.C. weird" – and is still struggling – Brian Feldman is a shining beacon of eccentricity." Brian's work has been favorably compared to Marina Abramovic, David Blaine, John Cage, Christo, Marcel Duchamp, Tehching Hsieh, and Andy Kaufman, and garnered worldwide media coverage on television, radio, in print, and online. Since August 2003, he has presented 300+ performances of 125+ projects at 175+ venues and festivals through Brian Feldman Projects, one of North America's premiere presenters of experimental, time-based art.
• https://j.mp/txtmn_fb (Facebook Event)
• https://j.mp/txtmn_docs (Press Release)