Minnesota Evaluation Studies Institute Summer Evaluation Training

Tuesday, June 23, 2015 at 8:30 AM

-

Thursday, June 25, 2015 at 4:30 PM (CDT)
Event Details
The Minnesota Evaluation Studies Institute is proud to host three workshops, a community meeting, and an open community event over three days for the Summer 2015 training offerings. All events will take place at the Carlson School of Management. Five distinct events will be taking place and a separate registration is needed for each event. Descriptions are provided in the following sections.
Note: All registrations through this site require a credit card. If you would like to pay by another method, please contact us at mesi@umn.edu.

June 23: Workshop Day 1, 8:30 am - 4:30 pm (1 hour for lunch, on own)
Project Management for Evaluators with Kathy Schwalbe, Independent Consultant (recently retired professor, Augsburg College). Project management is an essential skill in many professions, including program evaluation. In this one-day seminar, you will learn about the basics of project management and key in on the triple constraint– balancing scope, time, and cost goals. Kathy Schwalbe, Ph.D., PMP, is the author of three popular text books on project management. She will tailor key concepts, tools, and techniques to help you successfully initiate, plan, execute, monitor and control, and close your evaluation projects.
Practical Program Evaluation 101 with Beki Saito and Ann Zukowski, Rainbow Resarch. This workshop will provide an overview of program evaluation for participants with some, but not extensive, prior background in program evaluation. The presenters will share real examples from a wide range of program evaluations. Participants will receive helpful resources and useful, practical tips to ensure data is used for program improvement. Participants will learn how to:
define and use basic evaluation terms, 

identify stakeholders and use logic models,

develop evaluation questions and outcomes as part of an evaluation plan, and

explore the strengths and weaknesses of various evaluation methods.
June 24: Workshop Day 2, 8:30 am - 4:30 pm (1 hour for lunch, on own)
Advanced Qualitative Methods with Michael Quinn Patton, Utilization-Focused Evaluation. This workshop will be based on the new, 4th edition of Patton's book, Qualitative Research & Evaluation Methods. Drawing on more than 40 years of experience conducting applied social science research and program evaluation, Patton will present important new directions in qualitative data collection, purposeful sampling, qualitative analysis, reporting, and approaches to enhancing rigor.
Participants will learn:
The nature and implications of new qualitative case selection options

Using social media for qualitative inquiry

Visualization in qualitative analysis and reporting

New frameworks for evaluating qualitative rigor and credibility
June 25: MESI Community Meeting and Event

Morning Community Meeting and MESI report to the community (9:00 am - Noon): Have you ever wondered if there is something you could do to increase the usefulness of evaluation results? Would you like to change the dynamic of evaluator-client relationships? How might evaluation work to both serve accountability purposes as well as to inform progress toward social justice initiatives? Join us for a facilitated discussion in which community-based evaluation practitioners share ideas about what works for them.
The Minnesota Evaluation Studies Institute is hosting this annual event to facilitate discussion about the following topics:
How might we build and sustain a program evaluation community of practice within local organizations?

How might MESI and community organizations create a sustained relationship centered on building evaluation capacity?

What are the specific evaluation training needs of organizations?
Afternoon - A Facilitated Discussion on Evaluation and Social Justice (1:15 - 4:30 pm). The afternoon will begin with a keynote by Stacey Millett, a former Minnesotan who is well versed in what evaluation can mean in organizations and how leaders can support evaluative processes. She is now the Executive Director of the North Carolina Center for Health and Wellness at University of North Carolina-Asheville. Following the keynote and small group discussion of its content, participants will attend a "wisdom cafe," rotating among tables of community-based evaluators to learn approaches and strategies that really work when doing evaluations in the field. The afternoon's presentations will end with a collective summary that addresses the relation between evaluation that simultaneously works for social justice and for accountability. Following that discussion, all will adjourn for an ice cream social.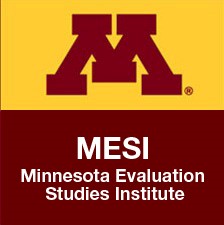 FAQ:
Will there be coffee? Coffee will be served during the morning sessions.
How do I get there? Directions to the Carlson School of Management can be found at http://carlsonschool.umn.edu/about-us/our-location-facilities/directions-parking-and-maps.
Where can I park? Carlson School of Management is connected via skyway to the University 19th Avenue Ramp. The University 21st Avenue Ramp is another option for commuters and there are a number of surface lots in the area. Parkopedia.com is a free website that lists publicly available parking ramps, lots, and street parking. The University of Minnesota is also on the Metro Transit Green Line: http://www.metrotransit.org/greenline/. Another option - bicyling!
Any tips for navigating the University of Minnesota campus? The campus is beautiful in the summer and is usually a bit quieter during the summer months. We opted to hold this event on the West Bank, in a building with an attached parking ramp. We invite you to explore campus following this event, either by walking, using a Nice Ride bike, or by hopping on the free Campus Connector shuttle.
Do I have to bring my printed ticket to the event? No, you do not need to bring your printed ticket to the event. We will have registered names on a list available at the event.
May I register at the event? If there is space available you are welcome to register on-site (note: for paid events only check or cash will be accepted for on-site registration). However, space is limited and we encourage you to register prior to the event, on this site.
What about lunch? Lunch is on your own. There are many wonderful restaurants near the Carlson School of Management. Some options can be found here: http://www.thewestbank.org/?page_id=65.
Where can I contact the organizer with any questions? Please contact us at mesi@umn.edu.
Can I update my registration information? Registration can be updated by contacting us at mesi@umn.edu.
What is the refund policy? Refunds will be provided prior to June 1. After this date we will be unable to provide refunds.
Organizer
Minnesota Evaluation Studies Institute (MESI)
The Minnesota Evaluation Studies Institute (MESI) is an interdisciplinary training institute for evaluation studies at the University of Minnesota. We produce high-quality theoretical, technical, and practical training to evaluators, and we are committed to supporting evaluation that values stakeholder participation and collaboration. MESI is part of the Department of Organizational Leadership, Policy, and Development (OLPD) in the College of Education and Human Development. We are unique in bringing together faculty expertise from the college, the School of Public Health, the Humphrey School of Public Affairs, the Center for Urban and Regional Affairs, and Minnesota Extension.
Minnesota Evaluation Studies Institute Summer Evaluation Training