Description
Please join us to learn about the results and recommendations of the recently completed Minnesota Statewide Energy Efficiency Potential Study. The forum will include discussion about what the results can tell us about the future of utility-driven energy efficiency in Minnesota.

Event Schedule
8:30 a.m. - 9:00 a.m. | Networking (Coffee and Pastries)
9:00 a.m. - 11:00 a.m. | Presentation and Panel
11:00 a.m. - 12:00 p.m. | Reception
Presenters
Jessica Burdette | MN Department of Commerce, Division of Energy Resources
Carl Nelson | Center for Energy and Environment
Doug Ahl | Slipstream (formerly Seventhwave)
Panelists
Jason Grenier | Otter Tail Power Company
John O'Neil | Southern Minnesota Municipal Power Agency
Lisa Severson | Minnkota Power Cooperative
Shawn White | Xcel Energy
Ben Passer | Fresh Energy
Aaron Winer | Northwest Energy Efficiency Alliance
Complete details on CEE's website
Project Team: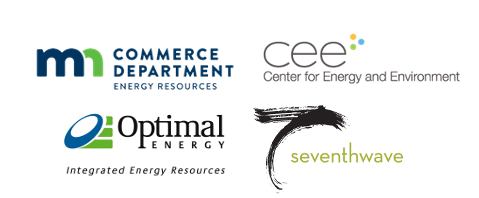 Thank you to Midwest Energy News for their promotional support.