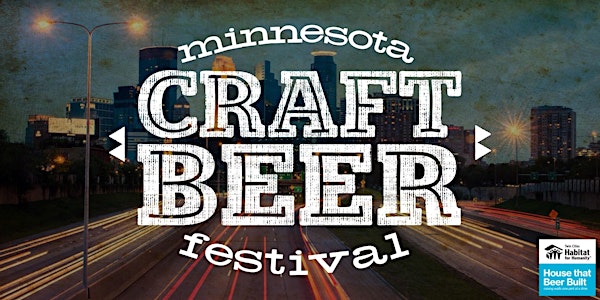 Minnesota Craft Beer Festival 2023
Limited-release beers, world-class breweries, unlimited pours, and live music on April 1, 2023.
When and where
Date and time
Saturday, April 1 · 1 - 5pm CDT
Location
Minneapolis Convention Center (Hall D + E) 1301 2nd Avenue South Minneapolis, MN 55403
Refund Policy
Refunds up to 30 days before event
About this event
At least $10,000 of the gross revenue benefits Twin Cities Habitat for Humanity's House that Beer Built in 2023
---------
THE POUR LIST IS OUT NOW — CHECK IT OUT!
---------
What is the Minnesota Craft Beer Festival?
The Minnesota Craft Beer Festival is an epic tasting session at the Minneapolis Convention Center, where 110+ breweries will participate in pouring some of their best brews. Each brewery has been asked to bring a taproom-only beer and/or a rare limited-release option.
What do you get?
Tasting tickets include access to Minnesota Craft Beer Festival and all the tasty pours you can responsibly enjoy. Early Entry Tasting tickets grant guests access to the event one hour early (1:00 PM). The event will end at 5:00 PM sharp.
Who will be pouring?
There will be more than 110+ breweries pouring 400+ beers from Minnesota and beyond. Here is a list of the confirmed breweries:
Russian River Brewing Company
Hop Butcher For The World
WeldWerks Brewing Company
Drekker Brewing Company
Modist Brewing Co
DankHouse Brewing Co.
Crooked Stave Brewery and Barrel Cellar
Lupulin Brewing
2 Towns Ciderhouse
Alesmith Brewing Company
Alloy Brewing Company
Anderson Valley Brewing Company
Angry Orchard Cider
Bear Republic Brewing Company
Belching Beaver Brewery
Big Drop Brewing Co
Blacklist Brewing Co
Boathouse Brothers Brewing Co
Boom Island Brewing Co
Brau Brothers Brewing Co
Brew d'Etat
Broken Clock Brewing Cooperative
BŪCH Hard Kombucha Seltzer
Cascade Brewing
Castle Danger Brewery
Ceria Brewing Company (NA Beer)
Clown Shoes Beer
Coronado Brewing Company
Dogfish Head Brewing
Duluth Cider
Eastlake Craft Brewery
Elm Creek Brewing Co
Evil Twin Brewing
Off Color Brewing
Gluek Beer
Gray Duck Brewing Co
Gruvi
Hoof Hearted Brewing
Inbound BrewCo
Insight Brewing
Invictus Brewing Company
Island City Brewing Company
Keweenaw Brewing Company
Kinney Creek Brewery
La Dona Cerveceria
Lakes & Legends Brewing Company
Lift Bridge Brewery
Luce Line Brewing
Lupine Brewing Company
Mankato Brewery
Millstream Brewing Co
Minneapolis Cider Company
Montgomery Brewing
Nouvelle Brewing by Tavail
Number 12 Cider
Oliphant Brewing
OMNI Brewing
Outstate Brewing Company
Pipeworks Brewing Company
Prairie Artisan Ales Brewpub
Press Alcoholic Seltzer
Remedy Brewing Company
Revolution Brewing
Samuel Adams
Sapsucker Farms Yellow Belly Hard Cider
Schilling Cider House
Sixpoint Brewery
Ska Brewing Co.
Sociable Cider Werks
Sonder Brewing
Thor's Hard Cider
Torg Brewery
Truly Hard Seltzer
Two Roads Brewing Co.
McKenzie's Hard Cider
Uncommon Loon Brewing Company
Under Pressure Brewing Company
Ursa Minor Brewing
Wabasha Brewing Company
Waconia Brewing Company
Weller/Sahti CBD
Wild Mind Ales
Summit Brewing Company
Fat Pants Brewing Co.
Bent Brewstillery
BlackStack Brewing
Surly Brewing Company
Steel Toe Brewing
StormKing Brewpub and Barbecue
Urban Growler Brewing Company
Humble Forager
Schram Haus Brewery
Hop & Barrel Brewing
Mana Brewing
Nine Mile Brewing Company
Karst Brewing
Pryes Brewing Company
Spiral Brewery
Talking Waters Brewing Co.
Barrel Theory Beer Company
Portage Brewing Company
Bear Cave Brewing
Canal Park Brewing Company
Huyghe (Delirium)
Guinness
Lone River
Finnegans Brew Co.
Sierra Nevada Brewing Co.
Sunken Ship Brewing Company
Funny Water
Easton Cider Company
Einstök Beer
Drastic Measures Brewing
Perennial Artisan Ales
What band will be playing?
This year Rough House is coming back to the Minnesota Craft Beer Festival! Rough House is a classic rock based variety band that also does a little country, R&B and modern rock. AC/DC to Led Zeppelin!  Mike Torok lead guitar (Formally of MPLS shock rock legends "Impaler"and "Torok").  Shawn Penny bass and lead vocal (Lead guitar and vocalist of the band "Led Penny") Dave Columbus drums and lead vocal(Formally part the popular variety band "Show me yours")  Bryan Erickson Lead Vocal and guitar(Formally of Nightmare recording artist "Torok" and "Son of Eric" along with popular variety band"Party Army"). 
With great sponsors, including:
Frequently Asked Questions:
What beers will be served?
We are working with breweries to finalize the pour list. It should be available 2-3 weeks prior to the event.
Are COVID-19 vaccinations required?
No. Following city and convention center guidance, you are not required to show a vaccination card or negative COVID-19 test to enter this event.
Can I bring a bag in? Water? Snacks?
Yes, you can bring a small bag. It will be checked as you enter the event for banned items (weapons, flammables, alcohol). You are welcome and encouraged to bring a water bottle and a snack necklace!
Do all attendees have to be 21+?
Yes. Please bring a government-issued ID.
Code of Conduct
The Minnesota Craft Beer Festival has a zero-tolerance policy for aggression or harassment of any kind. Everyone should feel safe during the event, and we are dedicated to providing a harassment-free experience for everyone, regardless of gender, gender identity and expression, sexual orientation, disability, physical appearance, race, ethnicity, age, or religion. We do not tolerate any form of aggressive behavior or harassment of festival attendees, staff, volunteers, sponsors, or brewers. If a participant breaks these policies, they will be removed from the fest and the proper authorities will be notified. If someone or something makes you feel uncomfortable or unsafe, please report it to any Minnesota Craft Beer Festival staff member, security guard, or uniformed police officer immediately so the situation can be addressed.
By attending the event, you consent to the use of your name and likeness, including my performance, voice and image in any form, as incorporated at the event, by the Minnesota Craft Beer Festival, its parents, affiliates, subsidiaries, related companies, successors, licensees or designees and others acting on its behalf Minnesota Craft Beer Festival for the purpose of advertising and promotion in any media.
About the organizer
For those who drink + make great beer!