About this Event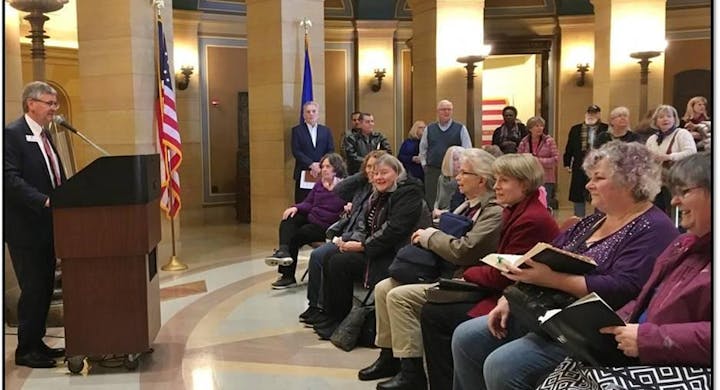 Minnesota Bible Readathon
Minnesota Capitol Rotunda, Main level
75 Rev Dr Martin Luther King Junior Boulevard Saint Paul, MN 55155
Join us!!
Saturday, January 4, 2020
11:00 AM to 1:30 PM
VIDEO - Here is a 2 and ½ minute video to show you what it's like to be part of the Minnesota Bible Readathon!
FROM HOST-Mary Ervasti, MN Prayer Leader, National Governors Prayer Team
The Lord is impressing on me that we are in a war against evil, an evil that is consistently trying to divide us. Yet we wrestle not against flesh and blood, but against principalities, against powers, against the rulers of the darkness of this world, against spiritual wickedness in high places. (Ephesians 6:12) Our answer is Love.
Jesus, well aware of their every thought, said to them, "Every kingdom that is split against itself is doomed to fail and will eventually collapse. Satan's belongings are undisturbed as he stands guard over his fortress kingdom, strong and fully armed with an arsenal of many weapons. But when one stronger than he comes to attack and overpower him, the stronger one will empty the arsenal in which he trusted. The conqueror will ransack his kingdom and distribute all the spoils of victory. ( Luke 11:17; 20-22)
We are the stronger ones, because we have The Word (which is God—John 1:1) that we speak at Bible Readathon. Because He is God, and God is Love (1 John 4:8) and love never fails (1 Cor. 13:8), we are taking down evil as we declare the Word at Bible Readathon.
READATHON DETAILS
Welcome to our Third Bible Readathon at the Minnesota State Capitol! (Parking info)
This is the time for the Body of Christ to speak. We need to declare and decree God's Word as if it is the Truth that it is! We will be charging the air with belief in that Word at the Capitol on January 4, 2020. In doing so, we will counter the lies being bandied about with the Truth. In doing so, people will begin to recognize the Truth, and know what is false because we are holding up and declaring the Standard of Righteousness! Don't miss your opportunity to be a part of this. You will make a huge difference with your participation!
DETAILS -
• BRING YOUR BIBLE and join us as we blanket our state with God's Word and bless the land and the people.
• 156 PARTICIPANTS needed to read through the entire Bible in a one hour period.
• YOU CAN ALSO PARTICIPATE FROM YOUR HOME - Contact Natalie Smetak nat6smetak@gmail.com. if you would like a scripture assignment ahead of time and can't be at the event.
• PLEASE PRE-REGISTER by clicking the green button above.
• IT'S FREE, this ENTIRE EVENT is FREE!
• BIBLE READ-A-THON IN 21 STATES have had success in bringing UNITY where both political parties agreed on tough issues. Personal breakthrough were reported. Also issues of community unrest have been solved and churches have found ways to work together.
• PLEASE COME JOIN US! We're looking forward to seeing you there!
• PARKING! CLICK HERE for a map of the MN State Capitol complex that shows public parking areas.
The Bible Readathon Team