Description
Goal: Explore opportunities for youth engagement and the best practices for an effective youth engagement component in your program.
Who: Youth workers and young people interested in developing and promoting youth engagement
Description: Based on the Open Space conversation from the first Youth Workers Summit, we'll be focusing on how youth workers can create engagement opportunities for youth in programming. We will draw on the knowledge of a panel of youth workers and young people working on advisory councils, youth employment and other leadership programs. We will also spend some time drawing upon the knowledge in the room to create some guidelines for youth workers to utilize.
Panelists: Youth workers and participants from the Minneapolis Youth Congress, Youth Farm, Step Up, and more!
Agenda:
10:30 am – 11:00 am – Registration and Coffee & Shacks
11:00 am – 11:15 am – Welcome and Performance by Victoria Champion
11:15 am - 12:20 pm – Panel and Q & A
12:20 pm – 1:00 pm – Table Discussions and share back
This event is beign co-sponsored by the Minneapolis Health Department and the Minneapolis Youth Coordinating Board.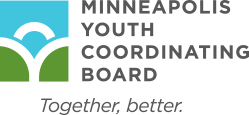 FAQs
How can I contact the organizer with any questions?
Contact Phil Rooney at 612-607-4091 or at phil.rooney@minneapolismn.gov or Nigel Perrote at 612-673-5527 or nigel.perrote@minneapolismn.gov for more info.