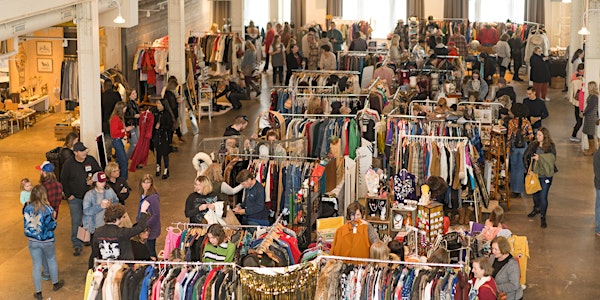 Minneapolis Vintage Market - October Shopping Pass
Minneapolis Vintage Market is heading to Machine Shop for our October market!
When and where
Location
Machine Shop 300 2nd Street Southeast Minneapolis, MN 55414
About this event
Minneapolis Vintage Market is back every month! For our October market we're heading inside to one of our favorite venues, Machine Shop. Find two floors of Minnesota's best vintage clothing, accessories and home goods vendors all in one spot. Plus we'll have coffee, beer and food available for purchase, Darin Kamnetz with a pop-up photo booth and DJ Buster Baxter spinning tunes.
************************************************************************************************************
COVID SAFETY PROTOCOLS FOR THIS EVENT:
• Proof of vaccination is required from all vendors and attendees to participate in this event.*
• Masks are required when not eating or drinking
• One-way shopping route throughout venue
• 6' spacing between each booth
• Sanitizing stations located throughout event
• Ticketed shopping reservations required to control capacity
*Proof of a full series of COVID-19 vaccination, or proof of a negative COVID-19 test taken in the prior 72 hours is required for all attendees. Attendees must have a completed COVID-19 vaccination card with their final dose at least fourteen days prior to the event, or a negative COVID test result within 72 hours of the event.
Proof of vaccination may include a physical card, vaccination record in the Docket app (https://docket.care), or a photo of a complete vaccination card that matches the patron ID. Proof of a negative test may be a printed or digital test result that matches the patron ID. Children under 12, who cannot be vaccinated, can show a negative test to attend.
Masks are required for all attendees, regardless of vaccination/test status.
Taking this step ensures the safety of our guests, staff, and vendors, and helps keep our small business open.
If you are not currently vaccinated, you can find out when, where, and how to get a free COVID-19 vaccine via Minnesota's Vaccine Connector here: https://vaccineconnector.mn.gov/en-US/
Find testing locations in Minnesota here: https://mn.gov/cov.../get-tested/testing-locations/index.jsp?
************************************************************************************************************
SCHEDULE:
Tickets are required for all attendees. Reserve a free shopping pass for entry 12-5 PM, or an Early Bird ticket for entry one hour before the general public at 11 AM, complimentary coffee and first dibs on all the one-of-a-kind goodies.
11:00 - 12:00 - Early Bird ticket holders - $10
12:00 - 5:00 - General Admission ticket holders - FREE
Cancellation policy:
If you feel ill, or persons in your household are ill, please cancel your reservation. If you have information that you were exposed to COVID-19, please cancel your reservation. Early bird tickets are non-refundable.
Photos: Darin Kamnetz, 2019