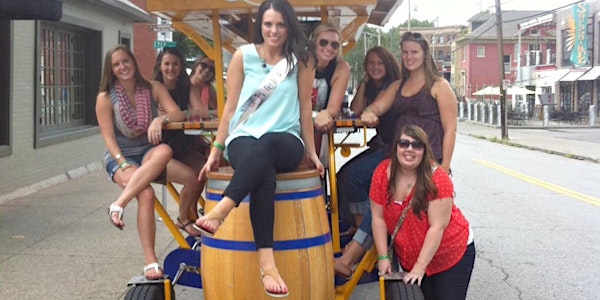 Minneapolis Pedal Bar
The best pedal bars in Minneapolis
By Lyons Entertainment USA
Date and time
Friday, March 1, 2024 · 10am - 10pm CST
Location
Minneapolis 10 S 5th Street Minneapolis, MN 55402
Refund Policy
Contact the organizer to request a refund.
About this event
Have fun with friends and family, while getting your group workout going with 10 people bike and sipping cold beer on your very own private tour.
This is a exciting group activity for bachelorette parties, birthday Parties, or just a hang out with friends.
Please let us know on what you're planning, so that we can help prepare to show you around and give you the best experience with our very custom made Pedal Bar.
Please make our reservations or contact us if you have any questions or concerns.
We look forward to seeing you all soon!
About the organizer
LYONS ENTERTAINMENT PRESENTS THE BEST MALE REVUE SHOWS, PARTY BUSSES, PEDAL BARS TOURS & BOAT PARTIES.
THE ULTIMATE MALE REVUE SHOWS:
The Ultimate Ladies Night Out; ladies come and check out live and awesome performances from the movie Magic Mike.
Bachelorettes, Birthday girls celebrate your special events with the hottest Hunks in town. Party all night long with these exotic male dancers in one of Top Night Clubs.
Ladies, this is the absolute perfect event to pamper yourselves and enjoy a massage, lap-dance or fun conversations with the Hunks.
We are opened every Friday and Saturday from 8:00PM to 10:00PM, reservations for admission is required.
Ladies welcome to The Ultimate Male Revue experience! 
THE BEST PRIVATE BUS PARTIES:
Experience an amazing evening out on our Private Party Busses. Celebrate your special evening or a casual night out with your family, friends, or colleagues.
Check out the city or water views as you party and enjoy your drinks on a smooth ride and best services available.
Bachelor or Bachelorette Parties, Birthday Parties, Bachelor Parties, Private Parties, Work Events, Proms, Special Occasions and more. Customize the package(s) that best suites your celebration and make your reservations as soon as possible.
we desire to give you a clean, relax and professional environment, the perfect fun set up for you and your family and friends to have the best time.
GROUP PEDAL BAR TOURS:
Have an amazing time with friends and family while getting your group workout with up to 10 people per tour, sipping cold beer and having lots of fun.
This exciting group activity is perfect for bachelorette parties, bachelor parties, work events, birthday parties, or casually hanging out with friends and more.
Please let us know what you are planning, so that we can prepare for your group in advance.
We are also affiliated with the best night clubs, bars, restaurants, events, shows, tours and etc. in every city that we are located.
THE EXCLUSIVE YACHTS & BOAT PARTIES:
Ladies and Gentlemen, gather around for the exclusive Yacht and Mega Boat Parties of this century. Indulge in the fun fest extravaganzas on the open sea, with all inclusive open bar and buffet.
These extraorrdinary events are themed, from "Great Gatsby" to Swimsuits Events, from BDSM Exhibitions to Black Tie & Evening  Gowns. 
Check out our Event Dates and Locations in New York, California and Florida.
THIS IS RSVP ONLY, SO PLEASE MAKE YOUR RESERVATIONS NOW.
***** NOTE:  RESERVATION IS REQUIRED FOR ALL EVENTS AND ACTIVITIES *****