Description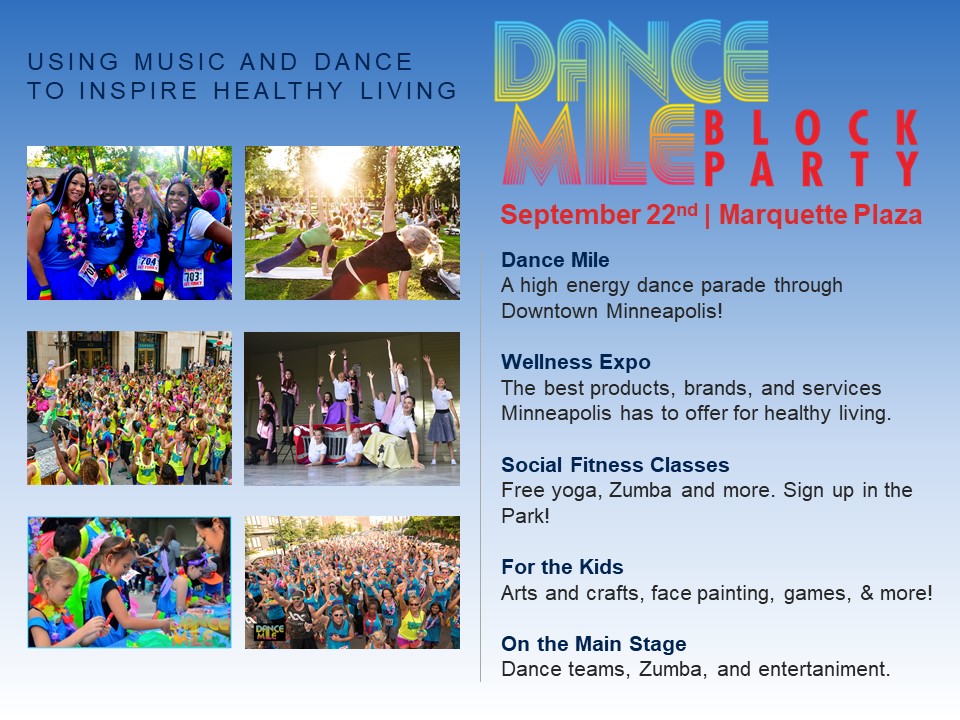 The Dance Mile - Using music and dance to inspire healthy living! There are many great reasons to become a sponsor or vendor at our Block Party and Wellness Expo. Here are just a few:

Align your brand with a family friendly fitness event: Something powerful happens when you dance down the street with 1,000+ of your friends and neighbors. We've found that the tight-quarters and public expression of joy excites great participant comradery and event loyalty, best evidenced by our high year to year participant retention.
Fun fitness/wellness activations: The Dance Mile Block Party provides a unique platform for additional sponsorship activations. With a diverse lineup of fitness and dance performances, as well as the best that Wellness Minneapolis has to offer, the event offers varied channels for your brand to engage a coveted demographic.
Earned and social media reach: With the upbeat music, loud costumes, and high energy action, the Dance Mile attracts earned media attention and inspires social media action. Sponsorship reach ripples out far beyond the one day event.

Inclusion in our Dance Mile Wellness Program: An additional marketing channel we are developing this year. The Wellness Progam is a bundle of goods and services featuring the best of Wellness Minneapolis. Again targetting fitness/wellness consumer in Minneapolis, your business reaches new potential customers with no investment costs.
Vendor Load In - 1:00 PM
Parking: Side Streets or Garages after unloading
Vendors are responsible for: 10x10, tables, chairs
Schedule of Events
2:30 PM - Vendor Village, Programming & Block Party
5:30 PM - Minneapolis Dance Mile
6:30 PM - Venue Closes
Notes:
Interested in more comprehensive sponsorship opportunities with custom brand activations? Contact us
Discounts available for Non-Profits & Community Groups
Once registered a confirmation email will be sent with pre-event & onsite contact information.
Ticket Benefits: 4 Free tickets to the event.