Description
The 21-Day Sugar Detox Daily Guide - #21DSDTOUR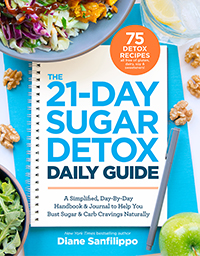 Come meet Diane!
Stop by Barnes & Noble for a short talk, open Q&A, and book signing event with one of your favorite nutrition & health experts: Diane Sanfilippo of BalancedBites.com & the Balanced Bites Podcast.

Diane Sanfilippo is a Certified Nutrition Consultant and New York Times bestselling author of Practical Paleo, The 21-Day Sugar Detox, and The 21-Day Sugar Detox Cookbook, co-author of Mediterranean Paleo Cooking, and co-host of The Balanced Bites Podcast.
Learn all the details about Diane's brand new book The 21-Day Sugar Detox Daily Guide and program updates - plus get your copy and have it signed at the event!
It's recommended you arrive 10 minutes before the event is set to begin. Please allow time for traffic!
The event will begin promptly at the start-time indicated. Diane will first talk about her new book and hold an open Q&A session before proceeding to sign books. The event may run until 3pm or it may not, it may also run slightly longer depending on time to sign books. The talk/Q&A portion generally lasts 60-75 minutes.
It's always strongly encouraged to support your local booksellers as a thank you for hosting whenever possible. You are welcome to bring any of Diane's previously released books with you as well for signing. If you already own the new title, you can bring it, but we do ask that you consider supporting the store with a purchase of any other title just to show our gratitude for their hospitality.
Thank you and see you there!
Adults only requested.