Event Information
Location
Eyelash Extension Training (Multiple Cities,FL)
2461 Metrocentre Blvd
West Palm Beach, Florida 33407
Description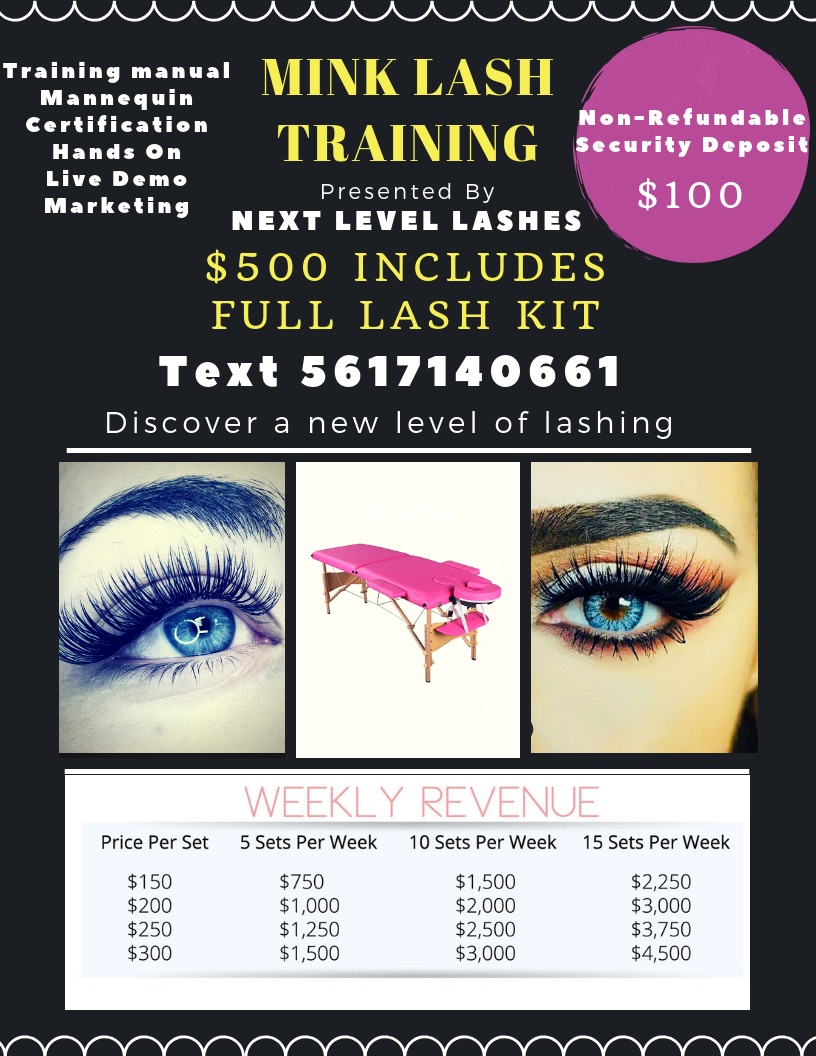 Next Level Lashes offers an extensive training program that caters to all different types of learners, providing hands on training leaving you ready to lash.
In this class, you will learn how to enhance your clients natural beauty by applying semi-permanent lash extensions. You will leave this class empowered and confident with the skills required to establish a successful career in lash extensions. Lashing is an art form in which each individual lash is lengthened with precision using a false hair to accomplish a full and natural look. During this training you will learn to efficiently and properly apply lash extensions.
What's included in the class
* Full lash kit and Mannequin
* In-depth training manual by Frankie Widdows
* Client Waiver and Liability Forms
* Aftercare Instructions
* Certification
* Discounted Lash supplies
*Wholesale and Private Label Vendors
* 24/7 Support and continuous mentorship
* Access to private student forum for lash techs with 20 year veterans
*Prizes and Giveaways (Chance to win a FREE MASSAGE TABLE)
What will be covered:
* Anatomy of the Eye
* Types of Eyelashes
* Lash Cycle
* Client Consultations/ Medical Concerns
* Contraindications
*Lash Prep and Proper Sanitation
* Product knowledge (lengths and diameters)
* Types of Glues
* Eyelash Application (isolation and Placement)
* Eyelash Mapping and Styling
* Eyelash Removal and Fills
* Aftercare and Maintenance
* Marketing and Promotion
*Social Media Ads
*Gaining Clientele
* Potential Earnings
*Demonstration and student Hands On application
*Networking and exchange of contact information
*Future Training opportunities making up to $50/hr plus hotel and travel accommodations
Training is 6 Hours
Tuition cost $500
✨All trainees will receive a full service kit‼️
Remaining balance is due in cash BEFORE THE START OF CLASS.
LOCATION WILL BE SENT 1 WEEK PRIOR TO YOUR TRAINING DATE VIA EMAIL USED AT REGISTRATION. THERE ARE NO EXCEPTIONS TO THIS POLICY. NO OTHER FORM OF PAYMENT WILL BE ACCEPTED
**VERY IMPORTANT** IN THE U.S MOST STATES REQUIRE ALL EYELASH EXTENSIONIST TO BE LICENSED ESTHETICIANS OR COSMETOLOGIST. WE PROVIDE CERTIFICATIONS NOT LICENSES. PLEASE CHECK WITH YOUR STATE FOR PROPER LICENSING REQUIREMENTS.
**DEPOSIT IS NON-REFUNDABLE**
By purchasing a ticket, you affirm that you agree to the terms.
SEATS ARE LIMITED SO PLEASE DO NOT WAIT UNTIL THE LAST MINUTE TO REGISTER, AS A SPOT MAY NOT BE AVAILABLE.
Click the link below to pay your deposit and select your specific training date
https://Nextlevellashes.as.me/
Questions or Concerns
TEXT 5617140661 BEFORE BOOKING.
*Receive $25 off your class when you refer a friend!!! Refer as many people as you like to get your class for Free
Upcoming Training dates:
Feb 2- Orlando
Feb 3- Tampa
Feb 9- Jacksonville
Feb 16- Tallahassee
Feb 23- West Palm
Feb 24- Miami
Date and Time
Location
Eyelash Extension Training (Multiple Cities,FL)
2461 Metrocentre Blvd
West Palm Beach, Florida 33407