MiniTrends 2014: Insight, Innovation & Strategy (Sept. 26, 2014)

Friday, September 26, 2014 from 8:30 AM to 7:30 PM (CDT)
Event Details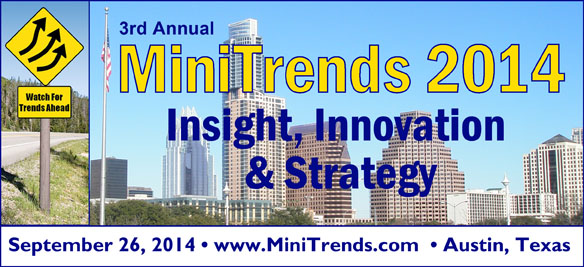 Turbo-Charge your Company's Profit and Success!
Attend this one day conference where ten all-star visionaries and thought-leaders will share how you can help your company thrive in today's business environment.
Stay on the cutting-edge of your industry by combining MiniTrends methodolgies with your innovation strategies.
Keynote: David Pearce Snyder, Futurist
See and Leverage Trends — BEFORE They Hit!
Look through a matrix of many emerging trends – MiniTrends – to find the essential macro-changes that you must anticipate to be successful as the future unfolds.
Learn six proven ways to find, analyze, and profit from the most important MiniTrends for your organization.
Remain relevant, timely and profitable – Be the first to develop MiniTrends for opportunity and profit.
Keynote: Brett Hurt,
Bazaarvoice Founder
Embrace Avenues to Innovation! 
INSIGHT: Discover what is coming for your industry; be open to ideas;find strategies to innovate within your company!
CULTURE: Cultivate the 'heart' of your organization to support innovation; apply new ideas as "secret sauce" for seizing new markets and opportunities to strengthen your bottom line
STRATEGY: Gain a competitive advantage through MiniTrends methodologies combined with your innovation strategies; gain from direct interaction with industry experts, futurists and thought leaders.
If This is You, This Conference Is A MUST!
ANALYSTS: Business, Marketing, Competitive, Market Acceptance
Dr. Jani Byrne, Dir of Mktg, Cloud, IBM
DEVELOPMENT MANAGERS: Technology, Strategy, Product, Delivery
STRATEGISTS: Technology, Business, Product, Partnerships, Channel
RESEARCH MANAGERS: New Product, Technology, Science, Materials, Methodologies
You Will Take Away…
Innovation Insight: 

Examine the predictable forces that are reshaping our business and technology environment.
Learn 20 knowable future trends that you must be prepared for.
Understand how the MiniTrends Concept can be key for continuing success.

Innovation Skills: 

Discover seven approaches for identifying minitrends.
Learn eight resources to find where minitrends hide.
Appreciate the vital role of leadership in promoting an innovation culture where employee creativity becomes the innovative "heart" of the organization.
See how appreciating all stakeholders, not just stockholders, is the "secret sauce" of success.
Find and share minitrends of your own with fellow attendees.

Innovation Strategies:

Accelerate your innovation and process development.
Leverage minitrends in market strategy development.
Use minitrends in making a market for a new product or service.
Find the exogenous drivers and constraints that can help with decision making.
Leverage minitrends in market strategy development.
Use minitrends in making a market for a new product or service.
Benefit from personal interaction with conference speakers during special session.
Bring back ideas and strategies for you and your team.
Conference Speakers:



Morning Keynote Speaker: David Pearce Snyder, Consulting Futurist; The Snyder Family Enterprise, Contributing Editor, The Futurist - A world-renowned Futurist, David has built an impressive track record with a wide range of clientele and a multi-million item data base of trends and projections over more then 30 years of forecasting.
Afternoon Keynote Speaker: Brett Hurt, Founder & Vice Chairman of the Board, Bazaarvoice; Owner, Hurt Family Investments - Brett founded Bazaarvoice and served as CEO and President for 7½ years, leading the company's growth to 2,000 clients worldwide and through to  its successful IPO. Brett invests in early-stage companies with Hurt Family Investments.
Featured: Jani Byrne, Ph.D. Director of Marketing, Cloud at IBM - Jani is a visionary who marries deep technological innovations and insights with a profound understanding of human and market psychology.
Keynote & Conference Chair: Dr. John H. Vanston, Chairman, Technology Futures, Inc. - John's MiniTrends concept, designed to increase creativity, innovation, and success, is summarized in his award-winning book MINITRENDS: How Innovators & Entrepreneurs Discover & Profit From Business & Technology Trends.
Featured: Joyce Gioia, President/CEO, The Herman Group; CEO, Employer of Choice, Inc. and Road Warrior of the Year, USA TODAY: Joyce has helped thousands of clients envision and create their preferred futures. She is the author of five business books and the popular weekly e-mail newsletter The Herman Trend Alert.
 
Conference Director: Carrie Vanston, VP, Communications, Technology Futures, Inc.- Carrie has many years of experience in public relations, marketing, and sales at TFI and in the entertainment industry. She is co-author of MINITRENDS: How Entrepreneurs & Innovators Discover & Profit From Business & Technology Trends
Raj Asava, CEO, Asava Consulting, Inc. - Raj is a  thought leader and strategy practitioner who guides clients in the public and private sectors in their organization's strategy. Born and raised in India with over 30 years of work experience in the United States, Raj has worked at many leading organizations.
Jeffrey Fry, Principal, Well Beynod Care; Chief Executive, Profit Prophet; Director/CMO, ManeGain; Executive Director, Firefly Funds; Executive Director, SHINE Night; President, SEDA RICO, LLC - Jeffrey has launched a new in-home healthcare service that empowers healthcare service professionals while better connecting in-home healthcare needs. As Profit Prophet, Jeffrey helps other companies thrive.
Steve Pearson, Lead Strategist, Founder, The Pearson Strategy Group - Steve's passion is accelerating innovation and R&D by identifying emerging, adjacent and disruptive technologies for companies ranging from Fortune 500s to small startups.
Dr. Lawrence Vanston, President, Technology Futures, Inc. - Larry is an expert on the future of telecommunications and its significance to organizations and people. Since 1985, he has authored ongoing reports commissioned by the TTFG, presently comprised of AT&T, CenturyLink, Verizon, and Windstream, and directs TFI's popular TFI Asset Valuation Conference, now in its 9th year.

Venue:


Holiday Inn Lady Bird Lake
Austin is a thriving, cosmopolitan city and one of the leading high-tech hubs in the U.S. What better place for a cutting-edge innovation conference?
The Holiday Inn Lady Bird Lake, (512) 472-8211, 20 North IH-35, Austin, TX 78701 is located on beautiful Lady Bird, is about a mile walk from Austin's famous Sixth Street entertainment district, and is near major Austin attractions. The hotel has direct access to the lake's hike-and-bike trails and offers complimentary shuttles to/from Austin Bergstrom International Airport and the Sixth Street district. A limited block of rooms is available for the price of $159 plus tax by clicking here or calling  1-888-615-0509 and referring to MiniTrends 2014 Conference and/or group code: TRN.
Registration:
SPECIAL! Pay only $190 – DEADLINE Monday, September 22, 12 NOON
General Registration: $364
Small Business, Non-Profits, Government, Academic Registration: $260
Student Registration - Active ID required (Limited Number Available): $65
Group Registration Early Bird – 4 Attendees for Price of 3!!
For a Limited Time Register Two Attendees and receive FREE Sponsorship!!
When & Where

Holiday Inn Lady Bird Lake, Austin, Texas
20 Interstate 35
Austin, TX 78701


Friday, September 26, 2014 from 8:30 AM to 7:30 PM (CDT)
Add to my calendar
Organizer
Technology Futures, Inc. (TFI), an Austin-based technology forecasting company established in 1978, provides top-quality custom studies and technology forecasts on key trends to a wide variety of commercial, government, and academic organizations. TFI's specialties include technology forecasting for high technology and communications, as well as depreciation/valuation, leadership development, and minitrends.