Ministry of Flow "Playa Bound" FANS Flow Workshop (4-wk series)

Saturday, July 20, 2013 at 11:00 AM

-

Saturday, August 10, 2013 at 12:30 PM (PDT)
Event Details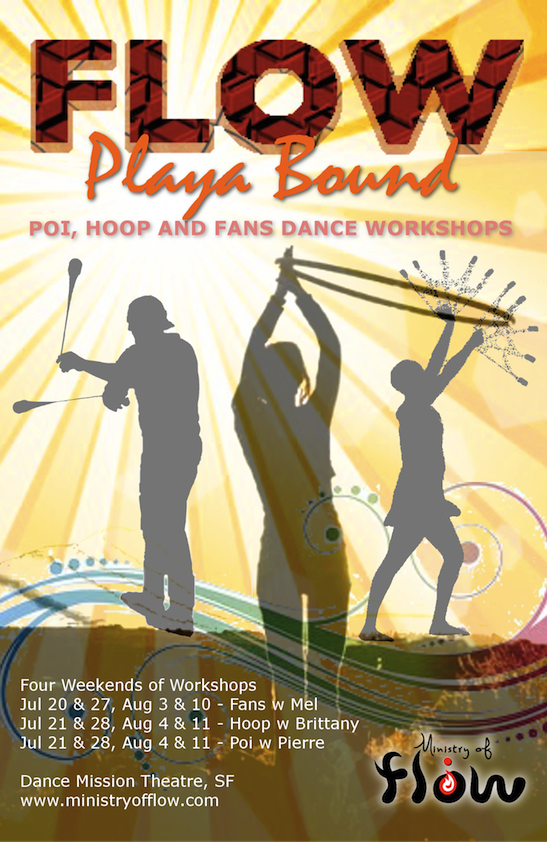 Come flow with us!
Playa bound (or not), come join us for a comprehensive 4 week Fans Workshop series to take your skills to the next level. Whether you're a complete beginner or have some fans fundamentals down already, this is a great opportunity for you to level up. This concept based workshop series goes beyond simply learning tricks, you'll learn the conceptual building blocks you need to discover new moves yourself. Build your skills and confidence and get ready to flow.
Workshop held 4 consecutive Saturdays from Jul 20 - Aug 10, 11.00am-12.30pm.
Workshop Details
The Ministry of Flow Fans Workshop is geared towards absolute beginners all the way to those who have a strong grasp of the basics, it's a great way to fill in the gaps in your practice.
Flow Agent, Mel Moondala will be teaching this workshop. Mel's journey through the flow arts began in June of 2010 with her introduction to the world of object manipulation and circus performance. She has been spinning fans since November of 2011 and describes her style as "a harmonious flow between tech, dance, and spirit". In her spare time she also practices poi, hoop, mini & double hoops, double staves, clubs, squares & mini squares, hexagons, triangles, Flow Fins, contact staff, aerial acrobatics, acro-balance, and juggling. Mel lives in Oakland, CA.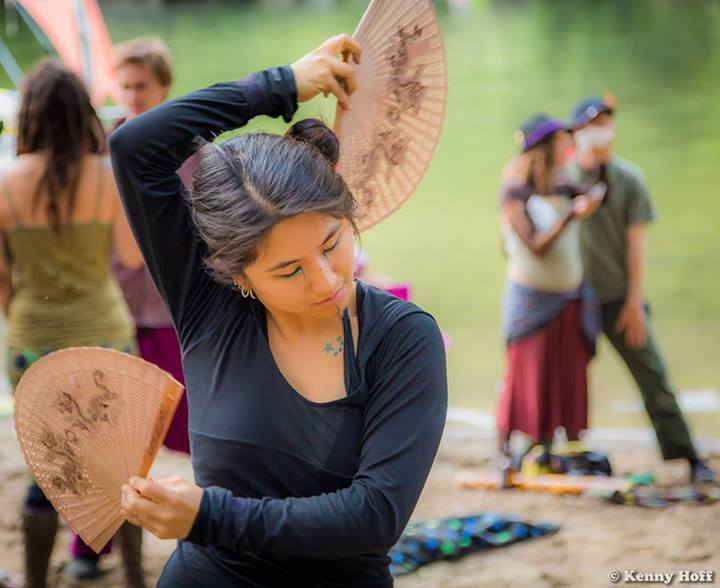 Week 1 (7/20) - "From the Ground Up"
Starting with a focus on staying grounded during fan dance & tech spinning, we will move onto learning the basics of creating technical patterns by going over planes, arm positioning, hand grips, timing & direction, and fan relations.
Week 2 (7/27) - "Fan Movement & Flow"
Carrying your props through space: Sustained spinning, stalls, basic weaves, and isolations. We'll also learn some moves involving crossers and isolation variations.
Week 3 (8/3) - "Body Movement & Flow"
Now we will carry both our props and our bodies together through space in harmony. Specifically, we will focus on extensions & barrel rolls, pirouettes, and legwork. We'll play with adjusting our levels and combining dance with tech.
Week 4 (8/10) - "Putting It All Together" 
In our final session, we'll solidify the connections that allow us to flow between tech patterns. We'll also learn to enhance our communication with the audience in order to create a dynamic and all-encompassing performance.
Each week's workshop for 90 mins will consist of approximately 10 mins of warm-up, 65 mins of instructions and 15 mins of guided practice and cool-down.
About Us
At The Ministry of Flow, we come together as a collective of flow artists, performers, musicians, teachers, healers and flow enthusiasts to develop and share our gifts and talents. This is to inspire others learn and incorporate flow into their lives and experience fulfillment, joy and happiness.

We offer a wide range of flow/fire arts, flow yoga & meditation, sound arts, various healing modalities and spiritual practices, self-empowerment workshops and performances & events. Our intention is to spread flow far and wide! 
Giving Back
Social responsibility is our cornerstone and we aspire to see communities thrive through our school and youth programs. 30% of the workshop fees you pay goes towards Ministry of Flow's FlowFUNd - a resource to support our school and youth-at-risk programs. Thank you for your contribution.
More Info
When & Where

Dance Mission Theatre, San Francisco
3316 24th St
San Francisco, CA 94110


Saturday, July 20, 2013 at 11:00 AM

-

Saturday, August 10, 2013 at 12:30 PM (PDT)
Add to my calendar