Description
As pastors and community leaders, what do we do when trauma just looks like our lives? Many groups across the country are pushing for trauma-informed ministry: serving from a perspective that acknowledges the impact of trauma. However, not all traumas and contexts are equal. This one-day workshop is designed to equip and empower local Christian leaders in Oakland and the greater Bay Area to serve communities impacted by repeated, systemic trauma (including community violence and the results of systemic inequality). Attendees will learn to understand, recognize, and respond to trauma. In continuation of the emphasis on equipping and empowerment, this workshop will be followed by opportunities and additional resources to further develop trauma knowledge as well as develop local connections with other leaders and appropriate public services.
A light continental breakfast and lunch will be provided for attendees.
About the Speaker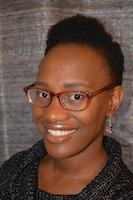 Dr. Sarah Hill is a recent graduate of Fuller Theological Seminary's Clinical Psychology Doctoral Program. As a daughter of the Church, she has a strong interest and desire to steward the education gifted to her by serving the Church, especially the Black Christian community. Her dissertation focused on identifying ways the Black Church can respond to those impacted by trauma. As a bilingual clinician fluent in Spanish, she has often found herself translating between members of one group who speak different languages. Comparatively, Dr. Hill sees herself as a translator between the psychological and lay communities and invests time in bridging connections between the two. Clinically, she enjoys working with under-served populations in creative ways. Personally, she enjoys music, dance, games, and a good movie. A wife and mother, Dr. Hill's first ministry is loving her husband, Christopher Hill, MDiv, and their two young children Jackson (age 4) and Eliana (6 months).
Details
DATE: Wednesday, March 14, 2018
TIME: 9:30 AM to 3:30 PM | Doors open at 9:00 AM
COST: Free
MEALS: Continental Breakfast and Lunch Included
LOCATION:
Patten University
Christian Cathedral, Faith Hall (Room Change)
2433 Coolidge Avenue
Oakland, CA 94601
PARKING: Street parking is available for free. Please check street signs prior to parking your vehicle. Parking is limited. If you can, please carpool or arrange a ride to and from the event.
Sponsor
This event is made possible by the Lowell W. Berry Center for Lifelong Learning at Fuller Theological Seminary and is supported by the William E. Pannell Center for African American Church Studies.