Description
THE FOREMOST SOUTH AMERICAN FORUM FOR THE GLOBAL MINING COMMUNITY
Mining Investment South America is a strategic mining conference and exhibition for the leaders of the mining, quarrying and construction materials industries, bringing together 350 attendees from 20 countries.
Ministers, mining companies, investors and service providers travel from all over Americas, Asia, Europe, Middle East and Africa for three days of partnering, networking and business matching.
Join us at an invaluable platform to seek new partnerships, new business and new opportunities.
THE CONFERENCE
The event delivers the highest level audience in the region, allowing you to speak and network with key buyers and industry leaders under one roof.
Our speakers are industry leaders and provide new perspectives on key issues disrupting & innovating mining sector, share cutting edge content and insights on the mining landscape.
THE EXHIBITION
The exhibition demonstrates the very latest in technology and solution innovations to mining industry buyers.
Mining technology, equipment & services companies, miners and governments take this opportunity to expand connections, launch new products and forge new business partnerships.
WHY ATTEND?
SOUTH AMERICA'S MOST IN

GENIOUS MINING FORUM
The exhibition is filled with mining companies, service providers and financiers allowing mining professionals direct access to mining projects, technical expertise and latest solutions.
INNOVATION, IDEAS & KNOWLEDGE SHARING
The conference gathers South America's top governments, institutional investors, miners and industry business leaders to discuss latest opportunities for the mining industry.
NETWORKING & BUSINESS MATCHING
A platform where you meet new business partners and do business in South America. Connect with industry players using online business matching application, the exhibition, roundtable discussions and cocktail night party.
Agenda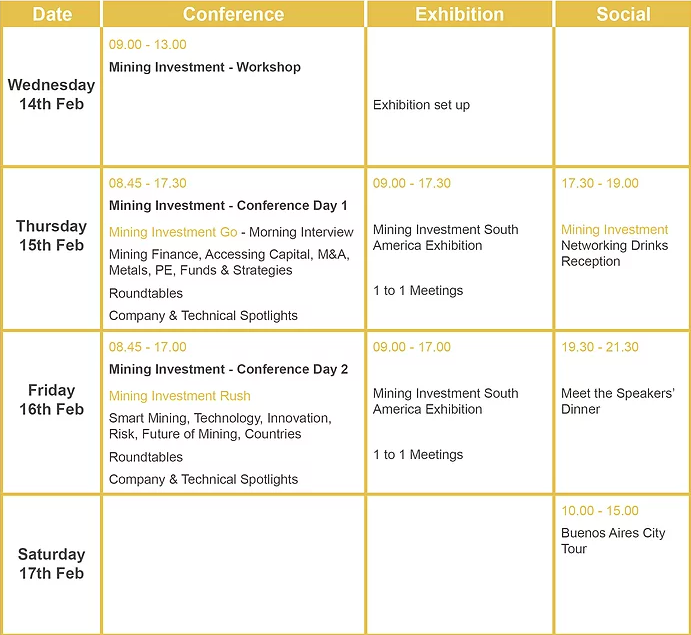 Meet & network with leading industry experts

H.E. TUMUR LKHAGVADOR AmbassadorEmbassy of Mongolia to SingaporeFormer DirectorHunnu Coal, Voyager Resources, Wolf Petroleum & Garrison Capital
ALBERTO ALEMAN
Honourable Secretary
Panama Investment Promotion Agency, Ministry of Commerce and Industry, Panama
HON TSHEKEDI KHAMA
Minister
Ministry of Environment, Natural Resources, Conservation and Tourism, Botswana
PENI SUSANTI
Executive DirectorProvincial Energy and Mining Association, Indonesia

DR KAYODE FAYEMIMinisterMinistry for Mines and Steel Development, Nigeria
OSCAR ZAPATA
Asset Sales DirectorDoe Run Peru Liquidacion en Marcha, Peru
YVONNE TAN
HR Business Partner, Global Marketing & SupplyBHP Billiton
FREDY WILMAN ROJAS CRUZ
Mining EngineerMining and Energy Planning Unit UPME, the Ministry of Mines and Energy, Colombia
DAVID ARCHER
CEOSavannah Resources, UK
GRAEME ROBERTSON
Chairman & CEO
Intrasia Capital / Singapore Mining Club
ALBERTO MIGLIUCCI
CEO & Founder
Petra Commodities
JAYANT BHANDARI
Mining & Institutional Investor Expert
Anarcho Capital
RONALD-PETER STÖFERLE
CMT Managing Partner & Fund Manager
Incrementum AG, Liechtenstein
AKSHYADEEP MATHUR
Secretary General
Federation of Mining Associations of Rajasthan, India
MARCO ROQUE
Associate Director
Emerging Markets Capital, Hong Kong
ERIK BETHEL
Managing Director
Interval Ventures, USA
BO POLNY
Gold Cycle Analyst & Strategist
Gold 2020 Forecast, USA
DR. JOSE LEVISTE
Chairman
Oceanagold (Phils), Inc, Philippines
TINA HOU
Managing Director
Welhunt Energy, Singapore
RAJIV BISWAS
Senior Director & Chief Economist, Asia-Pacific
IHSMarkit
BENJAMIN DUNN
Managing Director
Golden Dragon Resources, Singapore
SEAN ZUBICK
COO and Partner
Palisade Global Investments Ltd
BIAO CHEN
Managing Partner
Jinjiang Mining Fund
Deputy Secretary General
China Mining Association
CHRISTANNA BEVIN
Senior Consultant
STEP Supply Chain
ERICA RANNESTAD
Senior Metals Analyst, GFMS
Thomson Reuters, Singapore
DR. GAOMAI TRENCH
Acting Assistant Director
Department of Mines and Petroleum, Western Australia
KEITH WHITCHURCH
President Director
SMG Consultants, Singapore
TIM DUFFY
President Director
PT Agincourt Resources, Indonesia
NORMAN BISSETT
Foreign Legal Consultant
Hadiputranto, Hadinoto & Partners, Indonesia
SILVIA DE MARUCCI
Executive Manager, Economic Analysis & Market Research Division
Panama Canal Authority
WHO ATTENDS?
YOU CAN EXPECT TO MEET
​We will bring to the event over 350 global miners, entrepreneurs, financiers, investors, government leaders, technical experts and innovators under one roof and will attract all levels of executives to the event.
Mining and Energy Ministers & Department Heads

Mining Company C Level Executives & Senior Management

COOs & Chief Engineers

Chief Geologists

Heads of Geological Survey Boards

Local & International Investors

Asset Managers
Sovereign Wealth Funds, Pension Funds, Equity Funds & Private Equity Funds Managers

Banks

Insurance Providers

Brokers & Corporate Advisors

Equipment Solutions & Services Professionals

Lawyers

Consultants
Please contact the event manager Marilyn below for the following:
- Discounts for registering 5 or more participants.
- If you company requires a price quotation.
Event Manager Contact: marilyn.b.turner(at)nyeventslist.com
You can also contact us if you require a visa invitation letter, after ticket purchase.
We can also provide a certificate of completion for this event if required.

NO REFUNDS OR TRANSFER ALLOWED ON REGISTRATIONS
-----------------------------------------------------------------
This Event Listing is Promoted by
New York Media Technologies LLC in association
with SPIRE EVENTS PTE LTD.
http://www.NyEventsList.com
http://www.BostonEventsList.com
http://www.SFBayEventsList.com
-----------------------------------------------------------------
SHU170808CEV
Date and Time
Location
Refund Policy