Description
THE FOREMOST SOUTH AMERICAN FORUM FOR THE GLOBAL MINING COMMUNITY
Mining Investment South America is a strategic mining conference and exhibition for the leaders of the mining, quarrying and construction materials industries, bringing together 350 attendees from 20 countries.
Ministers, mining companies, investors and service providers travel from all over Americas, Asia, Europe, Middle East and Africa for three days of partnering, networking and business matching.
Join us at an invaluable platform to seek new partnerships, new business and new opportunities.
THE CONFERENCE
The event delivers the highest level audience in the region, allowing you to speak and network with key buyers and industry leaders under one roof.
Our speakers are industry leaders and provide new perspectives on key issues disrupting & innovating mining sector, share cutting edge content and insights on the mining landscape.
THE EXHIBITION
The exhibition demonstrates the very latest in technology and solution innovations to mining industry buyers.
Mining technology, equipment & services companies, miners and governments take this opportunity to expand connections, launch new products and forge new business partnerships.
WHY ATTEND?
SOUTH AMERICA'S MOST IN

GENIOUS MINING FORUM
The exhibition is filled with mining companies, service providers and financiers allowing mining professionals direct access to mining projects, technical expertise and latest solutions.
INNOVATION, IDEAS & KNOWLEDGE SHARING
The conference gathers South America's top governments, institutional investors, miners and industry business leaders to discuss latest opportunities for the mining industry.
NETWORKING & BUSINESS MATCHING
A platform where you meet new business partners and do business in South America. Connect with industry players using online business matching application, the exhibition, roundtable discussions and cocktail night party.
Agenda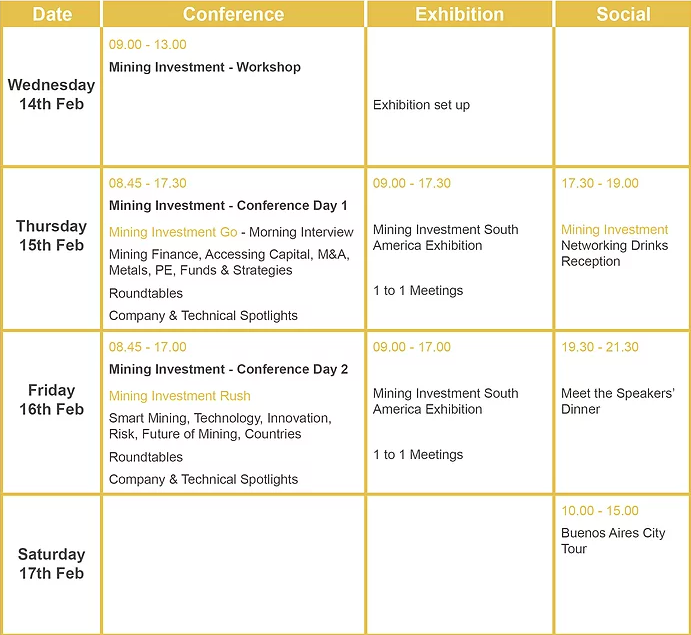 Meet & network with leading industry experts
Gabriel Rubacha was previously the Commercial Director of Techint Engineering and Construction. Prior to this position,
Mr. Rubacha served as the Managing Director of the Southern Cone Region (Argentina, Chile and Uruguay), General Manager at Techint Chile, Project Director for the Pascua Lama Project, Business and Contract Manager at Veladero Project and Business Development, and Commercial Manager for Techint Engineering and Construction. Mr. Rubacha has an MBA from the Universidad de Belgrano/Ecole des Ponts et Chaussees, Paris, France, graduated from the Executive Program at the Darden School of Business of the University of Virginia, and has an Aeronautical Engineering degree from the Universidad Tecnologica Nacional, Argentina.

JOSÉ GUSTAVO DE CASTRO ALEM
Chief Operating Officer
NRG Metals Inc, Argentina
José Gustavo de Castro Alem, is a Chemical Engineer with deep experience in international mining operation, project and commercial management. Specializing in process engineering, mining, resources management operations work. He held important operations and executive positions in mining organizations in Argentina and Chile. Experienced in project development and start-up. Leadership, creativity and the capacity to design specific solutions, with Neuro Management Skills and Bussiness Administration degree.
ROLANDO DÁVILA RODRÍGUEZ
Director Secretary
Chile and Argentina Chamber of Commerce
Rolando Davila is a professional with experience in Government Relations, Stakeholders Engagement and Business Strategy in Mining, especially in South America.
Has a solid knowledge in business, political and social matters in the region.
Currently holds the position
Director Secretary at the Chile & Argentina Chamber of Commerce in Chile.
Strategic Advisor at McEwen Mining, Los Azules Project
His previous activity was:
2014 - 2016: Senior Advisor New Business Dessau Engineering, Chile.
2012 - 2014: Director Secretary of the Mining Corporation of Coquimbo (Corminco), Chile.
2005 - 2013: Xstrata Copper El Pachon Project - Manager of Government Relations.
1998 - 2006: Chile & Argentina Chamber of Commerce - General Manager.
PEDRO M. VERA ORTIZ
Corporate Head of Legal Affairs
Cía. Minera Santa Luisa S.A. (Mitsui Kinzoku Group)
DANIEL MEILAN
Secretary
Ministry of Energy & Mining, Argentina
Daniel Meilán currently holds the title of National Mining Undersecretary for Argentina. He graduated from La Plata National University in Argentina with a Bachelor of Science Degree, specialising in Geology. He also acquired a Masters degree in Mining Engineering Science from University of Guanajuato, Mexico. He has had extensive roles in advisory for private mining companies, banks, and Government institutions on a number of mining related topics. In addition to his role of National Mining Undersecretary he also serves as the Team Leader of the Mining Sector of the Japanese-Argentine Joint Committee
MIGUEL INCHAUSTEGUI
Former Vice President of Corporate Affairs and Sustainable Development of Americas & Corporate Secretary of the Board
Gold Fields La Cima
Miguel Incháustegui has more than 22 years of experience in the mining sector, during his years of experience, he has been able to work in important mining companies (Barrick, Volcan Compañía, Minera, Lumina Copper and Gold Fields La Cima), as well Member of the Cabinet of Advisors to the Prime Minister in 2002 and Professor of Royal Rights of the Feminine University of the Sacred Heart (UNIFE).
GABRIEL ALEJANDRO PAGANINI
Mining Director
Trident Gold Corp
Gabriel has experience of more than two decades of experience in the gold and silver mining mining industry in mine management positions, project engineering & management, mining operations and production supervision. He started was responsible for setting footprints of Cerro Vanguardia and Mina Pirquitars. His experience includes liaison with the government and mining authorities, drilling & mine design and liaison with mine contractors and suppliers.
Experience in production of gold and silver and registered in AusIMM (Australasian Institute of Mining & Metallurgy) as a Chartered Professional.
MANUEL NOVOA
Finance & Administration Controller
McEwen Mining, Argentina
Manuel Novoa has international experience, mainly in mining and consulting services. Currently holding financial and audit positions for "McEwen Mining" (Argentina and Mexico). In "Malbex Resources" was responsible for improving financial discipline for Del Carmen project in Argentina. At "Golder Associates" supported the development of the business in Argentina focussed in financials. Holds a Public Accountant degree from UNC (Argentina), a Diploma in Financial Management from UB (Argentina), a Master in Business Administration from UFV (Spain) and several certifications and trainings.
CARLOS BISPO
CFO​
BPA stones, Brazil
Carlos is heading Administration & Finance of PBA Stones in Brazil, a mining company belong to Wisenbaker Group in Texas, USA.
He has more than 60 lectures worldwide, including: Brazil, Mexico, Argentina, USA, Abu Dhabi, Russia and China.
More than 15 years as MBA Professor of: Finance, Investments, Compliance, Audit, Policies and Procedures, International Accounting (IFRS, Brazilian GAAP, US GAAP and UK GAAP), Taxes, Leadership, Coaching, Ethics, M&A and Entrepreneurship.
He has more than 30 years as a Senior Finance, Controlling and Administrative Executive with broad international experience, worked 2 years in Miami – USA, Latin America experience(Brazil, Mexico, Argentina, Colombia, Uruguay, and Venezuela) as LATAM CFO, Native in Portuguese, fluent in English and advanced in Spanish.
JOSE C. BARROSO M
Country Manager
Empresa Minera Yacuses S.A
(Previously owned by FerrumAmericas Canada), Bolivia
DIEGO TEMPERLEY
Founding partner and MD
Capital Agroindustrial (CASA)
Diego is a seasoned investment banker with over 20 years of experience in the provision of a broad array of sophisticated financial and advisory services for natural resources and agribusiness sectors. Over the years, he has been involved in transactions totaling about USD 4 billion in value.

Founding partner and MD of Capital Agroindustrial, an investment banking boutique, where Diego leads the Mining & Natural Resources practice. Since 2012, he has strengthened his focus on mining foreign investment helping foreign investors entering or currently working in Argentina, by the screening of opportunities, providing local support and direct interaction with the federal and provincial governments and regulators.
IGNACIO CELORRIO
Executive Vice-President LATAM Operations, Lithium Americas Corp | Vice President,
Australian-Argentine Industry and Commercial Chamber, Argentina
Ignacio Hernán Celorrio is Vice President of Australian Argentina Industry and commercial chamber. Mr. Celorrio has been a Board Member of CAEM (Cámara Argentina de Empresarios Mineros –Argentine Chamber of Mining Entrepreneurs) for almost ten years and direct participant in practically all Argentinean mining companies associations. He is also Chair in Administrative Law at the Universidad del Museo Social Argentino and has extensive academic practice.
Mr. Celorrio has been a founding Board Member of Extorre Gold Mines Ltd. (which was listed in the TSX and AMEX previously to the Yamana Gold take-over)
FRANZ ESCALANTE
Information System Chief
Minera Chinalco Perú, Peru
Franz Escalante is a professional with experiences inside and outside of his country, his experience covered different industries, initiated in textile dye industry, improvement the access to information, later in industries of soft drinks in purchasing and logistics areas, continued his career in consulting business, implementing PeopleSoft ERP during 9 years in several industries as Oil & Gas, Banking, Retail, Mining, TelCo and Press. His penultimate Job was in IBM, in charge of identify, elaborate and building proposals for different Customers Industries, currently he serves as Information Systems Chief in Minera Chinalco Perú and performed projects for integration and harmonization of backoffice and Industrial systems.
EMILY SARAH
Managing Partner
DCDB group
Emily is a founder of DC Ventures. Emily serves as Managing Partner and COO of DCDB Group. She holds a dual Bachelor's degree in Economics and International Political economy from Tulane University and a Master's degree in International Economics from American University.
She has worked as a project consultant and research associate for Exoventure Associates and Native American Capital. In this capacity, Emily structured public/private joint ventures that incorporated New Market Tax Credits (NMTC) and Tribal Economic Development Bonds (TEDBS) into private project financing structures.​
Emily is fluent in English and Spanish, and excels in both team leadership and in the ability to dissect and present complex projects in a concise and clear manner.
SABRINA SHAW
Regional Director
IISD
Dr. Sabrina Shaw is a specialist in the area of trade and sustainable development. She currently is Associate and writer for the IISD Earth Negotiations Bulletin. From 2006 to 2007, she was Research Coordinator for the IISD Rapid Trade and Environment Assessment project in the Mekong region, preparing national reports for Thailand and Lao PDR. She taught a graduate course in environmental policy and politics at Chulalongkorn University (Bangkok) and lectured at the Universidade de Brasília (Brazil). Prior to joining IISD in 2003, Sabrina was an active member of the Secretariat of the World Trade Organization (WTO) in the area of trade and environment, having joined the GATT Secretariat at the outset of work in this area in 1992. She also organized the first NGO Symposium in 1994 and served as Secretary to the WTO dispute settlement panels on Brazil Aircraft Article 22.6 (2000) and US Shrimp-Turtle Article 21.5 (2001).
ANDREA DEL VALLE POLIZZOTTO BACUR
Legal Advisor Mining Sector and Director
RadioStation Minera
Andrea del Valle Polizzotto Bacur is a lawyer and mediator who is fluent in Spanish and English. She is involved in legal work pertaining to the role of mining companies in sustaining and protecting the natural environment. She has also been training providers, miners and tourism officials and is the legal advisor of the Argentinean Association of Ecotourism and Tourism Aventura (AAETAV) and coordinator of training courses in tourism for mining companies. Andrea also participates in international policy seminars and congresses ranging from tourism, mining, environmental impact, commercial mediation, infra-corporate capitalization and corporate social responsibility. She is also director at Radio Station MINERA, the only multimedia radio In San Juan, Argentina directed exclusively to the productive and mining sector.
FRANCISCO J. PREUSCHE
Director - Mining investment
Argentina Investment Trade Promotion Agency
Francisco is married and has three children.
Prior to joining the Agencia Argentina de Inversiones y Comercio Internacional, he worked for 2 years as a Planning and Management Control Manager at Etiqueta Negra, and 7 years as a consultant at PIP and ALMADO S.R.L. (2-5 respectively) where he got to improve business across several industries (Mining, P&P, Waste-treatment, Consumer electronics, Fashion Production-Retail, and other).
Areas of expertise:
Semi-Senior (and lower levels) Management coaching
Managing change implementation (several industries)
Business Modeling
Retail stores' management, and production optimization
MARCELO ALVAREZ
President
Argentina Mining Association
(Invited)
ANTONIY TOMASHEVSKIY
CEO
GeoJet Exploration
Antoniy is the CEO of GeoJet Explorations and graduated from University of Geological Prospecting. He founded the service company to provide distinctive range of services for mining companies and private investors applying the advanced geophysical solutions based on own R&D and field experience
Please contact the event manager Marilyn (marilyn.b.turner(at)nyeventslist.com ) below for:
- Multiple participant discounts
- Price quotations or visa invitation letters
- Payment by alternate channels (PayPal, check, Western Union, wire transfers etc)
- Event sponsorship

NO REFUNDS ALLOWED ON REGISTRATIONS
Prices may go up any time. Service fees included in pricing.
-----------------------------------------------------------------
This event is brought to you by:
Spire Events Pte Ltd. - NewYorkEventsList
http://www.NyEventsList.com
http://www.BostonEventsList.com
http://www.SFBayEventsList.com
-----------------------------------------------------------------

SHU170808CEV VIO180131UPD