Description
THE FOREMOST
WEST AFRICA
FORUM FOR THE GLOBAL MINING COMMUNITY
Mining Investment Nigeria is a strategic mining conference and exhibition for the leaders of the mining, quarrying and construction materials industries, bringing together 350 attendees from 20 countries.
Ministers, mining companies, investors and service providers travel from all over Americas, Asia, Europe, Middle East and Africa for three days of partnering, networking and business matching.
Join us at an invaluable platform to seek new partnerships, new business and new opportunities.
THE CONFERENCE
The event delivers the highest level audience in the region, allowing you to speak and network with key buyers and industry leaders under one roof.
Our speakers are industry leaders and provide new perspectives on key issues disrupting & innovating mining sector, share cutting edge content and insights on the mining landscape.
THE EXHIBITION
The exhibition demonstrates the very latest in technology and solution innovations to mining industry buyers.
Mining technology, equipment & services companies, miners and governments take this opportunity to expand connections, launch new products and forge new business partnerships.
WHY ATTEND?
ARIFCA'S MOST IN

GENIOUS MINING FORUM
The exhibition is filled with mining companies, service providers and financiers allowing mining professionals direct access to mining projects, technical expertise and latest solutions.
INNOVATION, IDEAS & KNOWLEDGE SHARING
The conference gathers Afri's top governments, institutional investors, miners and industry business leaders to discuss latest opportunities for the mining industry.
NETWORKING & BUSINESS MATCHING
A platform where you meet new business partners and do business in Africa. Connect with industry players using online business matching application, the exhibition, roundtable discussions and cocktail night party.
Agenda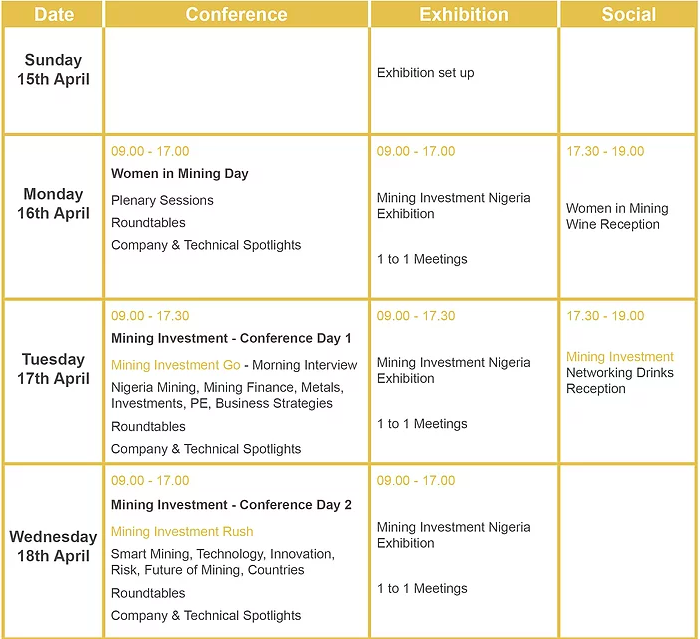 Meet & network with leading industry experts
DR KAYODE FAYEMI
Minister
Ministry for Mines and Steel Development, Nigeria
ALHAJI SANI SHEHU MAILALLE
President
Miners Association of Nigeria
ALHAJI MOHAMMED AMATE
Chief Executive Officer
Mining Cadastral Office, Nigeria
ALEX NDUBISI NWEGBU
Director General
Nigerian Geological Survey Agency
PROF IBRAHIM GARBA
Vice Chancellor
Ahmadu Bello University
PROF STEPHEN MALLO
Dean, Faculty of Engineering
University of Jos, Nigeria
SUNNY EKOZIN
President
Progressive Miners Empowerment Association, Nigeria
DEMOLA GBADEGESIN
Managing Director
Promethean Resources Limited, Nigeria
OLEBOGENG SENTSHO
CEO
Simba Mgodi Mining Fund, South Africa
PHILIP ANDREWS
Director
Pridolian
SINGHTO YOBANA
Managing Director
SDG Services, Nigeria
TONY NWAKALOR
CEO
Soundcore Group, Nigeria
OKECHUKWU NNEBEDUM
Department of Geology & Mining
Enugu State University of Science and Technology
DR SMART C OBIORA
Head of Department of Geology
University of Nigeria, Nsukka,
General Secretary
Nigeria Nigerian Mining and Geosciences Society (NMGS)
DR. OLADELE OLANIYAN
Chief Executive Officer
Geodel Integrated Systems Ltd (GISL)
KEVIN JOSEPH
CEO/Director
KCM Mining
Executive Director
Kogi Iron
DIETER AHMED BASSI
Geoscientist
Nigeria Extractive Industries Transparency Initiative, Nigeria
EMILY ACHOR
Technical Director
Solserve Mines, Nigeria
KUBIAT EFFANGA
Chief Executive Officer
Chalice Mining and Mineral Processing Industry
VIMBAI CHAKANESTSA
CEO
Destiny Mineral and Agricultural Consultants, UAE
PATRICK ODIEGWU
Partner
Antracyte Ltd
CEO
Polyguard Investment Nigeria
WHO ATTENDS?
YOU CAN EXPECT TO MEET
​We will bring to the event over 350 global miners, entrepreneurs, financiers, investors, government leaders, technical experts and innovators under one roof and will attract all levels of executives to the event.
Mining and Energy Ministers & Department Heads

Mining Company C Level Executives & Senior Management

COOs & Chief Engineers

Chief Geologists

Heads of Geological Survey Boards

Local & International Investors

Asset Managers
Sovereign Wealth Funds, Pension Funds, Equity Funds & Private Equity Funds Managers

Banks

Insurance Providers

Brokers & Corporate Advisors

Equipment Solutions & Services Professionals

Lawyers

Consultants
Please contact the event manager Marilyn below for the following:
- Discounts for registering 5 or more participants.
- If you company requires a price quotation.
Event Manager Contact: marilyn.b.turner(at)nyeventslist.com
You can also contact us if you require a visa invitation letter, after ticket purchase.
We can also provide a certificate of completion for this event if required.

NO REFUNDS OR TRANSFER ALLOWED ON REGISTRATIONS
-----------------------------------------------------------------
This Event Listing is Promoted by
New York Media Technologies LLC in association
with SPIRE EVENTS PTE LTD.
http://www.NyEventsList.com
http://www.BostonEventsList.com
http://www.SFBayEventsList.com
-----------------------------------------------------------------
SHU170808CEV