Description
Promoting Green Mine Investments with
Corporate Responsibility


Mining Investment Central America is a strategic mining conference and exhibition for the leaders of the mining, quarrying and construction materials industries, bringing together 250 attendees from 20 countries.
Mining companies, investors, governments and service providers travel from all over Europe, Middle East, Asia and North America for three days of partnering, networking and business matching.
Join us at an invaluable platform to seek new partnerships, new business and new opportunities.
THE CONFERENCE
Mining Investment Central America welcomes ministers, geological surveys, exploring and operating mining companies, investors and key technology and production solution providers wanting to enter, expand and develop their market presence at the world's next frontier mineral resources region.
Our innovative agenda and content, including keynotes, interactive panel discussions,

interviews, roundtable sessions and 20 minutes case study presentations, will enable you to learn from the best leaders.
The Conference Topics Include:
Global & regional investment opportunities: projects, countries, commodities

Financing options for mining companies: structures, sources and availability

Mining investment & downstream processing opportunities in Central America

Regional outlook on Panama, Colombia, Mexico, Peru, Chile, Dominican Republic, Jamaica,Cuba, Trinidad & Tobago, Costa Rica, Brazil, Venezuela, Haiti & others

Improving mining productivity & profitability

New minerals processing and production opportunities: refineries & refractories

Structured trade finance & mining finance for both ferrous and non-ferrous metals trade,precious metals, rare earth minerals, quarry, marble and limestone deals

Plenary roundtables on mining finance, insurance, smelting & refining, scrap metals, legal,contractors & suppliers, private equity, offshore & capital raising

Commodity roundtables on gold, silver, copper, zinc, coal, uranium, diamond, lead, bauxite,lead, tungsten, limestone, iron ore, rock potash and industrial metals

Port developments and dry bulk handling for the minerals trade

How the expansion of the Panama Canal will impact Central America minerals and metals trade

Strategic use of ICT, satellites, new survey technologies & telecoms and much more!
The exhibition is filled with mining companies, service providers and financiers allowing mining professionals direct access to mining projects, technical expertise and latest solutions.
The conference gathers Central America's top governments, institutional investors, miners and industry business leaders to discuss latest opportunities for the mining industry .
A platform where you meet new business partners and do business in Central America. Connect with industry players using online business matching application, the exhibition, roundtable discussions and cocktail night party.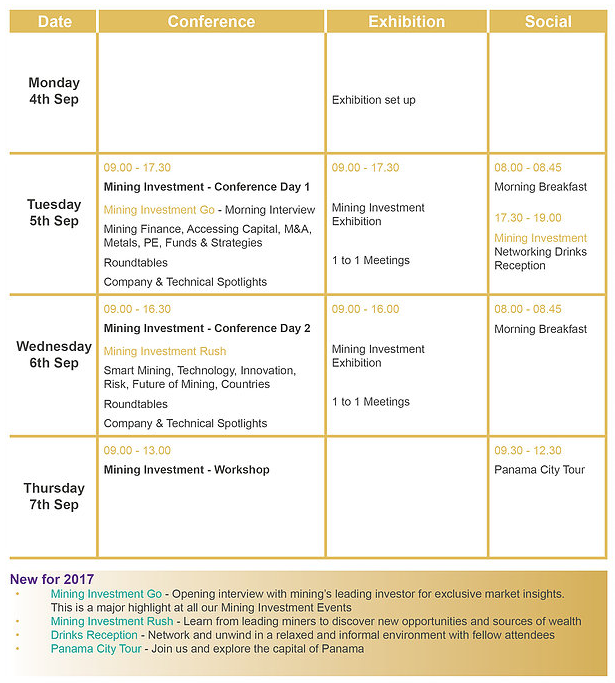 Meet & network with leading industry experts
SR. AUGUSTO AROSEMENA
Minister
Ministry of Commerce and Industry, Panama
DANEL YAMIL SANCHEZ PEÑA
Director, Environmental Quality Protection
Ministry of Environment, Panama
ALBERTO ALEMAN
Director
Panama Investment Promotion Agency
GAUTHIER HORTH
Society Director
Union Minière de Saül (UMS), French Guiana
FREDY WILMAN ROJAS CRUZ
Mining Engineer
Mining and Energy Planning Unit UPME, the Ministry of Mines and Energy, Colombia
SILVIA DE MARUCCI
Executive Manager, Economic Analysis & Market Research Division
Panama Canal Authority
ROBIN SLAUGHTER
President & CEO
Albrook Gold Corporation and Kurigold Corporation, Canada
DR. ROBERTO ROCA
Director
BEP Advisors, Panama
PEDRO SALINAS
Director
GeoWater Consult / Willowstick Technologies
SEAN ZUBICK
COO & Partner
Palisade Global Investments Ltd
CRISTINA THOMEN
Secretary General
Mining and Petroleum Chamber of the Dominican Republic (CAMIPE)
MONTY REED
General Manager
Aura Minerals, Honduras
CRISTINA THOMEN
Secretary General
Mining and Petroleum Chamber of the Dominican Republic (CAMIPE)
MARTIN VALDES
Managing Director
Resource Capital Funds, Chile
ALEXIS GONGORA
Director of Mining
Ministry of Mining and Energy, Cuba
OMAR Y ALCOCK
Senior Economist
Ministry of Science, Energy & Technology, Jamaica
​
Senior Official
Guyana Geology and Mines Commission
SIMON WHISTLER
Managing Director
Control Risks, USA
Please contact the event manager Marilyn below for the following:
- Discounts for registering 5 or more participants.
- If you company requires a price quotation.
Event Manager Contact: marilyn.b.turner(at)nyeventslist.com
You can also contact us if you require a visa invitation letter, after ticket purchase.
We can also provide a certificate of completion for this event if required.

NO REFUNDS OR TRANSFER ALLOWED ON REGISTRATIONS
-----------------------------------------------------------------
This Event Listing is Promoted by
New York Media Technologies LLC in association
with SPIRE EVENTS PTE LTD.
http://www.NyEventsList.com
http://www.BostonEventsList.com
http://www.SFBayEventsList.com
-----------------------------------------------------------------
SHU170427CEV