Description
"The dentists here learned a tremendous amount about the new technology that is out there... This course will change how you practice endodontics forever." -- David McCarty, DDS / Endodontist, Colorado Springs, CO

Minimally Invasive Endodontics: Concepts Methods, and Technologies
This interactive, hands-on, continuing education course details new advances in heat-treated nickel titanium instruments, and will teach you how to utilize these new technologies effectively, efficiently, and economically with a new and highly innovative endodontic technique.
LEARN essential science and the latest advances in the heat treatment of nickel titanium instruments.

PRACTICE using the latest state-of-the-art instruments, ProDesign Logic, provided by Easy Endo USA.

DISCOVER clinically-effective, minimally-invasive, single-file, rotary nickel titanium file utilization, and prevention of iatrogenic events.

PARTICIPATE in an interactive learning experience that will prepare you to confidently implement new rotary methods into your practice.
Designed for both general dentists and endodontists, this lecture and hands-on course will familiarize you with significant material and clinical advances made over the past decade regarding Nickel Titanium (NiTi) instrumentation. You will also learn about the material differences in various industry NiTi instrument heat treatment methods, and which ones make canal shaping safer, more efficient, and highly economical.
We'll also teach you proper clinical utilization and application of these advances, and endodontic retreatment using these materials and techniques during the hands-on portion of the course. Demonstrated on both plastic blocks and extracted teeth*, participants will have ample time to practice shaping canals utilizing the same methods and instruments.
Attendance is strictly limited to 10 doctors per session.
Each participant will receive 3 CE credits (AGD subject code: 070), plus a one-year subscription to Endodontic Practice USA, North America's leading, clinically-based, endodontic journal.
Material support for this class is provided by Easy Endo USA.
*Participants are asked to bring 2 extracted accessed molar teeth, approximately 21 mm long. Please, no third molars. No open apices. Participants should not mount their teeth in stone.
---
Dr. Richard Mounce graduated from Northwestern Dental School in 1985 and obtained his certificate in Endodontics from Oregon Health Services University in 1991. A practicing endodontist, he is the owner of MounceEndo.com.

For more information about Easy Endo USA ProDesign Logic nickel titanium files and other Easy Endo USA products call us at 321-370-4327 or email us at info@EasyEndoUSA.com. Easy Endo USA products are available at EasyEndoUSA.com and MounceEndo.com.

Parking fees are the sole responsibility of the participant in locations where a parking fee is charged.

Up to one week prior to the course date, the participant may cancel and receive a full refund. Cancelations (and no shows) within seven days of the course date will not be refunded.

Easy Endo USA reserves the right to cancel any course, at any time for any reason. In the event of a course cancellation, Easy Endo USA LLC's liability is limited to a full refund.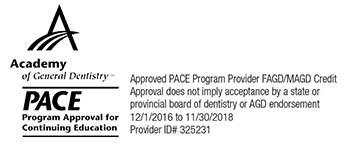 ---
Disclosure: Dr. Mounce is the North American General Manager for Easy Endo USA, and MounceEndo is a distributor of Easy Endo USA products.
FMC is designated as an Approved PACE Program Provider by the Academy of General Dentistry. The formal continuing dental education programs of this program provider are accepted by the AGD for Fellowship, Mastership and membership maintenance credit.

This activity has been planned and implemented in accordance with the standards of the Academy of General Dentistry Program Approval for Continuing Education (PACE) through the joint program provider approval of FMC and Easy Endo USA. FMC is approved for awarding FAGD/MAGD credit.