Description
Take a little time out in early January to recharge and create a vision for your life in 2018!
Do you want 2018 to be your best, happiest, most fulfilling, year yet?
Would it help to have a really clear vision of what that looks like for you?
Maybe you already know what you want more/less of in your life...but could use some tools to make it actually happen!
This mini-retreat will give you some space to relax and explore what you really want for the year ahead. We'll also have some time at the start to reflect on what isn't working any more...and to 'let go' of that...
We'll use creative exercises to create your own unique and inspiring vision for 2018 and also discover an easy way to make decisions during 2018 that will take you towards your ideal life.
It's a good chance to meet like-minded people and have a few laughs. It won't be too serious!
Tickets include a hot drink of your choice while we create our visions :)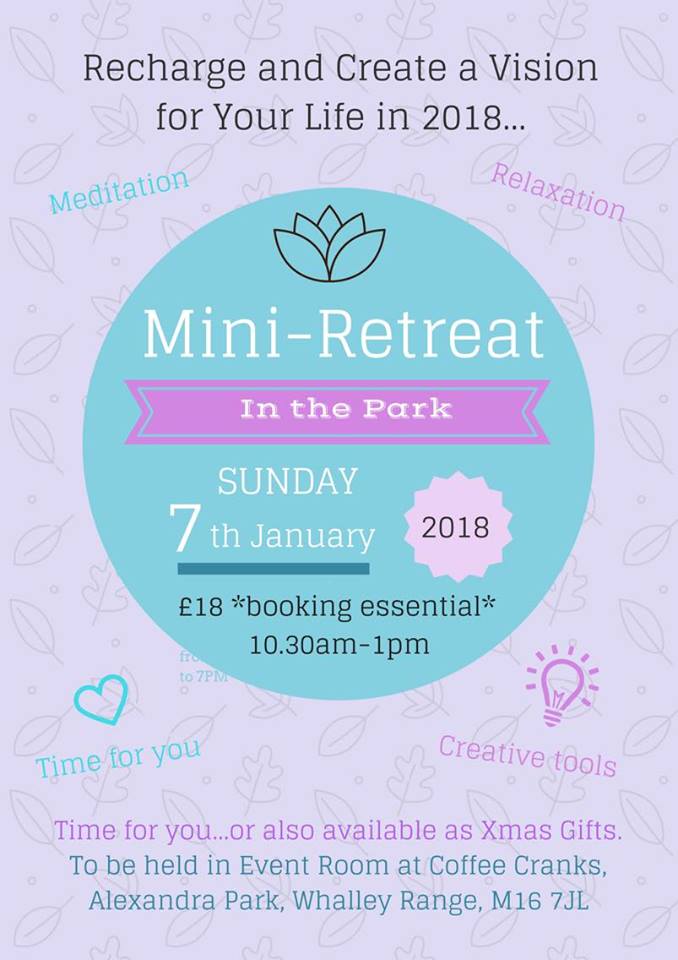 10.30-11am
Guided relaxation/meditation session
Visualisation to let go of what isn't working and get clear about what you do want more of in your life
11am-11.45am
Take a simple 'test' to uncover your five-point vision for 2018 and beyond
Learn the easy way to make decisions that take you towards your ideal life
11.45am-12 noon
Powerful visualisation for 2018 / Comfort break - optional
12 noon-12.50pm
How to turn your vision into a creative visual tool you can look at every day (we will start to create this during the mini-retreat and you can then finish it at home if needed)
Turning your vision into reality - practical tools to keep up the momentum past January!
12.50-1pm
Closing meditation and finish
Longer retreats are great and I love them but sometimes it's challenging to fit them in.
The aim of this is to offer a practical/affordable mini-retreat just after the festive season where we can all take a little time out for ourselves and look forward to the year ahead.
You'll learn or re-visit tools you can then take away to help you relax and create a life you really love.
***I'm setting a limit for the number of places so that it's a nice sized group and to help with preparation. For this reason, I won't be refunding after 30 days in advance but you're very welcome to pass on/re-sell your ticket to a friend/family member if it turns out you can't make it.***