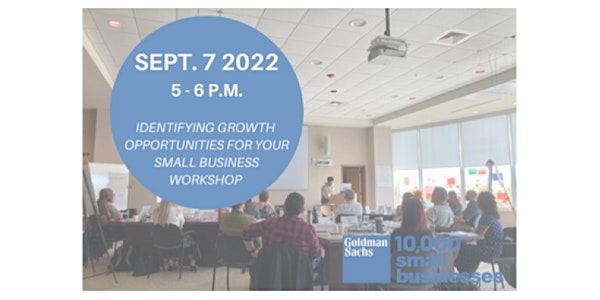 Mini Module Workshop: Identifying Growth Opportunities for Small Business
Free Goldman Sachs 10,000 Small Businesses mini module workshop
About this event
In this workshop, we will explore the core of the Goldman Sachs 10,000 Small Businesses curriculum through a 'mini-module' distilled from the program's second module, "Opportunities for Growth". We will examine the basis for small business growth and where ideas for growth come from, such as:
How do small business leaders identify and evaluate new concepts for growth in your businesses?
What role does innovation play?
How do you differentiate between a "good idea" and a compelling business opportunity?
This event is FREE & includes complimentary refreshments.
Registration is required.
--
Questions? Contact: Andrés, aescobar7@ccri.edu.
ABOUT OUR PROGRAM
Goldman Sachs 10,000 Small Businesses provides business education, support services and pathways to capital for growth-oriented entrepreneurs. With a curriculum designed by Babson College, the nation's top entrepreneurial school, participants gain practical skills to take their business to the next level. Topics include financial statements, negotiations, and marketing. Participants develop an actionable growth plan for their business with the help of advisors and a network of like-minded entrepreneurs. The program is free and delivered in partnership locally with the Community College of Rhode Island. To date, Goldman Sachs 10,000 Small Businesses has served over 400 businesses in Rhode Island and 12,000 businesses nationwide.
To find out more about our free program, please visit our Website.
We accept applications on a rolling basis. Apply now!