Description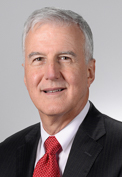 The University of Arizona College of Medicine – Phoenix proudly organizes Mini-Medical School, a fascinating community lecture series open to the public. This spring, Mini-Medical School will host renowned experts in different health related fields.
William Cance, MD, is a fellowship-trained surgical oncologist, who treats patients with complex gastrointestinal and endocrine cancers. He has a particular focus on the diagnosis and treatment of thyroid and parathyroid diseases, including thyroid cancer. In this Mini-Medical School, he will discuss the War on Cancer and answer questions such as:

How do we control cancer?

How do we treat cancer?

What does cancer look like in various bodily systems?
After his presentation, Dr. Cance will lead a discussion about cancer drug development and the complexity of what we call "cancer." The audience will be given various case studies that place them in the shoes of a cancer patient, practitioner or researcher and will come up with solutions to the tough choices these people are faced with every day.

Dr. Cance currently serves as the deputy director of the University of Arizona Cancer Center and will lead the efforts in Phoenix at the UA Cancer Center at Dignity Health St. Joseph's Hospital and Medical Center. An avid researcher, Dr. Cance is the principal investigator on a current R01 grant from the National Cancer Institute (NCI) focusing on Focal Adhesion Kinase (FAK). He has been awarded numerous other grants from the NCI and National Institutes of Health, as well as the American Cancer Society, Susan G. Komen Breast Cancer Foundation and the U.S. Department of Defense.
Virginia G. Piper Auditorium
Wednesday, April 5
5:30 pm - 7:00 pm
Visit http://phoenixmed.arizona.edu/mini-med for more information.