Mini-Medical School - From Bedside to Bench: One Patient Sparked New Discov...
Description

The University of Arizona College of Medicine – Phoenix proudly organizes Mini-Medical School, a fascinating community lecture series open to the public. This fall, Mini-Medical School will host renowned experts in different health related fields.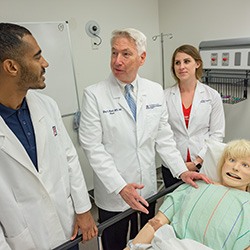 In the first Mini-Medical School of the fall, College of Medicine – Phoenix Dean Guy Reed, MD, MS, will share an inspirational patient story that led him to develop a clot-busting drug for stroke victims. Dr. Reed will offer an eye-opening overview of how his research team discovered a molecule responsible for creating blood clots, then developed a groundbreaking antibody that would inhibit it. TS23 is a blood clot dissolving agent, currently in clinical trial, designed to improve treatment of stroke and cardiovascular disease for millions of patients. Mini-Medical School attendees will also have an opportunity to participate in an anatomy lesson of a sheep's brain led by medical students.
Questions: Contact April Fischer, 602-827-2585
Visit http://phoenixmed.arizona.edu/mini-med for more information.
Parking Information: