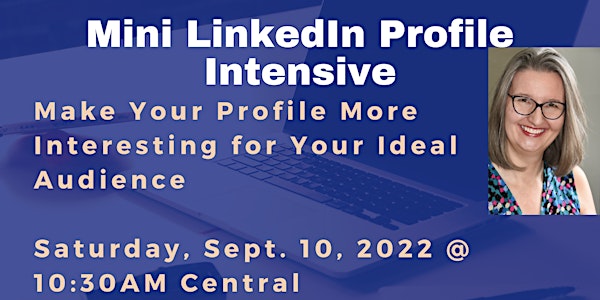 Mini LinkedIn Profile Intensive
Your LinkedIn Profile can help you get found by recruiters or clients - IF it is set up correctly. This seminar will get you started.
About this event
How much do you really want a new job or even a new career?
How much is a new client worth to you?
Regardless of whether you are looking for a new role or a new client, LinkedIn can be a gold mine -- IF you use it correctly.
Here is what you DON'T need:
A paid account.
Here is what you DO need:
A profile that is optimized to get you found by the right people.
If you are looking for clients or a new position, your LinkedIn Profile can be a tremendous asset - provided it is set up correctly.
If you are not getting connection requests, messages, or inquiries from recruiters, the first thing to check is if your Profile is set up to actually attract your desired audience (potential clients, recruiters, hiring managers, etc.).
This seminar will provide you with the information you need to get the top portion of your profile set up so people want to click through to "read more", thereby significantly increasing the chance of you hearing from those you want to contact you.
Ready to improve your LinkedIn Profile to increase your career potential? Register now.
P.S.: This is a live event and you'll have a chance to ask questions.