Description
Welcome parents and little ones! Today's class is all about taking inspiration from the freshest of locations and letting you roll up your sleeves to get cooking. We're taking inspiration from the Mediterranean today with our flavors and making it easy enough to let you make some everyday accessible meals. Chef Isabelle will be teaching us the secrets of the pita: fluffy bread with a secret pocket stuffed full of your favorite vittles. She'll also be introducing you to a sauce you might not yet frequent: tzatziki! Move away from the sugar and make your tummy happy with these delicious probiotics. That's not to say we haven't a sweet tooth! To finish up, we'll be rolling our own baklavas with a dough that'll leave you surprised you had the skills for. Don't fret, your mini chef will be right by your side in today's: Mini Chef & Me, Goin' Greek!
Menu: Homemade Pitas with hand-chopped veggies and protein, personally whipped up tzatziki sauce, and baklava.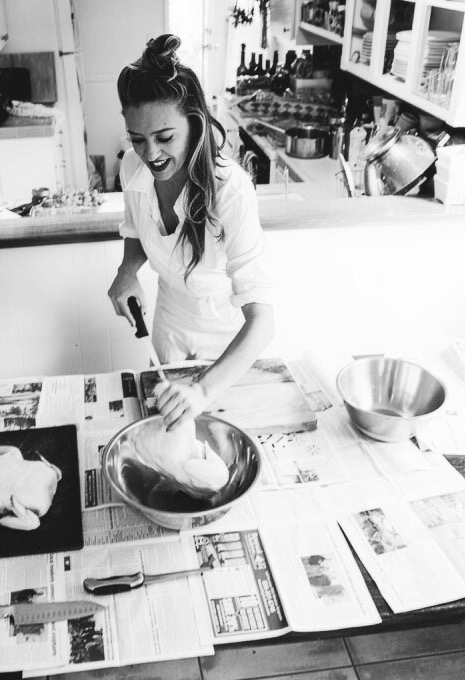 About Chef Isabelle:
Born in a small village in Quebec, Canada, Isabelle grew up with an early appreciation of where her food originated—she often foraged, hunted and fished in the area's rugged wild for the family meal. Even as a young girl, she appreciated that use of the freshest, highest quality ingredients should be the standard in the preparation of good food. The French Canadian learned the art of butchery from her dad, the local butcher, and she furthered her knowledge through specialty courses at the local college. Her family has owned and operated restaurants, as well as a catering business, for 25 years, and Isabelle grew up learning the ins and outs of the industry and culinary arts.
FAQ:
Is there an age requirement for this class?
My Mini-Chef & Me ($30): Bring in your smallest! This hands-on class is designed for those 3-5 years old. You'll be partnering with your little one(s) to tackle easy tasks designed around more play than skill. One ticket will cover you + your mini chef. Extra tickets for little ones are available for just $5.
What does "Hands On" mean?
Hands-on changes from class to class, but it generally means getting your hands dirty. From rolling sushi to slicing and dicing, the class will be designed around the theme and age group of the class. We'll provide the tools, so don't fret! Most of the tools are what you'd have at home, as we try to encourage taking the lessons learned in the class and apply them at home.
Is there a Dress Code?
We strongly recommend wearing clothes appropriate for the kitchen. Closed-toed shoes, sleeves above your elbows, and a way to tie up longer hair are all strongly recommended.
What do if my child has a food sensitivity or restriction?
We've got substitutes prepared! Each time you purchase a ticket it will ask you to list your dietary restrictions. Please be as explicit as possible. If there's a class with a major component, ie. flour in pasta making, that might conflict with your sensitivity, we ask that you please consider another class that removes possible cross-contamination.
Do I need to bring my ticket to class?
Nope! We do check-ins by name so all you need to bring is your lovely self.
Is there a waiting list?
Unfortunately, our classes are on a first-come, first serve basis. If you're interested in joining our classes, we encourage you to sign up early!
Do you do private events?
What's your refund policy?
We're happy to refund your ticket up to 24 hours before the event. This allows our chefs adequate time to prepare materials and ingredients for the class.
What if I have more questions?