Description
The new fun sensory dance experience has landed in Lanarkshire, so move over mum and dad as we have new little ravers and dancing queens on the scene !
Think of a mini rave for the kids*, think of some great dance tunes mixed with some upbeat nursery rhymes, think of some glow and rave sticks, think of bubbles, think of cool hide-away small kids tents, think of balloons, think of musical instruments for the kids to play with whilst the music is playing, think of cool disco/rave lights (no strobes), think of a small ball pit and think of a top DJ who has worked and managed at a host of trendy bars and clubs and you have............MINI BEATZ !!
* Our events are aimed at children aged between 1-5 years old, but we have no age barriers to our events with both younger and older attending and equally enjoying the variety of activities in our halls. Under 1 year old's are free with a full paying adult but please ensure you select a ticket at checkout for your baby.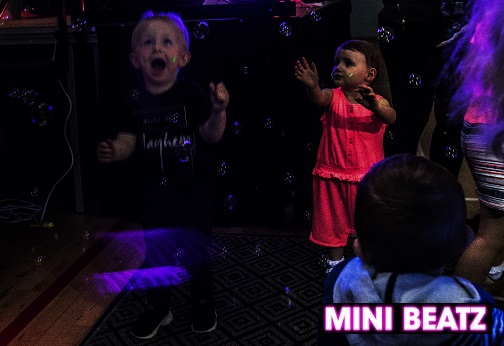 FAQs
What
Is this a one off event?
Mini Beatz is the new rave/disco dance sensory event and will be available once per month.
How many people will attend these events?
We only sell limited tickets for each event as we want to ensure each event is enjoyed by all with plenty of space for each child to enjoy our sensory areas.
Can I purchase tickets/gain entry on the door?
Sadly no, we want to ensure everyone who plans to attend Mini Beatz is able to and no queues on the day waiting to see if you gain entry. Therefore, tickets must be purchased prior to each event and we strongly advise booking early as only limited tickets are available.
Do you use strobe lights and will it be very dark?
No we don't use strobe lights at all, however to ensure the correct club atmosphere we do use limited lighting with our club disco/rave lighting equipment.
Can I take photos of my child(ren) having fun?
Of course - on entry each parent completes a general disclaimer which accepts that photos may be taken during the event. Wildcat Events staff will also be on hand to take photos........So, will you and your little raver(s) make it onto our Mini Beatz Facebook page..!?
Is Mini Beatz always at the same location?
We will be bringing Mini Beatz to various locations very soon. If you have a specific request for a venue close to you please drop us a request :)
What are my parking options at the event?
Parking on site and is free of charge.
Can I just drop my child(ren) off and collect them after event?
Mini Beatz if a family event and parents are responsible for each child during the entire session. No children are allowed access without appropriate parental supervision.

My baby is under 1 can he/she attend?
Under 1 year old's are free with a full paying adult, please remember to 'select' a ticket for your baby at checkout screen. Please remember that the event is more centred around kids 1-5 year old but we have had many under 1 year olds attend as mum/dad was bringing older brother/sister - we also have a chill-out area if you wish to leave the hall for a few minutes.
Is alcohol on sale?
No - we believe that Mini Beatz should be an excellent way to enjoy your family day out at the weekend with your children.

Do you accept group bookings?
Yes, however we do ask that a ratio of 1 adult per 3 children max is adhered to and that for any booking of more than 10 attendees you contact us before placing your booking.
How can I contact the organiser with any questions?
PM us at our Mini Beatz Facebook page or alternatively email us at wildcatevents@yahoo.com

Do I have to bring my printed ticket to the event?
You can either present your tickets at our reception desk or show us your ticket purchase from Eventbrite on your mobile phone.
Is my registration fee or ticket transferrable?
No - you can request a swap on our Mini Beatz site to see if another parent wishes to swap event date or purchase your ticket from you. If this does occur please ensure you advise Mini Beatz of this change no later than 24 hours before event.