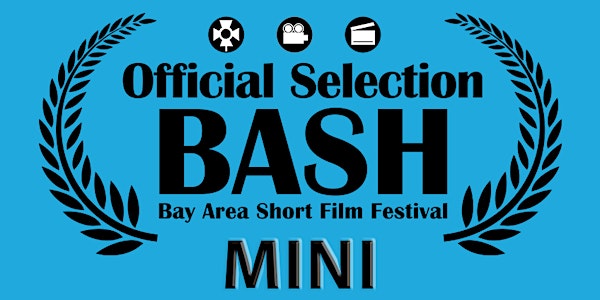 Mini BASH- Semi-Finalist Bay Area & Sacramento Film Festival
BASH Semi-Finalist Screening - BAY AREA and SACRAMENTO Made Films of ALL Genres and Types.
By MMTB- Movie Making Throughout the Bay! Inc.
Date and time
Saturday, December 2 · 2 - 5pm PST
Location
MMTB Production Studio, Theater, and Lounge 13 Pacific Ave Rodeo, CA 94572
About this event
BASH SEMI-FINALISTS SHORT FILMS!!! Local Non Profit Short Film Festival, Screening Bay Area and Sacramento Made Films that were Semi Finalists for BASH-SF.
A Wide Variety Of Short Films From Comedies, Dramas, and Thrillers to Documentaries, Animations and Experimental Films. Something for Everyone! Over a Dozen Local Made Short Films!
Schedule For This Event:
2pm* Theater Doors Open- Take Red Carpet Pix, Grab Your Drinks and Snacks, Lounge.
2:30pm-4:30pm* Short Films Start Playing (All Made Locally)
4:30pm-5:30pm- Stay, Mingle, Network Until Doors Close
5:30pm- Doors Close
* Wide Variety of Snacks, Popcorn, Drinks and More Available for extra purchase.
- TICKETS SELL OUT< SO BE SURE TO BUY THEM IN ADVANCE.
FILM LINEUP (Posted Closer to Event Date)
CARPOOLERS please visit our carpool page on Facebook at
www.facebook.com/groups/MMTBcarpool to see who you can catch a ride with!!!
--------
EVENT IS Brought to you by 
MMTB- Movie Making Throughout the Bay. More on MMTB- http://www.MovieMakingBay.com/
ALL donations help us continue to provide amazing filmmaking, acting, and other events to the public and will help support the film community --(ALL TAX DEDUCTIBLE) ALL DONATIONS are VERY APPRECIATED
About the organizer
        CELEBRATING OUR 13 YEAR ANNIVERSARY!!!!!!!
'MMTB- Movie Making Throughout the Bay! Inc.is a 501c3 Non Profit Organization that supports the efforts of filmmakers, performers and industry professionals throughout the Bay Area and Sacramento by providing a collaborative, supportive and fun environment for them to create, connect and succeed.' Serving the Bay Area & Sacramento Filmmaking Community Since Jan 2010 
REMINDER- ALL EVENTS Below Need To Be REGISTERED IN ADVANCE (The Film Festivals Only Have Door Entry Fees if it's Not Sold Out.)