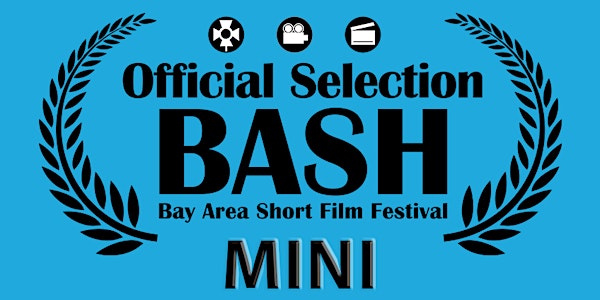 Mini BASH- Semi-Finalist Bay Area & Sacramento Film Festival
BASH Semi-Finalist Screening - BAY AREA and SACRAMENTO Made Films of ALL Genres and Types.
When and where
Location
MMTB Production Studio, Theater, and Lounge 13 Pacific Ave Rodeo, CA 94572
About this event
BASH SEMI-FINALISTS SHORT FILMS!!! Local Non Profit Short Film Festival, Screening Bay Area and Sacramento Made Films that were Semi Finalists for BASH-SF.
A Wide Variety Of Short Films From Comedies, Dramas, and Thrillers to Documentaries, Animations and Experimental Films. Something for Everyone! Over a Dozen Local Made Short Films!
Schedule For This Event:
2pm* Theater Doors Open- Take Red Carpet Pix, Grab Your Drinks and Snacks, Lounge.
2:30pm-4:30pm* Short Films Start Playing (All Made Locally)
4:30pm-5:30pm- Stay, Mingle, Network Until Doors Close
5:30pm- Doors Close
* Wide Variety of Snacks, Popcorn, Drinks and More Available for extra purchase.
- TICKETS SELL OUT< SO BE SURE TO BUY THEM IN ADVANCE.
FILM LINEUP (Not In This Order)
A Vengeful Encounter
Best Buds: Into the Nightmare
Blue Light
Divine Living Part III
Motus Avium: A Mission to Save California's Last Wetlands
My Past Current Future
Pluvial Allusion
Skins
The Case of the Missing Puzzle Box
The Party
Together
CARPOOLERS please visit our carpool page on Facebook at
www.facebook.com/groups/MMTBcarpool to see who you can catch a ride with!!!
--------
EVENT IS Brought to you by 
MMTB- Movie Making Throughout the Bay. More on MMTB- http://www.MovieMakingBay.com/
ALL donations help us continue to provide amazing filmmaking, acting, and other events to the public and will help support the film community --(ALL TAX DEDUCTIBLE) ALL DONATIONS are VERY APPRECIATED