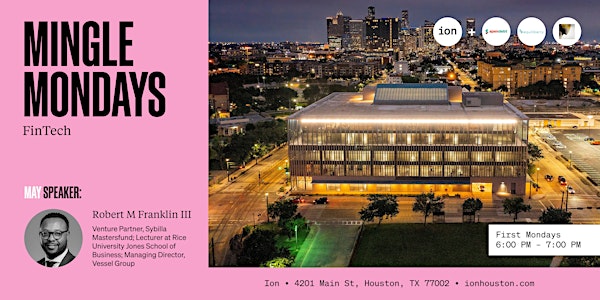 Multiple dates
Mingle Mondays: FinTech
Join us on the first Monday of the month as we build Houston's FinTech community the Ion!
Date and time
February 6 · 6pm - December 4 · 7pm CST
Location
The Ion 4201 Main Street Houston, TX 77002
About this event
Fintech describes various financial activities, including money transfers, depositing a check with your smartphone, bypassing a bank branch to apply for credit, raising money for a business startup, personal finance, and more!
This community is for all who are interested in FinTech, including FinTech entrepreneurs, thought leaders interested in FinTech innovation, vendors and funders seeking to work with financial services and technology sector startups, FinTech investors, compliance and legal professionals wanting to share their FinTech knowledge, and more!
To join the Ion's Funded Founder Community, apply HERE. To pitch at Poptarts and Pitches, upload your pitch deck HERE.
About the Speakers
May Speaker: Robert M Franklin III, Venture Partner at the Sybilla Mastersfund and Lecturer at Rice University Jones School of Business teaching innovation and entrepreneurship with a focus on Venture Capital. Robert is also a Managing Director at the Vessel Group, a management consulting firm based in Houston
April 2023 Speakers: Manolo Sánchez, Director, Fannie Mae, Adjunct Professor, Jones Graduate School of Business; Vincent Bradley Castellanos, CEO of Claimkey and Eddie Arroyo, CFO of Claimkey
March 2023 Speaker: Bobby Bryant, Founder/CEO DOSS
February 2023 Speakers: Isaiah Studivent, CEO/Head of Growth, Evron; Chalique Seabron, COO, Evron
About the hosts
Norman Pappous has degrees in Economics (BS) and Financial Markets & Trading (MSc.). He has worked in the UK and USA for various financial services firms, including ABN Amro, UBS, Close Bros. Merchant Bank, Rydex Series Trust, and Merrill Lynch. He has also consulted hedge funds and corporate treasury operations. In 2022 Norman authored the book Wall Street's Grand Deception. Norman is a Quora.com's "Most viewed writer" for asset management, financial advisors, and passive/index investing. The Structured Products Association of America gave Norman the "Leading Edge Advisor" award for his work in derivatives pricing. He's been featured in The New York Post, Forbes, Investment News, Registered Rep, TheStreet.com, and Frontline on PBS. Norman also founded a FinTech start-up that raised seed and angel funding close to $1 million.
Kiley Summers is the Founder of Spendebt. Shortly after college graduation, Kiley and TyLisha found themselves in over $100,000 of consumer debt. Growing up, finances wasn't discussed in their households. No one told them that only making minimum payments on their debt would likely have them in debt for the rest of their lives. The couple decided to hire a financial advisor to help them improve their financial situation. After becoming debt free, they began sharing their story with family and friends, realizing there were so many people caught in the never ending debt spiral without a plan to get out and SpenDebt was born.
Phillip Yates is the co-founder of Equiliberty, a technology company designed to help build diversity in property ownership, support minority businesses and neighborhoods by linking people to information, capital and markets, with a mission to transition the wealth of talent and genius in underserved communities into a treasure of communal wealth, anchored by communal ownership.
Parking Instructions: Enter 4203 Fannin Street into your GPS for directions directly to the red parking lot, located across the street from the Ion building.
About the organizer
The Ion anchors a 16-acre innovation district, the epicenter for Houston's innovation ecosystem, as an inclusive, dynamic, vibrant, and dense hub focusing on quality collaborations between entrepreneurs, incubators, accelerators, corporations, academics, and the Houston community. The 266,000-square-foot building accommodates multiple uses, including class-A office space, shared workspace, prototyping and maker resources, event space, classrooms, food and beverage offerings as well as indoor/outdoor communal areas with shared amenities. For more information, please visit https://ionhouston.com/.
Visitor Parking Instructions:
Enter 4200 Fannin Street into your GPS for directions directly to the visitor parking lot, located in front of The Ion building.

Overflow Parking Instructions:
Enter 4203 Fannin Street into your GPS for directions directly to this parking lot, located across the street from The Ion building.
If you have any questions, please email events@ionhouston.com.