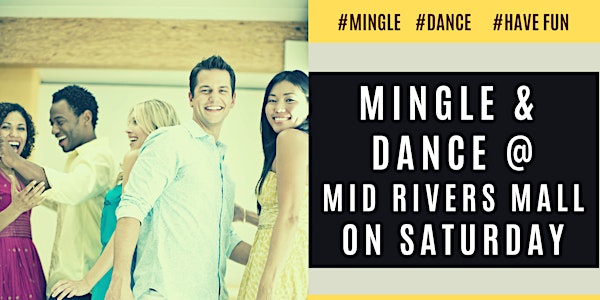 Mingle & Dance at Mid Rivers Mall on Saturdays
Social Dancing is a great way to meet or connect with people, burn calories, socialize and have fun!
When and where
Location
Mid Rivers Mall (Simply Delightful Events / Suite 2004) 1600 Mid Rivers Mall Suite 2004 St. Peters, MO 63376
Refund Policy
Contact the organizer to request a refund.
Eventbrite's fee is nonrefundable.
About this event
This Social Dancing event features beginner friendly Social Dancing ( Swing / Latin) lessons, so beginners / newbies, singles, couples or anyone who is interested in an evening of fun, music and dancing will fit-in and feel welcome!
𝐋𝐞𝐭𝐬 Mingle and Dance at Saturday 𝐍𝐢𝐠𝐡𝐭'𝐬 𝐒𝐨𝐜𝐢𝐚𝐥 𝐃𝐚𝐧𝐜𝐢𝐧𝐠 event which starts at: 4:30 PM and ends at: 7:30 PM
** Feel free to invite your friends, co-workers or anyone who would likes to have a good time ** and if you want some pointers come for the "Dancing Lessons".
What Is Included With Your RSVP?
→ 𝐒𝐨𝐜𝐢𝐚𝐥 𝐃𝐚𝐧𝐜𝐢𝐧𝐠 𝐥𝐞𝐬𝐬𝐨𝐧𝐬 are included and so, if you're a complete beginner or interested in learning some new dance moves, RSVP!
→ 𝐒𝐨𝐜𝐢𝐚𝐥 𝐃𝐚𝐧𝐜𝐢𝐧𝐠 𝐇𝐨𝐮𝐫'𝐬 included so you can dance after the lessons
→ 𝐒𝐢𝐧𝐠𝐥𝐞𝐬 / 𝐂𝐨𝐮𝐩𝐥𝐞𝐬 𝐚𝐫𝐞 𝐰𝐞𝐥𝐜𝐨𝐦𝐞, those without partners will partner-up with other guys & gals at the event
Who Should RSVP for This Event?
→ This event is designed for a𝐧𝐲𝐨𝐧𝐞 who is interested in meeting new people or doing something fun or hanging out to music at a cool bar or dancing (even if you are a complete beginner or you're just getting into dancing)!
What Do You Need To Know About This Event?
𝑌𝑜𝑢 𝐶𝑎𝑛 𝑅𝑆𝑉𝑃 𝑊𝑖𝑡ℎ 𝑜𝑟 𝑊𝑖𝑡ℎ𝑜𝑢𝑡 𝑎 𝑃𝑎𝑟𝑡𝑛𝑒𝑟!
You can come by yourself or bring a partner, friends or family.
𝘚𝘰𝘤𝘪𝘢𝘭 𝘋𝘢𝘯𝘤𝘪𝘯𝘨 𝘐𝘴 𝘢 𝘉𝘰𝘢𝘵𝘭𝘰𝘢𝘥 𝘰𝘧 𝘍𝘶𝘯!
All our dancing events are designed to be relaxed, non-judgmental and supportive, which makes dancing a boat-load of fun!
𝘠𝘰𝘶 𝘞𝘪𝘭𝘭 𝘚𝘰𝘤𝘪𝘢𝘭 𝘋𝘢𝘯𝘤𝘦 𝘪𝘯 𝘢 𝘊𝘰𝘮𝘧𝘰𝘳𝘵𝘢𝘣𝘭𝘦 𝘌𝘯𝘷𝘪𝘳𝘰𝘯𝘮𝘦𝘯𝘵
Social dancing in a public place can feel overwhelming for first-time social dancers and/or beginners and so, we created a welcoming experience for you to practice as part of our event
RESERVE YOUR SPOT(s) NOW →
Note that a Ticket is Required for all our events and that this Class is Uber Affordable for 2.5 hours of lessons + practice + social dancing & mixing time ...