Mines Museum is excited to welcome back our valued guests! Due to COVID, new safety policies and restrictions are in place.
About this Event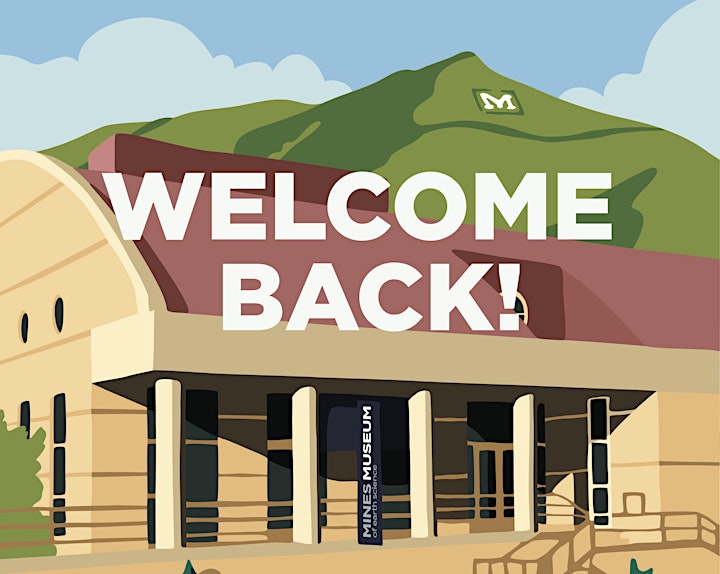 Reservation Terms & Conditions: Mines Museum is committed to providing an enjoyable and SAFE visitor experience. By submitting this reservation for my visiting party/group, I have read and agree to abide by the following Mines Museum of Earth Science policies during my visit:
1) Masks are required upon entry to any campus building, including the museum. No one will be admitted to the museum without a mask or appropriate facial covering. Children under the age of 3 are exempt. Those claiming medical exemption from wearing a mask and desiring to visit the museum must contact the Museum Operations Director via e-mail at dschlegel@mines.edu in advance of making reservations, at which point your request for accommodation will be reviewed by Mines' ADA Coordinator in Human Resources.
2) Social distancing of a minimum of 6 feet between visiting groups is required at all times.
3) A single visiting group/family unit size is a maximum of 10 visitors.
4) Visitors are required to arrive at the museum no later than 15 minutes after their designated ticket entry time; after such time, your reservation will be forfeited. Should something delay your arrival, please call 303-273-3815.
5) In order to maintain safe distancing between visiting groups, each reservation is only valid for two hours upon entry to the Museum. This allows for approximately one hour of visiting time per floor. Visits to the Museum Store are excluded from this time limit.
6) Various hands-on exhibits are temporarily out-of-order. Please do not touch/handle these exhibits.
7) Flow through the museum will be a one-way path. Please follow the route demarcated on the floor. The "drive on the right" rule applies to our shared stairwell.
8) Certain exhibits, such as the walk-in Mine and Special Exhibits Room, have limited capacity allowances. Please follow the posted signs for guidance.
9) Our water fountains are currently restricted to refillable bottles only and water is not available for sale at the museum. Please plan accordingly.
10) Bathrooms in the GRL building (where the museum is housed) are currently subject to limited capacity. Please follow the posted signs for guidance.
11) Mines Museum is still accepting cash and checks at our Museum Store, however, credit or debit payment is strongly preferred.
12) If you, or a member of your visiting group/party, is diagnosed with COVID-19 after visiting the museum, please call us at 303-273-3815 to report it.
13) If you, or any member of your party is experiencing symptoms of COVID-19, or any other illness, please stay home and reschedule your visit for a time when you are fully recovered.
14) Mines Museum is committed to providing the best visitor experience possible – please treat all guests and museum staff with courtesy and respect.
15) ENJOY THE MUSEUM!