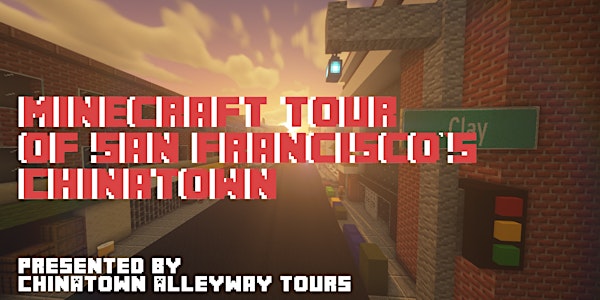 Minecraft Chinatown Alleyway Tour
Join us on an adventure through historic San Francisco's Chinatown as we explore its alleyways and history through Minecraft.
About this event
Chinatown Alleyway Tours (CATs) is a non-profit youth-run, youth-led tour group that specializes in revealing stories and secrets hidden within Chinatown's 43 alleyways.
Minecraft
Since we've transitioned to doing online tours, we've been trying to come with more creative and engaging ways to present our tours. We began with tours supplemented by a slideshow and virtual maps, but it often felt like a two-dimensional lecture that lacked the interest or participation we were used to. With inspiration and enthusiasm from our youth, we began creating a version of San Francisco's Chinatown in Minecraft with the hopes to use the world to give tours more resembling our real life ones. After months of building, we constructed a world with immense attention to detail we are more than proud of.
If you're curious to learn about the hidden stories of Chinatown or just want to see our Minecraft world, please sign up for our tour!