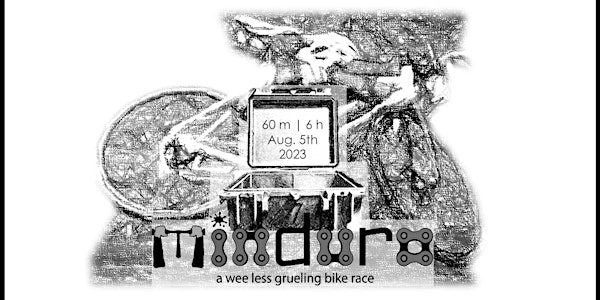 MINDURO 2023: a wee less grueling bike race
MINDURO 2023 | A Wee Less Grueling Bike Race | 60 miles in 6 hours Aug. 5th | Start at 10 am, Finish by 4 pm | Live Music and Party
By Domino | Adventurist | @originovel
When and where
Date and time
Saturday, August 5 · 10am - 6pm EDT
Location
Pine State Coffee & Runologie 1614 Automotive Way Raleigh, NC 27604
About this event
~ Starting/Ending at The Laboratory/Pine State Coffee / Runologie - Automotive Way, Raleigh
~ 10 AM to 4 PM
~ 6 hours to finish the 60-mile 2023 route and all adventures along the way
~ Checkpoint Boxes, brew stops, & tasks on the route linked via QR codes to Google Maps | the route is an unpredictable, one-spot-at-a-time, adventure bicycle ride| you only know the next place you are going
~ NEW ~ $200 CASH incentive at one of the Checkpoint Boxes | Live Music and DJ on stage throughout the day | Friday Night Sir Walter Miler Running Event watch meet-up | Saturday evening post, post party
~ Overall winner award
~ Race Watch Party for friends and family
~ Safety precautions ~ read the WARNING <----- There
~ Absolutely no on-site registration or registration within1 week of the event date
~ Limit to 50 persons - do not sign up and take a spot if you are just a maybe | No Refunds | Once we are full, we are full
* We reserve the right to reduce or add registration limits and/or change venues based on changing times, restrictions, and other unforeseen needs.
What type of bicycle do I need to ride this? if it does not have any kind of assisting mechanism, we do not care. A gravel bike or 29'r hardtail work best. No matter what bike you are on, at some point, you will wish you were on a different bike. Maybe many times during the race.
Is there a minimum age requirement to enter? You must be 21+ years old on the day of the event to enter with no exceptions
What can I bring on the race? we don't care about most things, however, these are must-haves: BIKE | HELMET | PHONE W/ QR CODE READER | GOOGLE MAPS | WILLINGNESS TO SHARE YOUR LOCATION ON THE DAY OF THE EVENT | SELF-PRESERVATION | GUSTO FOR ADVENTURE
How can I contact the organizer with any dumb questions? email originovel@gmail.com | yes there are dumb questions
What's the refund/transfer policy? no refunds or transfers | if we reject you on our end, we'll refund you in full, maybe even give you $5 extra so you can get a coffee or beer to go cry in | read the warning 
Is my registration transferrable? No
Why should you enter? You know you should try epic stuff and get some adventure going on
What else? You could get injured | you could fall in love | you could die | you could get divorced | poison ivy | ticks | snakes | anything can happenby entering you will sign a form to attest that you, your associates, your sponsors, your support, your friends, and your family hold harmless and release anyone and everyone involved from any form of legal action. By signing up, you release, hold *us harmless, give up rights to pursue legal action, and agree you are in the right mind, body, and spirit to attempt minduro | acknowledging your own idiocy and capabilities is the first step | *us is originovel llc and its officers, employees, other racers, partners, sponsors, and volunteers | This is dangerous stuff however, it is better than most things you could get addicted doing and these races make life way less dull and drab
an originovel llc event

About the organizer
Domino is an Adventurist...1 part adventure ~ 1 part creative ~ 1 part eclectic ~ 1 part original. He's a facilitator, competitive cook, motivator, speaker and yes, wedding officiate.