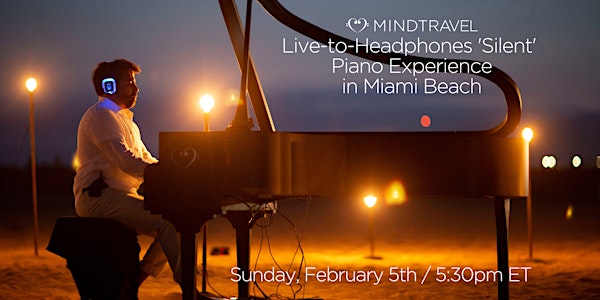 MindTravel Live-to-Headphones 'Silent' Piano Journ
Experience an immersive musical journey lit by the full moon as MindTravel creator Murray Hidary brings live-piano compositions to Miami!
When and where
Location
21st Street Beach (on the sand between the Setai and the W South Beach) 2101 Collins Ave (beach in front of) Miami Beach, FL 33139
About this event
MindTravel finds a new home on the beach in Miami with a Live-to-Headphones 'Silent' Piano experience on 21st Street Beach.  
Get ready for a magical journey as Murray Hidary's real-time piano compositions are beamed directly into your mind via wireless headphones. Relax and enjoy an evening where music and mindfulness meet, illuminated by the glorious full moon over the ocean.
Bring your favorite blanket and a picnic to share with friends, and be ready to unwind. A perfect way to relax before continuing into the evening.
NOTE: This experience will be held rain or shine and will only be cancelled in the event of lightning.
**Headphones are limited so be sure to purchase tickets today!**
What People Say About MindTravel
"MindTravel is an experience like no other. Imagine a concert pianist improvising beautiful, peaceful music with imagery in the background that matches the beauty of the music — combined, it is almost meditative or trancelike." - Jason Wachob, Founder of mindbodygreen
"MindTravel is an amazing introduction to meditation as it takes the Traveler on a specific journey. It is also perfect for the experienced meditator as a way to enhance and deepen one's own practice. In short, Mind Travel is for anyone!" - Sara Ivanhoe, MA Yoga Philosophy
More About MindTravel
Created by composer and pianist Murray Hidary, MindTravel is an immersive musical journey designed to foster inspiration and awakening. Music is the language of emotion. It's universal. And through musical experiences spanning the globe – from the deserts of the Middle East to the ice of Antarctica and everywhere in between – MindTravel seeks to remind us of that which is ever-present but often un-felt: Connection. Connection to ourselves, connection to Nature, and of course, connection to our common humanity.
Follow more about MindTravel online: