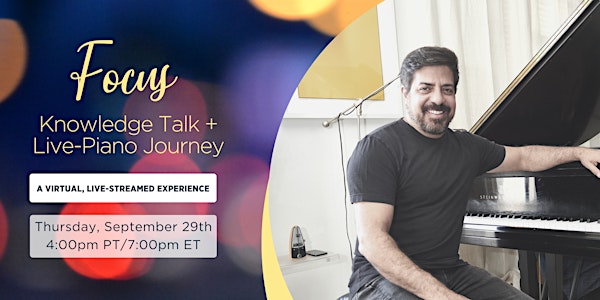 MindTravel Knowledge Talk + Live-Piano Journey Exploring Focus
Experience this beautiful musical exploration as composer & pianist Murray Hidary brings his virtual Live-Piano Concert to your home.
About this event
Sit back and prepare to be transported with this knowledge talk and live-piano experience from MindTravel creator Murray Hidary. Enjoy the music and journey with us as we take a deep dive into the theme of FOCUS.
Each month's Mastery theme is thoughtfully selected to foster journeys of self-inquiry through these experiences -- individually but together -- on the path to living a life of excellence.
Through the gentle guidance of Murray and the music of MindTravel, you will be transported mentally and spiritually and will return refreshed, revitalized, and re-centered.
This experience will take place via Zoom. Zoom link and login details are provided upon registration.
Our membership program, MindTravel Mastery, offers full access to immersive live experiences, the entire MindTravel music library, guided meditations, and a global community of passionate, purpose-driven individuals.
Learn more at mindtravel.com/mastery.
What People Say About MindTravel
"MindTravel is an experience like no other. Imagine a concert pianist improvising beautiful, peaceful music with imagery in the background that matches the beauty of the music — combined, it is almost meditative or trancelike." - Jason Wachob, Founder of mindbodygreen
"MindTravel is an amazing introduction to meditation as it takes the Traveler on a specific journey. It is also perfect for the experienced meditator as a way to enhance and deepen one's own practice. In short, Mind Travel is for anyone!" - Sara Ivanhoe, MA Yoga Philosophy
More About MindTravel
Music encompasses our primal yet aspirational desires. It satisfies our most profound needs while raising us to our highest sense of self. MindTravel is an immersive musical experience that takes place in iconic theaters and beautiful outdoor spaces such as Central Park and Santa Monica Beach.
Created by composer and entrepreneur Murray Hidary, MindTravel features gorgeous and provocative avant-garde real-time piano compositions, spontaneously improvised, infused with wisdom traditions, theoretical physics and the power of communal elevation.
Follow more about MindTravel online: