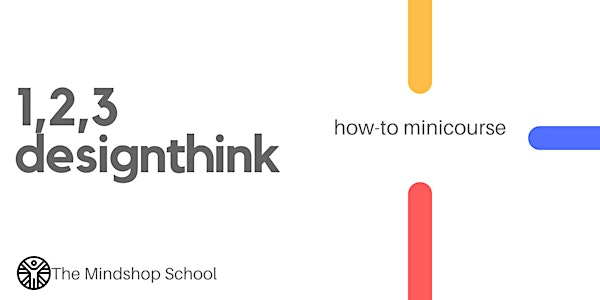 Multiple dates
MINDSHOP™ REPLAY| DESIGN THINKING IN 3 STEPS
1,2,3 design think
Date and time
April 1, 2021 · 7pm - January 23, 2025 · 10pm +08
Location
PRE-RECORDED . . KUALA LUMPUR, - 00000 Malaysia
About this event
What you will learn:
user-centered innovation
systematic innovation
creative problem solving
business impact
OUTLINE:
WHY design thinking?
HOW design thinking helps in identifying the root problem
HOW to design services and customer experience
FREEBIES:
Free Copy of my upcoming UX eBOOK
Certificate of Completion powered by The MINDSHOP School
Unlimited access to content
Free Worksheets
BEST SUITED FOR:
Entrepreneurs: Solo Rider
Founder teams: CXOs
Designers: UX/UI Designers, Product Managers
Builders: Engineers/Devs
Freelancers: Self-employed one-business Boss
Consultants: Self-employed mentors/Coaches
WHY ME?
I help ambitious careerists and entrepreneurs in building their arsenal towards creative problem solving, authentic product design and development. My masterclasses are highly interactive and personalized. I look forward to having you onboard!
Industrial Experience:
* 2019 recipient of MU School of Medicine's Lindberg Award for Health IT Innovation
* Former Adjunct University Lecturer at ENSET Biomedical Engineering School at the age of 23.

* "How to Gamify a Virtual Surgical Workspace" Talk at (VRVoice2018) Harvard Medical School

* Co-Founder of TechVerse Coworking Space & Incubator, Rabat City, Morocco – the first tech-oriented coworking space in the kingdom. est. 2016

* HIT | Design Thinking Consultant at Medverselab est. 2016

* Chief Software Architect of Sutures App – Gamified Gastro-intestinal e-Surgery Simulator (Check it out! ) est. 2016

* Chief Design Thinker / Information Architect at Sinclair School of Nursing – HEAR App est. 2017

* Research Fellow at the University of Missouri's Center for Biomedical Informatics - focus on Mobile Based & Gamified Precision Medicine est. 2018

* Design Thinker (mHealth) for Precision Medicine

*Current Director of Biomedical Engineering Department at HCK

Academic Background:
* Peer Reviewer at IEEE Journal of Biomedical & Health Informatics (JBHI)

* Peer Reviewer at Journal for Medical Internet Research (JMIR)

* Public Speaker: USA, Hong Kong, Malaysia, Morocco, Philippines (+30 talks)

* Author of "Gamified Psychosphere" - available on Google books/amazon kindle @ 2019

* Holder of Engineering Diploma in Manufacturing Engineering and Management with Specialization in Biomedical Engineering

* Advanced Degree (MS.PhD) in Health Informatics – App Innovation

#KeepHustling!
LinkedIn: https://www.linkedin.com/in/katanai/
-----------------------------------------------------------
How can I contact the organizer with any questions?
med@medverselab.com
About the organizer
Kat Usop is an award-winning digital health innovator/t(h)inkerer. She specializes in implementing gamification models in disease management, consumer health, and precision medicine. A polymath by nature, she has diverse experiences in the facets of research, development, and management of medical devices and de-novo health technologies. She was part of the genesis of gamified virtual workspaces for pre-operative surgical training and communication using anatomical digital twins (biomimicry), this effort was presented at Harvard Medical School (2018) amongst pioneers of VR and AR in Health (VRVoice). Consequently, she was able to drive the selection of Gina Health (Current Venture) to become a finalist at the 2020 NC Tech: Data as a New Resource for its unique design in gamifying a mental health platform. She also contributed to the wearable (biomedical) data management and governance at Duke University - Biomedical Engineering. She was also fortunate to be selected as the youngest adjunct professor of risk management of medical devices at the age of 23. And at the age of 19, she started the IEEE D2S Initiative in the Philippines which focuses on producing innovative yet essential technologies for the aftermath of natural calamities in the Asia-pacific region. This effort was replicated in India, Bangladesh, and Hong Kong. Devoted to the advancement of innovative healthcare, Kat is an active peer-reviewer at key journals (IEEE JBHI, JMIR) and teaches thousands of professionals from all over the world; topics in gamification, design thinking and data science in health. Kat is a graduate of MS in Health Informatics and Bioinformatics from the University of Missouri-Columbia, with a prestigious award of Donald Lindberg's award in Health Innovation (School of Medicine).
"Learn to see. Realize that everything connects to everything else." – Leonardo Da Vinci.
—
Kat Usop,  MSHI
Twitter: @itskatusop
www.katusop.com