About this Event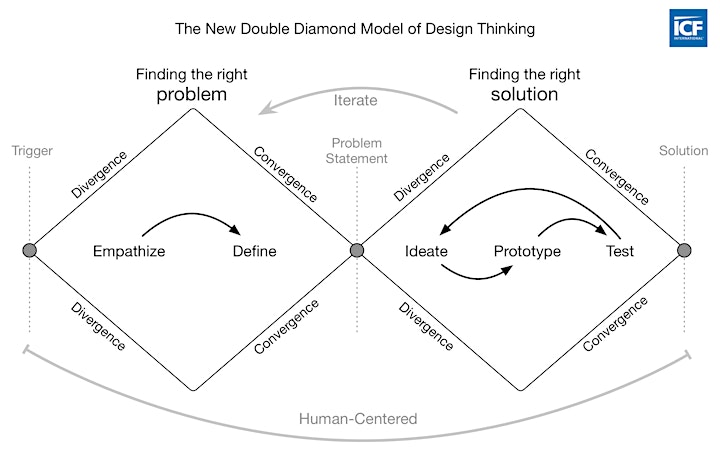 Best Seller ONLINE MindShop! Sold out on AUG 25, SEPT 8, SEPT 29, OCT 27, DEC 20, JAN 31, APR 5, JUL 6 2019, OCT 28!
Keys Features
✔️1.5 – 2.0 hours of instructor-led training (Online workshop using Zoom)
✔️Certificate of Completion powered by Techversity Program
✔️Recorded Session for Later Viewing, Hands-out materials (If you can't make it, no worries, you will receive your recorded session and lecture notes)
What is this course about?
Design thinking can sprout organic growth and sustainable innovation. Given its capability for deep user immersion via uncovering unarticulated needs and perspectives while having the leeway to explore multiple ideas in an innovative setting were failing fast for a more robust success is not a taboo but encouraged.
Benefits of Design Thinking?
Better ProductsDecrease Costs
Happier CustomersSpeed to Market
Visibility Across Enterprise
Increase Revenues
Module 1: Gathering Insights
Understand design thinking framework through case studiesIdentifying users pain pointsLearn how to gather data and contextualize them into a meaningful architecture
Module 2: Ideation Reframing and Ideation - Go wide and wild problem-solving techniqueKnow how to foresee the needs based on user personas
Module 3: ImplementationPrototyping and testing - fail fast, keep moving techniqueKnow how to stitch the design to the insights gatheredLearn how to iterate swiftlyLearn how to manage frustration when failing fast processOpen-Discussion: Your current role and how design thinking benefits you
Who needs to attend?Entrepreneurs: Solo RiderFounder teams: CXOsDesigners: UX/UI Designers, Product ManagersBuilders: Engineers/DevsFreelancers: Self-employed one-business BossConsultants: Self-employed mentors/CoachesUser Interface designers who wish to expand their career towards Design Thinking Umbrella (focus on UX Design)
Limited Slots: 15
Who Am I? In one word: Polymath
✔️Co-Founder of The GINA Project (www.meetgino.co)✔️R&D Manager at Duke University – Biomedical Engineering Department✔️Public Speaker in Different Countries (30+ Talks @ Malaysia, Hong Kong, USA, Philippines, Morocco..) ✔️Peer Reviewer at IEEE Journal of Biomedical & Health Informatics (JBHI)✔️Peer Reviewer at Journal for Medical Internet Research (JMIR)✔️Author of "Gamified Psychosphere"✔️HIT | Design Thinking Consultant at Medverse Lab ✔️Youtuber at THINK OUT LOUD Channel (App Reviews, MasterClasses, Vlog)✔️Holder of Engineering Diploma in Manufacturing Engineering and Management with Specialization in Biomedical Engineering✔️Advanced Degree (MS.PhD) in Health Informatics✔️Industrial background in Mobile Health App Development, Agile Deployment, Gamification, Data Science and Analytics, IoT controlled Systems, Operational Management, Business Administration (Focus on Early-Stage Startups), etc. (I can't remember anymore, yup, this is what a nerd consists of…)✔️Co-founder of TechVerse Coworking Space, Rabat City, Morocco – the first tech-oriented coworking space in the kingdom.✔️Chief Software Architect of Sutures App – Gamified Gastro-intestinal e-Surgery Simulator (Check it out! )✔️Research Fellow at the University of Missouri's Center for Biomedical Informatics.✔️Chief Design Thinker / Information Architect at Sinclair School of Nursing – HEAR App
visit me: katusop.comemail: kat@medverselab.com
WELCOME ABOARD!