About this Event
What is this MINDSHOP™ about?
Artificial Intelligence provides the greatest potential to radically transform healthcare landscape from a reactive, fee-for-service, siloed to proactive, predictive, integrative, and even preventive.
Agenda:
Examination of the massive change in the use of technology in health due to the COVID-19 outbreak.
COVID-19 Pandemic paving the way for the roadmap to AI maturity in Health
Areas of Strong Potentiality:
AI for Patient Experience & Adherence
Drug Discovery aided by Artificial Intelligence (A) and Machine Learning (ML) Techniques
Ultimate AI Frontier: Precision Medicine and Preventive Healthcare
Key takeaways?
1h to 1h30min of ONLINE masterclass (using zoom webinar platform)
Interactive Q&A discussions (limited slots for personalized quality talks)
Unlimited access to the recorded sessions and lecture notes
Certificate of completion (upon request*)
A chance of a free ticket to an upcoming masterclass!
Who should attend?
Primary Target: Product Managers, Owners, Folks in Managerial Roles with min. exposure to health tech
Entrepreneurs: Solo Rider
Founder teams: CXOs
Designers: UX/UI Designers, Product Managers
Builders: Engineers/Devs
Freelancers: Self-employed one-business Boss
Consultants: Self-employed mentors/Coaches within the Health Tech Industry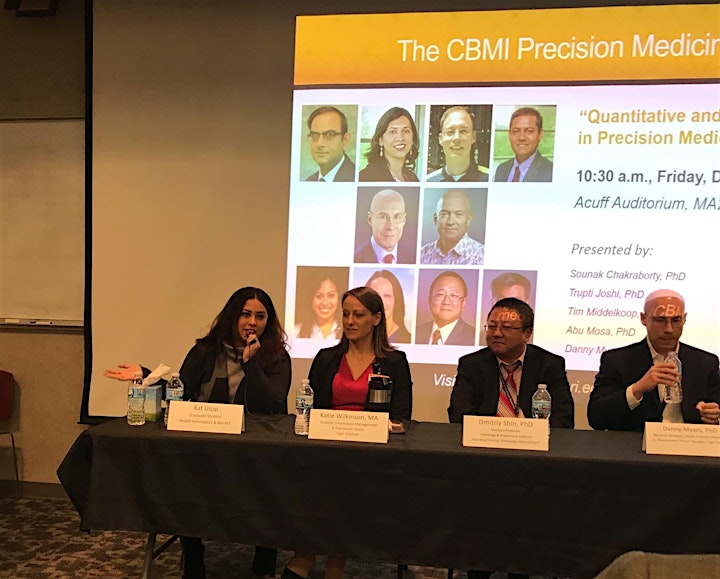 Why Me?
I integrate Biomedical Data Eng'g, Lean Management, Research, and Innovation.
Industrial Experience:
Fall 2021 Adjunct Professor (Design+Health and Data) at NYIT
2019 recipient of MU School of Medicine's Lindberg Award for Health IT Innovation
R&D | Data Manager at Duke University
Former Adjunct University Lecturer at ENSET Biomedical Engineering School at the age of 23.
"How to Gamify a Virtual Surgical Workspace" Talk at (VRVoice2018) Harvard Medical School
Co-Founder of TechVerse Coworking Space & Incubator, Rabat City, Morocco – the first tech-oriented coworking space in the kingdom. est. 2016
HIT | Design Thinking Consultant at Medverselab est. 2016
Chief Software Architect of Sutures App – Gamified Gastro-intestinal e-Surgery Simulator (Check it out! ) est. 2016
Chief Design Thinker / Information Architect at Sinclair School of Nursing – HEAR App est. 2017
Research Fellow at the University of Missouri's Center for Biomedical Informatics - focus on Mobile Based & Gamified Precision Medicine est. 2018
Design Thinker (mHealth) for Precision Medicine at MED
Academic Background:
Peer Reviewer at IEEE Journal of Biomedical & Health Informatics (JBHI)
Peer Reviewer at Journal for Medical Internet Research (JMIR)
Public Speaker: USA, Hong Kong, Malaysia, Morocco, Philippines (+30 talks)
Author of "Gamified Psychosphere" - available on Google books/amazon kindle @ 2019
Holder of Engineering Diploma in Manufacturing Engineering and Management with Specialization in Biomedical Engineering
Advanced Degree (MS.PhD) in Health Informatics – App Innovation
#KeepHustling!
LinkedIn: https://www.linkedin.com/in/katanai/
PORTFOLIO: https://katusop.com/
References:
[1] https://www.novartis.com/news/new-report-shows-how-ai-health-critical-covid-19-response-and-recovery
[2] https://blog.exxactcorp.com/artificial-intelligence-ai-and-machine-learning-ml-in-healthcare-examples-in-medicine/
FAQs
1. I can't make it during the LIVE session, can I have the materials and recording?
Yes, Absolutely! It is inclusive with your ticket purchase.
2. Why is there NO refund policy?
I am providing you proprietary materials in video, podcasts and lecture notes. My intellectual property is at stake, and I trust you won't share it without permission.
3. I purchased a ticket, now what?
Great! Happy to have you on board dear learner. You will receive a personal email from me to learn more about you, your background and what you expect to learn. Your response helps me to tailor fit my case examples. Secondly, I will send you a ZOOM URL access with password usually 1 day prior the webinar, that way I am sure the final attendee list receive their access. Et voila! you follow the zoom instruction and I see you LIVE over there (: