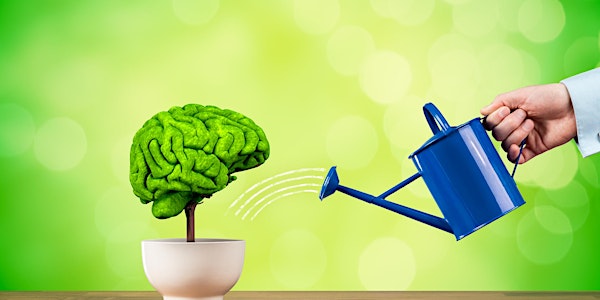 Mindshifting 1: Growth Mindset and Habits of Mind
Six 90-minute sessions to guide educators and students toward a growth mindset, with 12 powerful lesson plans to motivate your students.
Refund Policy
Refunds up to 7 days before event
Eventbrite's fee is nonrefundable.
About this event
1 hour 30 minutes

Mobile eTicket
Note that there are six 90-minute sessions that are included in this course.
Persistence, self-initiative, critical thinking, creative thinking and innovation, collaboration, communication, and their opposites all begin in the mind. When we recognize how the mind operates in each of these spheres, and learn how to move minds into resourceful mindframes, we accomplish more and recover faster from conflicts, unanticipated obstacles, and detrimental emotional responses.
If you are an educator, you probably encounter these issues with your students:
When they don't immediately succeed, they give up so easily.
They lock into disruptive, counterproductive, or risky behaviors and don't know how to back out of them.
They don't use their brains to think through problems, instead latching on to the first easy answer even when it's obvious that it's not going to work.
Would teaching be easier if your students learned to think critically, operate from the growth mindset, collaborate and communicate with others, and self-regulate their behaviors? Do you think that will reduce your load of classroom managment and free up time for more important learning?
Then this course is for you!
Feedback from educators
I took this course hoping to learn techniques I could use with my students to get them into a growth mindset or better critical thinking skills, but what I found out was that I wasn't living in a growth mindset myself, and I had a lot to learn about critical thinking.
This course gave me ways to improve my own life and it also gave me the techniques to work with my students.
I was sharing with a co-worker about this class over the weekend and how I am working on changing some of my stories. She asked for more information and I did my best to summarize quickly. Today she approached me on the playground with a big smile on her face stating "I did it, I changed the story!" She went on and told me an interaction she had had this morning with a student. Typically she goes to her limbic brain and reacts in that way. We talked about how she felt after the interaction with the student. It really seemed to positively affect her.
In 10 years of taking PD, this is the only course that I want to take again.
What you will learn
Our minds have evolved to be very efficient at surviving, recognizing and avoiding dangers, developing habits and stories so that we can react quickly, and following the actions of those in our group or tribe.
For the most part, these serve us well, but as the pace of change has accelerated, what were survival advantages now often get in our way. Without realizing it, we sometimes come up with a solution before considering alternatives that might work better. We often think there is one solution, and once we know it, we need to convince anyone who doesn't see that that they are wrong. And we act as though whatever we are going is going to fix the problem instead of looking at our actions as merely the first step to learning, assessing, and reacting until we eventually succeed.
In this course, you will learn the foundations for building the following in your students:
social emotional intelligence
diversity and inclusion
the growth mindset
critical thinking
perseverance
innovation
problem solving
communications skills
Mindshifting: Growth Mindset, Critical Thinking, and Sensemaking is series of 8 PD sessions designed for you to give students a framework and skills to engage with others, self-regulate, dramatically reduce the time needed for "classroom management", and live rewarding lives. There is also 3 hours of practice outside of class, for a total of 12 hours in class plus 3 hours of work outside of class. This class leads to certification, plus there is an advanced class which leads to certification in teaching Mindshifting.
The first session will be on Tuesday, October 18 at 7:00PM Eastern time. All sessions begin at 7:00PM Eastern time (US)
Here are the dates for all 6 sessions:
Tuesday, January 24
Thursday, January 26
Tuesday, January 31
Thursday, February 2
Tuesday, February 7
Thursday, February 9
Before each session, you will be provided copies of the slides for that class, and after each session you will have three month access to the video archives of all 6 sessions.
About Mitch Weisburgh
Since 2002, I've worked in education and education technology, advising a variety of organizations, schools, educators, and entrepreneurs. I ran Edchat Interactive for 10 years, which provided an outlet for educators to share innovative practices with other educators. I was a founder in Games4Ed, a nonprofit that promoted the use of game-based learning in education, and have spoken on game-based learning at various conferences. I served as Chair twice of the Education Division of the Software and Information Industry Association, and I volunteer for SEDTA, the State Ed Tech Directors Association.
I have always been interested in how we make sense of situations, decide what actions to take, and then react when we encounter obstacles. Four years ago, I first taught Sensemaking and Mindshifting as a 2-day course to university student in Niger and received standing ovations at the end of the classes. Since then, I've taught this course about a dozen times, most recently to educators in the State of Washington, and the testimonials above came out of that class.
More then ever, I am convinced that these are the techniques we all need to solve the big hairy problems facing our country and the world, and that if this next generation could learn these skills before they embark on their careers and adult lives, they will have a chance to fix all the messes we are leaving them.
The total cost of this class is $125, which works out to just under $21 per session.
I hope you will join us, and I know that if you do, you will find both enjoy the course and find the material very helpful for you and your students. Please click on the green Tickets button above to register.