MINDSETCAP SUMMIT@Onepiece Work, Santa Monica

Sunday, February 24, 2019 from 9:00 AM to 5:30 PM (PST)
Event Details
We are excited to invite you to MINDSETCAP, an interactive summit where you will develop your mindset  and accelerate your business and  capital raising.
For the first time ever, distinguished wisdom practitioners like long term holistic health advisor to the White House and meditation teacher to the stars converges with distinguished business experts including investors representing leading funds from LA & Silicon Valley like MVP Capital, Quake Capital, Singularity, (former) CEO of Sandhill Road based $ 1 billion fund of funds, Tech Coast Angels etc. Our Tech Media Panel is led by people who brought Sr Editor of Tech crunch to one of our recent events, so after you undergo Media Mindset &Meditation training in the first half, you will look at Media with glass half full and envision yourself as the star you seek in the world.
In a recent celebrity event, the gentleman (Craig Caryl of Smart CSM) sitting next to KC, Founder of PITCH GLOBAL said, "Hey I remember you. I got funded by BLD Capital at your event in Santa Monica"
So join us at One Piece Accelerator, Santa Monica on the 24th of February to deep clean and heal your mindset and manage your fears .Once you unblock  energy  and expand consciousness in Part 1 before lunch, you will be inspired to open up magical possibilities in your life from getting funded to achieving fame in the second half.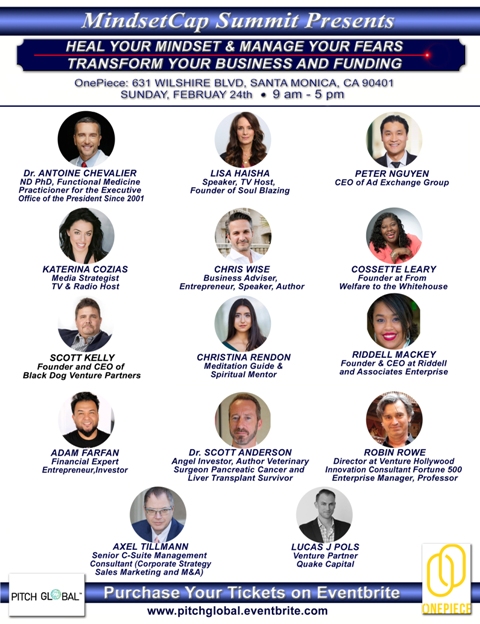 1st Half- Heal Your Mindset
---
9:00 am - 9 :15 am - Registration 
9:15 am - 9 :25 am  Producer KC Wisdom shares the vision behind MindsetCap Summit and introduces OnePiece Accelerator. Co-producer Anna Mirimanova gives brief introduction. 
9:30 am - 10:25 am- Special Speaker-Long term Holistic Health Advisor to the White House & Global Healer, Dr. Antoine Chevalier will empower you to Heal Your Mindset
10 :30- am 11:00 am -Business adviser and successful entrepreneur, Chris Wise will help you implement the concept of self-love into your personal and professional lives 
11:00 am- 11: 30 am- Katerina Cozias – Trains you on how to acquire Media Mindset 
11: 30 am- 11: 45 am -Carlos Siquiera, dubbed the "Latino Tony Robbins" speaks on How to Manage Your Fear
11 :45 am -12:00 pm- Henning Morales speaks about The Dirt Merchants Movie Trailer which demonstrates the impact the right mindset can make on a teenager's life. The audience receives a sneak peak of The Dirt Merchants trailer.
12: 00 am 12: 30 pm- Lisa Haisha of Award Winning Soul Blazing Institute-  Will help rediscover and rekindle your passion with Soul Blazing
12: 30- 12 :50 -Manage Your Fear Female Panel: Co-producer of MindsetCap Summit Anna Mirimanova interviews female panelists: Debra Faris, Riddell Mackey, Arin Pitcher, Christina Rendon, Cosette Leary
12: 50 pm to 1 :30 pm - Drawing from his wisdom of over 10K hours of meditation and saving a $1B company, Alain Torres will quickly show you how to stop repeating the same patterns, so you can reach your next level of success. The audience will experience guided meditation with Alain.
2:00 pm     2nd half- Transform Your Business & Capital Raising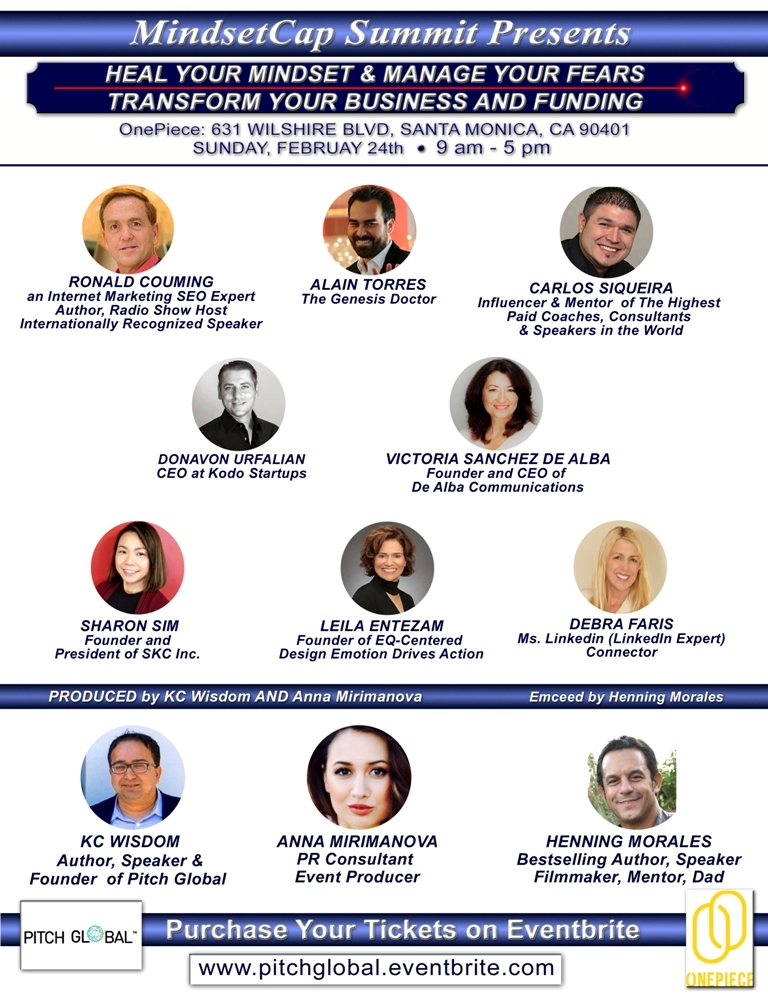 ---
2:00 pm
 - 
2:30 pm- Special Speaker - Peter Nguyen, MVP Capital; recognized by Ernst & Young as one of the most successful serial entrepreneur reveal his secret sauce of entrepreneurial success.
2:30 pm  - 2: 55 pm -"Silicon Valley Media Panel"- Serial Tech PR entrepreneur Sharon Sim, Silicon Valley based Emmy Winner Victoria De Alba + surprise guest from the Tech Media
2: 55 pm to 3 :15 pm- Chat between Axel Tillmann, Silicon Valley based former CEO of $ 1 b fund of funds & Lucas J Pols, Quake Capital around the theme "How can we bring Silicon Valley to Hollywood"
3 :15 pm- 3: 45 pm - Another Special Speaker - Ron Couming, speaks on topics such as How to improve your rankings on Google search
3: 45- 4:00 pm - Leila Entezam, also Mentor of Singularity U,  speaks on Brand Engagement Using Emotions .
4 :00 pm - 4: 30 pm – Robin Rowe leads panel on the topic of distinguished investors & mentors  including Dr. Scott Anderson + Donavon Urfalian  + Adam Farfan  + Geraldine Cunniffe-Conlon on the topic "How entrepreneurs can make connections with investors in LA and Silicon Valley"
4.30—5:00 pm: Networking.
Watch this video from live events of Pitch Global at the Grishin Robotics & GTS Annual Symposium 2018:
Watch the experts speak on understanding Investor Mindset through Pitch Global summits 
(4 :30 pm to 5:00 pm - Networking)
Any questions, write to
startups@pitchglobally.com 
When & Where

OnePiece Work
631, Wilshire Road
3rd Floor
San Monica, CA 90401


Sunday, February 24, 2019 from 9:00 AM to 5:30 PM (PST)
Add to my calendar
Organizer
www.pitchglobal.com
About Us: Pitch Global & predecessor cos have run investor events and summits in silicon valley, LA, London and ONLINE for almost a decade where tens of thousands of global entrepreneurs have connected with investors. We are unique since we not only run our own events, we also run/promote events for some of the biggest names in Silicon Valley. The following video, with footage from 2 events we ran, features some of the biggest names in Silicon Valley. Do watch Steve Jurvetson's words of wisdom about his experiences of investing in entrepreneurs like Elon Musk. https://youtu.be/Kmd2cJvirEQ
Examples of funding through Pitch Global events and how it has gone up in the online/covid era: The shut down mid March took us all by surprise but Pitch Global managed to convert our part online event co hosted by UC Berkeley Global into fully online on 20th March. At this event, one of our regular Founders, Erik Ekland of Telemetrak got some funding and he has consistently raised more funds across Q2 of 2020. It was great to get a shout from another of our regulars:
"Thanks for introducing me to a leading Bank in Silicon Valley. That led to us getting a line of credit" --- Russ Jones of Cargo Chief (you can see him Pitching at the above video)
We paired the Founders of Virtanza and Champions Round with the CEO of Expert Dojo LA which funded both of them in the COVID era. They also funded Meet Caregivers whose founder we met at the largest conference in silicon valley and invited her to Pitch with us after which she raised considerable amount from Pipeline Angels whose representative she met at our event. Later she got funding from Nex3/Sway Ventures which has invested in more than 10 startups they have met in our events including Ootify, the Sponsor of this video from one of our LA events where we have the local Heads of TIE, Plug&Play, Keiretsu Forum and others present. https://youtu.be/wBpvGUCunn4
Innovation& Entrepreneurial Education: Pitch Global has become a satellite of SBA affiliated agency as we are sponsored by US govt to Mentor startups with job creating potential. As a result of the Mentoring, which is FREE for selected startups as US Govt is paying us, cos like Ursaleo, Realkey, Plethy, Tutorfly etc have all gone on to raise solid capital. This video begins with Founder of Garden Tech co from London endorsing the value they got by becoming a sponsor and ends with leader of a group of CEO's from Poland endorsing our Innovation&entrepreneurial education classes. https://youtu.be/OqYIMdC2mi0
Why has funding success at PG online events gone up: 
---The  sophistication of the technical infrastructure/prowess provided by our world class partners like UC Berkeley Global and Angel to Exit.
----World class event hosts and their unique experience in matching entrepreneurs to those investors who is most likely to invest –in the examples of funding above, we had matched entrepreneurs with the exact investor who funded them. Cos hire us  to match them to the right investors and pitch privately to them outside of events so email us if you are interested.
Meet our world class event Hosts: 
 KC Wisdom: Founder Pitch Global. Co-author The First Mile (John Wiley)—project of TIE Global & author, Grow your Innovation Mindset. US Govt Sponsored Mentor/EIR +Mentor Alchemist Accelerator.  https://www.linkedin.com/in/kcwisdom/
 Axel Tillmann: Former US CEO of fund of funds. US Govt Sponsored Mentor/EIR. Led the Corporate Innovation spinoff for Ricoh on behalf of Pitch Global. https://www.linkedin.com/in/axeltillmann/
 Dr Fred Cohen: President of Keiretsu Forum (Pebble beach Chapter) till recently, Founder of Angel to Exit and active investor. Global leader in running online investor events and leading due diligence for decades. https://www.linkedin.com/in/dr-fred-cohen/
 Any questions: startups@pitchglobal.com