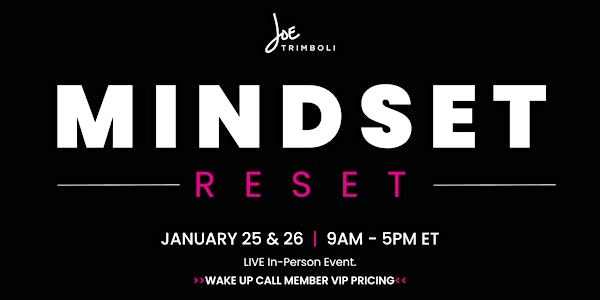 MINDSET RESET - New Year, New Mindset - $649
This workshop will take you within so you can get from where you are to where you want to go!
When and where
Location
Manulife Centre - International Room 250 Bloor Street East Toronto, ON M4W 1A5 Canada
About this event
RESET MINDSET: New year, New Mindset
A change in results starts with a change in your thinking.
Everything from Goal setting, self-image and beliefs play a major role in the life you're currently living.
Your outside world is a reflection of what's going on inside.
**Wake Up Call Member - VIP PRICING**
Check your email for Member Coupon Code to receive VIP Pricing discount.
Can't find the email? - Contact us at info@joetrimboli.com to receive Coupon Code
Not a Member? Visit www.joetrimboli.com and Sign Up Today!
2 DAY AGENDA
Goal Setting & Goal Achieving – Figure out where you're going and how to get there
Self-Image – You will never outperform your self-image. Learn to write your Life Script
Paradigms – learn to change the program that's controlling your habitual behaviour
Conscious / Sub-Conscious Mind (knowing vs doing part of the mind)
Respond vs React - Stay in control of you and your results
Universal Laws – Learn the rules that govern everything in the Universe and how to work in harmony with them
A Mindset Workshop for EVERYONE!
2 Day Event
Wednesday, January 25th & Thursday, January 26th
9:00am - 5:00pm - in person only
Doors & Registration opens at 8:15am
Must purchase ticket in advance to attend
All ticket holders will be asked to show your ticket at the door
**Qualifies for 4 Continuing Education Credits with MPC**
Attendees:
Continental Breakfast, Coffee, refreshments and lunch will be provided
Registration Begins at 8:15am
Doors close at 8:50am
Event begins: 9:00am
Networking:
Spend your day among like minded individuals in an environment conducive to your growth
Build new personal and professional relationships