If you want to reach your optimal success, you gotta change your MINDSET! Join us to learn the steps and be inspired by those who have!
About this event
Join us as we address the barrier plaguing individuals and families from reaching their full potential. Success is a Mindset and your mind has to change to reach your optimal level of success. We have 2 of Vegas' own and beloved, successful entrepreneurs share their stories of success and the challenges they overcame to grow and sustain their success. Trina Jules and Robert "Twix" Taylor, hosted by Sweet Lou Collins, will talk about the mindset of success. Don't miss it!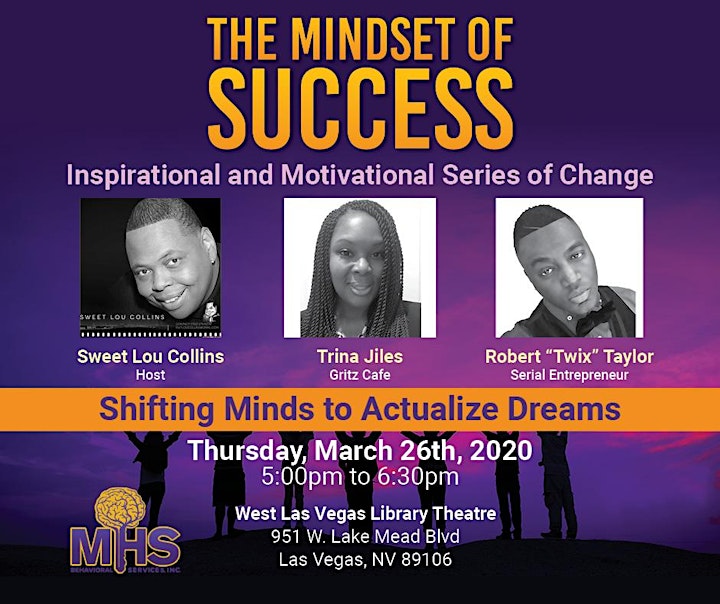 Organizer of Mindset of Success Pt. 2
Solutions of Change (SOC) is a non-profit organization with a mission to aid in the rehabilitation of mental illness and behavioral health challenges. Strives to bring awareness to mental health and the various populations touched by it. Healing to Health is an initiative of SOC  to support the purpose of bringing awareness of mental health issues to faith-based communities and give tools to teach how to address and improve mental health with the understanding that physical and mental health are directly related to spiritual health. MHS is a proud supporter and sponsor of the Healing to Health and has been since its first "Stress Out Summit" in April, 2017. Working with community partners and leaders, especially those in and interested in the faith-baed community, Healing to Health is able to support proactivity in ensuring the community has optimal mental health through understanding it, being able to identify symptoms, learning tools for self-help and how to access community resources for help.  It takes a village (family and community) to break the stigma of mental health, teach good habits and set the future up for optimal success and health quintessential to expanding the Kingdom. We are meant to have health and prosperity NOW.